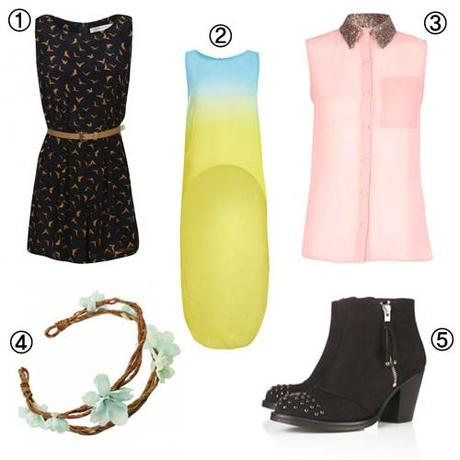 Playsuit - Glamorous ♥ Dipped Hem Vest - Miss Selfridge ♥ Sequin Collar Shirt - Lavish Alice ♥ Flower Headband - RocknRose ♥ Amelie Boots -Topshop
I am totally getting into festival mood now, especially as the sun is finally making another appearance after it's annoyingly long absence from the UK recently! I'm only headed to Reading Fest for one day (but most definitely the best day, as I get to see Dave Grohl in the flesh, fjagahgjoptjtg) but I want to plan a festival outfit that festie veteran Alexa Chung would be proud of. Therefore I need cool boots, some kind of flower adornment and some denim cut-offs ;) No doubt I shall be posting an entirely festival themed wishlist very soon! I adore this ombre dipped hem shirt from Miss Selfridge, even though it is in my secondary school colours...but I fear I'd be too short to pull it off! I have a dipped hem skirt and in heels it is literally an ankle grazer! ~short legs 4 lyf~
IF SOMEBODY BUYS ME THE TOPSHOP AMELIE BOOTS, I WOULD LOVE YOU FOREVER AND A DAY, kthx.