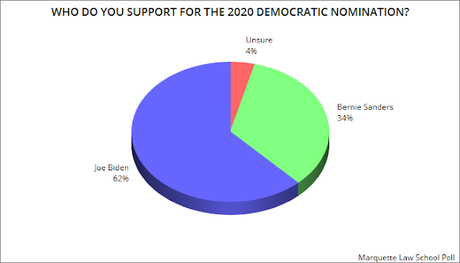 The chart above reflects the results of the Marquette Law School Poll -- done between March 24th and 29th of about 380 likely Democratic primary voters.
As you can see, Joe Biden enjoys a 28 point lead over Bernie Sanders in Wisconsin.
Wisconsin's governor wanted to delay the election and institute a vote-by-mail system. The Republicans in the state legislature seem to have killed that idea, so it looks like Wisconsin Democrats will vote on Tuesday.
In a normal time, there is little doubt that Biden would easily cruise to victory, even though Sanders won the state in 2016. But these are not normal times, and the Coronavirus epidemic could affect the primary. Will Democrats turn out in large numbers? Or will they stay at hone -- figuring the election is over and opt to protect themselves from the virus?
If it is the latter, the primary could be much closer. It will be interesting to see what the Wisconsin voters choose to do.