This shop has been compensated by Collective Bias, Inc. and its advertiser. All opinions are mine alone. #BakeInTheFun #CollectiveBias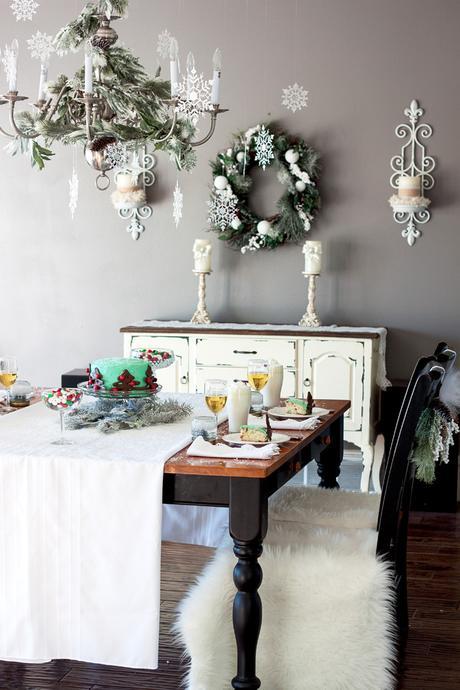 I remember a time when snow didn't bother me, a time when I actually enjoyed it. But as I've grown up, I've become cynical about the snow. I complain and wine and winter seems to last forever. So I decided to do things a little differently this year. Since the snow is well, inevitable, I decided to throw a party to celebrate. This is my "Welcome Snow" or "Winter Wonderland" party, and I really think it helped. I remembered how beautiful the snow is and that there are some really great things that come with the colder weather (like being warm and cozy inside and dusted pine trees). The party included things like sheep skin lining the chairs for extra warmth, sparkling cider in glasses rimmed with edible glitter, snow flakes hanging from the ceiling, fake snow dusting the table, and of course I couldn't forget my party must have- M&M's® White Peppermint, 

M&M's® Hot Chocolate, and 

M&M's® Holiday Peanut.


For this party I wanted to create a beautiful cake as my centerpiece. It was something I had never tried before (pretty sure this is my first layered cake) and I figured now was a good time to go for it. I used 

Pillsbury™ Funfetti® Holiday Cake Mix (because if I'm going to use a cake mix, it's gotta be 

Pillsbury™ Funfetti®!), along with the 

Pillsbury™ Funfetti® Holiday Vanilla Flavored Frosting. It made baking this cake a cinch and I was so happy with how it turned out!




To decorate the cake I wanted to do something a little different. I dusted the top of it with some edible glitter to look like snow, but the highlight of the cake was definitely my chocolate trees that I decorated with red ornaments using

M&M's® White Peppermint. These chocolate trees were so much fun to make and so easy. (see instructions below) 




On top of the cake, I also decided to make some White Hot Chocolate. This was a perfect addition to the party and something that I hadn't seen done but had always wanted to try. The white went right along with the Winter Wonderland theme and it tasted great! I also topped the drinks off with an 

M&M's® White Peppermint as a cherry.




I was able to purchase all of my recipe items at Walmart which made it so easy to do a one-stop shop.  Plus, you can use this COUPON to save $1 on any 2 

M&M's® 

Chocolate Candies, 8 oz. or larger.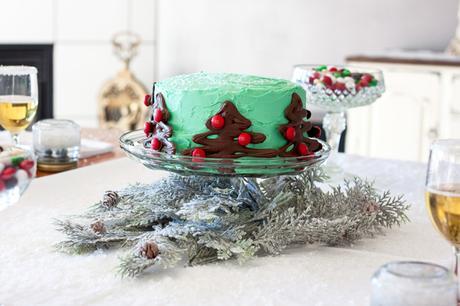 To add some more fun to this party post, you can enter to win 1 of 8 
KitchenAid® mixers by voting on your favorite photo/ recipe below.
Holiday #BakeInTheFun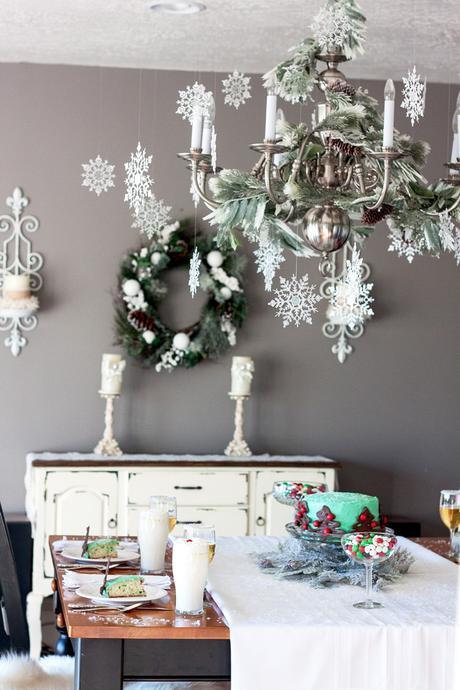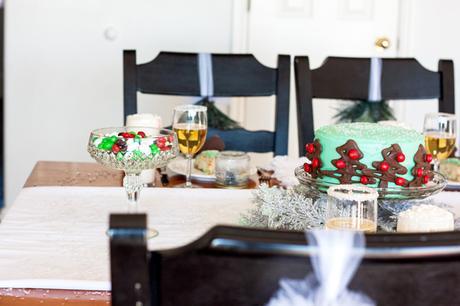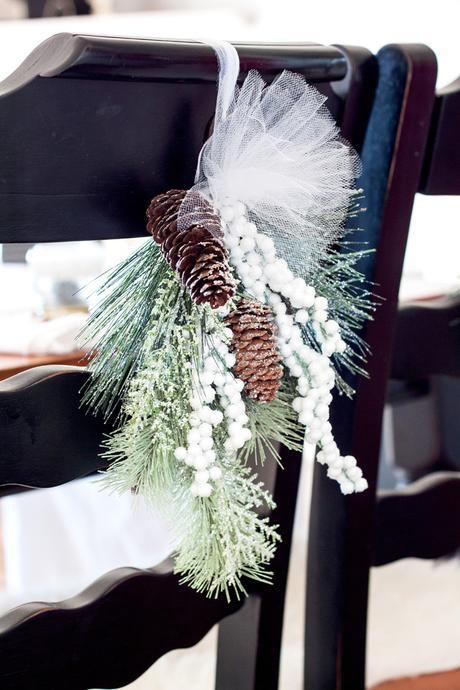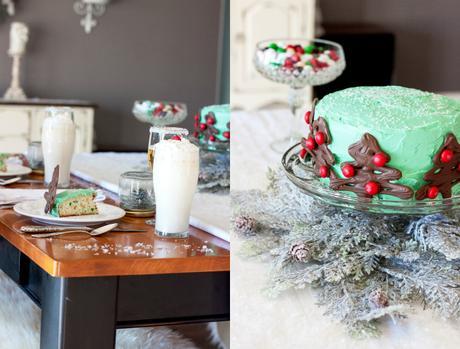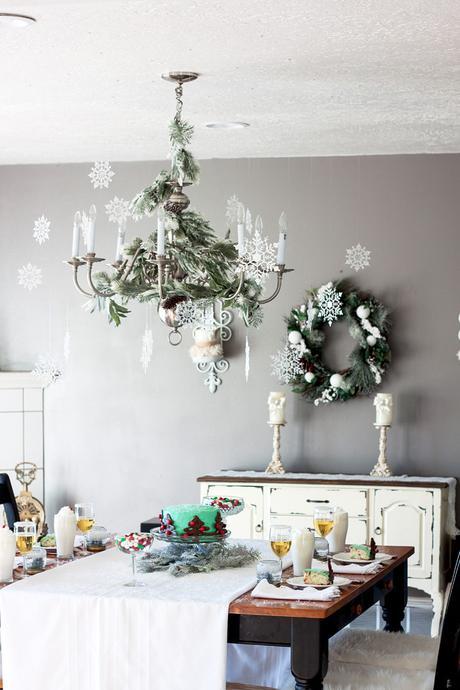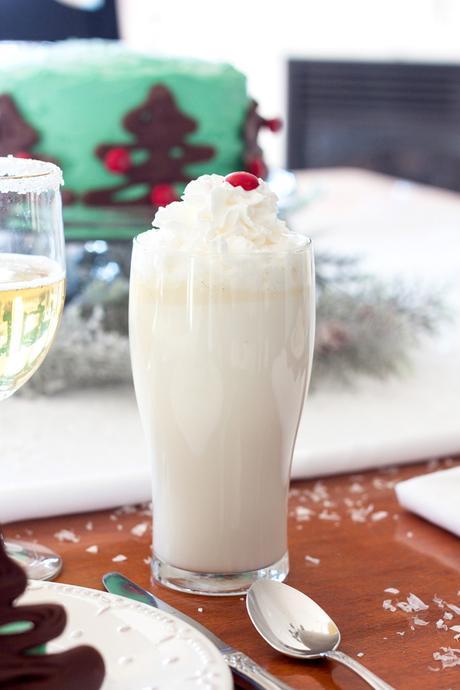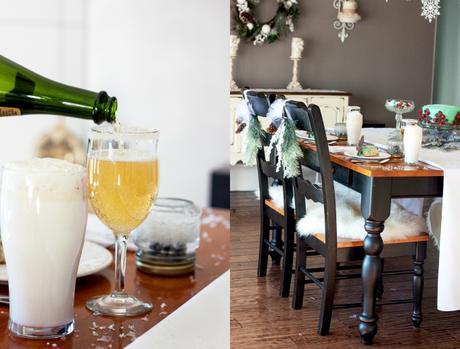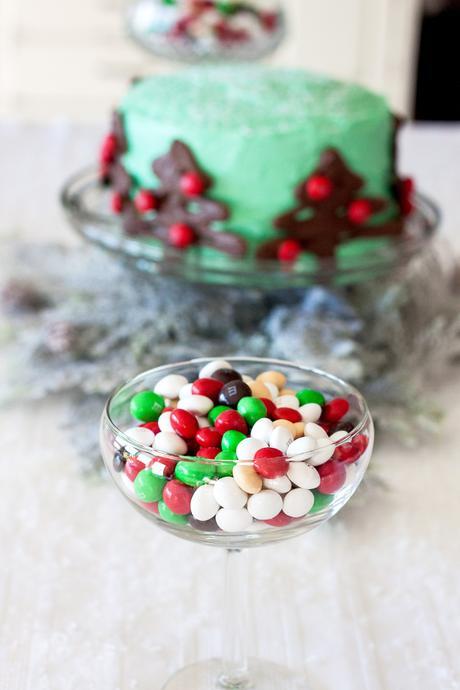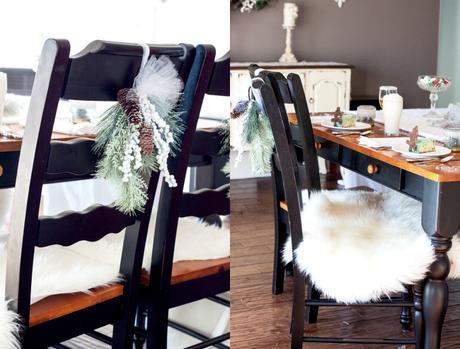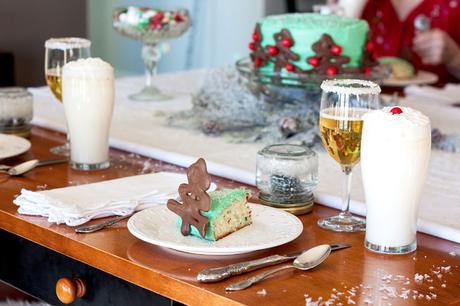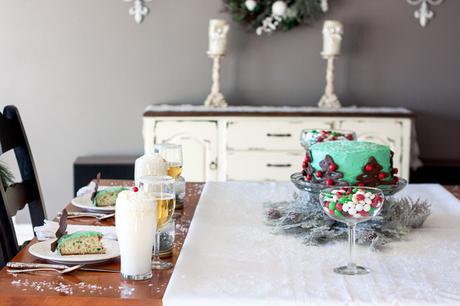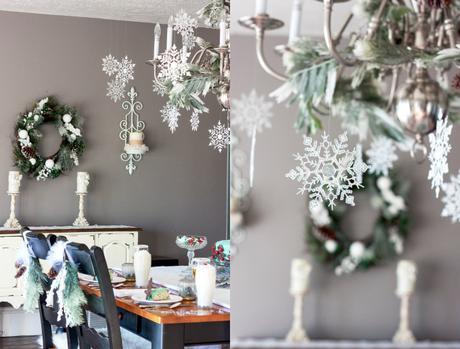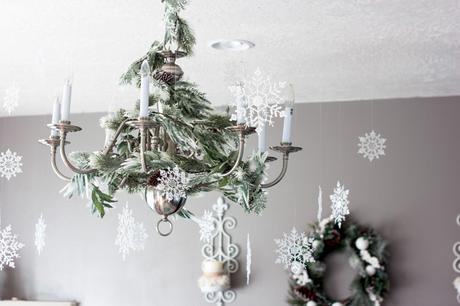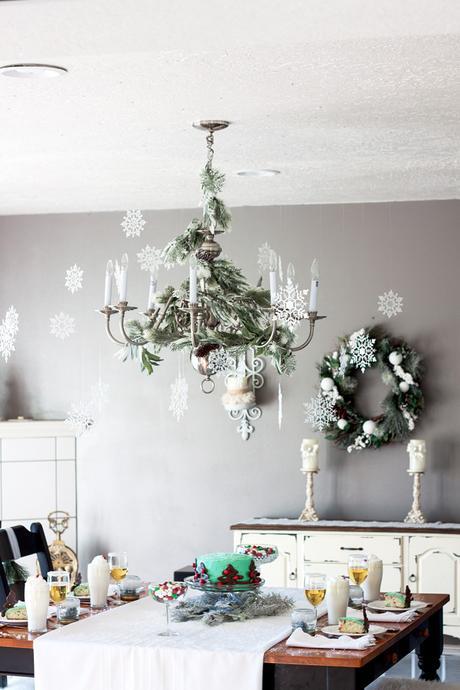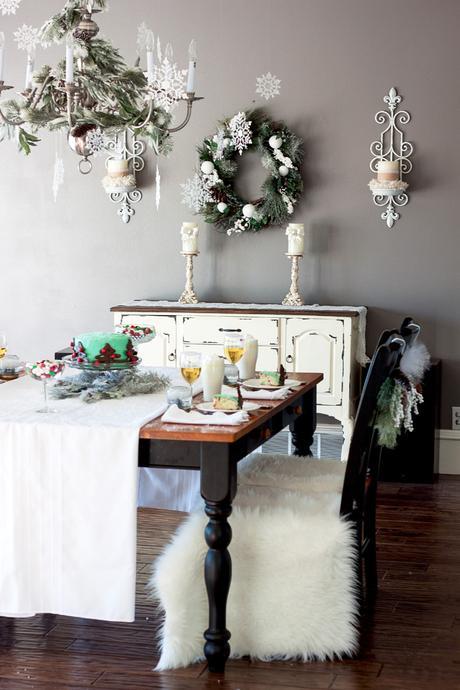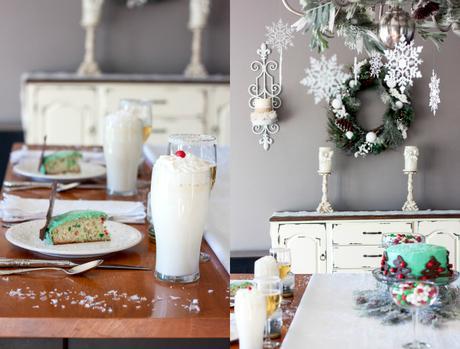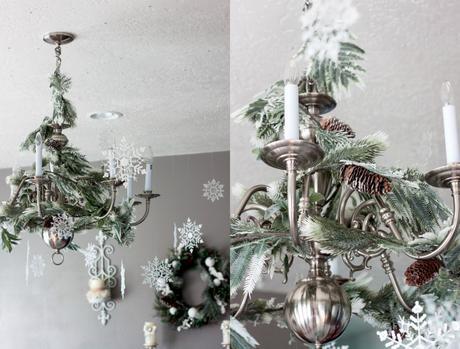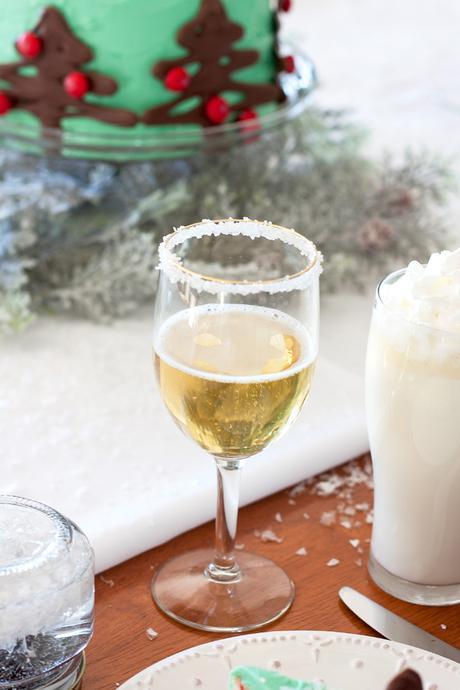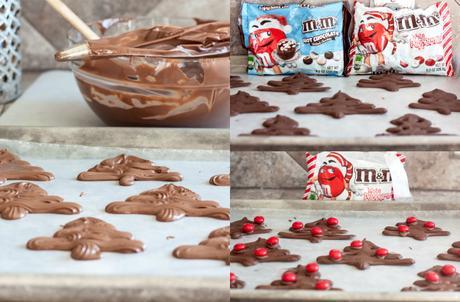 Chocolate Trees Recipe
M&M's® White Peppermint
Melting Chocolate/ Chocolate Wafers
Frosting Bag and Medium Sized Tip


Wax Paper




Baking sheet




This is the easiest DIY and it's also such a fun way to dress up your holiday recipes! Simply melt the chocolate in the microwave using the instructions on the bag. Be sure to stir it throughout the melting process. Prepare your baking sheet while the chocolate is melting by covering it with a layer of wax paper. Once it's melted, use a spoon to scoop it into your frosting bag. To keep things a bit cleaner, fold the top edges of your bag down. The chocolate will probably start flowing out the tip of the frosting bag the second it's inside, so just hold it horizontally over your bowl of chocolate until you're ready. Make sure there are no air bubbles then begin making your trees.

I started at the bottom of the tree trunk, made my way up then down one side of the tree, back up the middle, then down the other. 

After you've made as many trees as will fit on your pan, place it in the freezer. Keep your bowl of chocolate warm and use it to "glue" the 

M&M's® White Peppermint ornaments on when the trees are strong enough to hold their weight.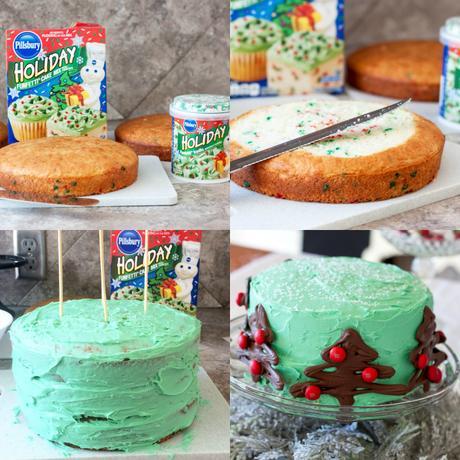 Pillsbury™ Funfetti® Holiday Cake Recipe
2 Pillsbury™ Funfetti® Holiday Cake Mix
2 Pillsbury™ Funfetti® Holiday Vanilla Flavored Frosting
Cake Dowels
Serrated

 Knife
Frosting Spatula
This is the easiest cake that I've ever made. Simply follow the instructions to make the 
Pillsbury™ Funfetti® Holiday Cake Mix and bake them in 8 inch rounds. You should have four layers when you're through, but you'll only need three (unless you can take on a four layered cake. I was too scared). When the cakes are done baking, place them on a cooling rack or tea towel to cool. Let them cool completely before you begin the next step.
Using your serrated knife, cut the rounded tops off of the cake. You want them to be flat on top so that they fit and stay together. Then, place your first layer on a hard flat surface (I used a small cutting board), and add a somewhat thin layer of frosting to it's top. Then place your second layer on top and repeat until you have all of your layers in place. Next, place your cake dowels into your cake to keep it from sliding apart. I used some skewers I had laying around and then cut them down to size.
Now, this next tip came from my sister who decorates cakes for a living, and I'm pretty sure it made all the difference. Add a thin layer of frosting all over the cake, filling in spaces between the layers; it doesn't have to look pretty, then place it in the fridge. Keep it there until the frosting has become "crusty" then remove and add your desired amount of frosting. The "crusting" step made the top layer of frosting go on smooth and easy. Then simply place it on your cake stand and add your cake decorations.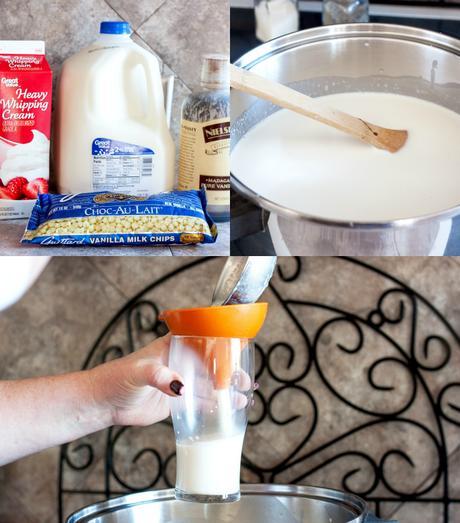 White Hot Chocolate Recipe
6 c Great Value Milk (gallon)
2 c Heavy Whipping Cream
1 tbsp Vanilla
1 pkg White Chocolate Chips
In a large pot, add your Great Value Milk, whipping cream, vanilla, and white chocolate chips. Warm it up over Med-Low heat and don't stop stirring. The chocolate will want to stick to the bottom of the pot, so it's important to keep it moving. Once the chocolate has melted and the mixture starts to bubble/ boil, it's ready. Simply pour it into your glasses/ mugs, add some whipped cream, and top it off with an 
M&M's® White Peppermint.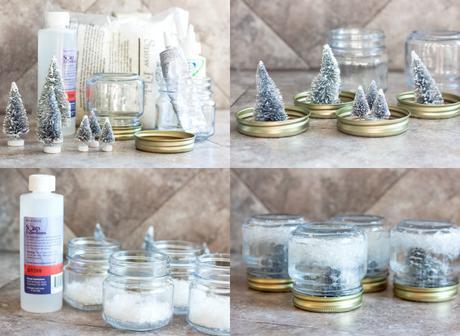 To add a little something extra to my party, I wanted to give each guest a mason jar snow globe. They're easy to make and allow your guests to take the welcoming winter spirit of your party home with them.
Mason Jar Snow Globe DIY
Mini Mason Jars
Mini Pine Trees
Fake Snow
Liquid Glycerin
Distilled Water
Your Choice of Strong Glue
On the inside of your mason jar lids, glue down your winter scene. My mom swears by using multiple kinds of glue to make things a bit stronger. Let the glue dry for a few hours (just to be sure). Add a tablespoon of snow to your mason jars, a dash of liquid glycerin, and then fill them with distilled water- leaving a small pocket of air. Place your lids on tightly, then flip upside down so the lid is on the bottom. The snow will float for the first day or so, but after it has soaked in the water it will eventually sink and become the snow globe you intended. (see my old DIY for this
HERE
)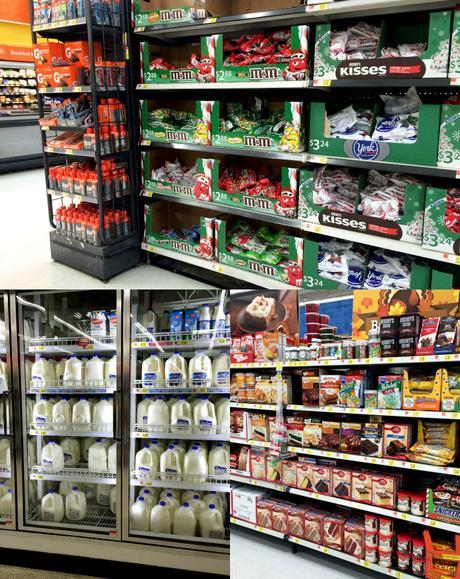 Not only did my recipe items like Great Value Milk
 and 
M&M's® White Peppermint make for a great party, but they also offer you a chance to give back this season. When you purchase 2 bags of 
M&M's® at Walmart, up to a gallon of milk will be donated to The Great American Milk Drive and it will be delivered to a family in need in your area. This is a wonderful opportunity because even though milk is in high demand and many families are missing out on its nutrients, milk is not typically donated to food banks. So join in the cause to feeding America in The Great American Milk Drive, the first ever program to 
help deliver highly desired and nutrient-rich gallons of milk to hungry families who need it most. You can also go HERE to donate directly to the drive.
This was such a fun and low key party with delicious food and beautiful decorations. I now feel ready to welcome the winter season with open arms! You can check out more holiday baking recipes
HERE
; what's your favorite holiday recipe?