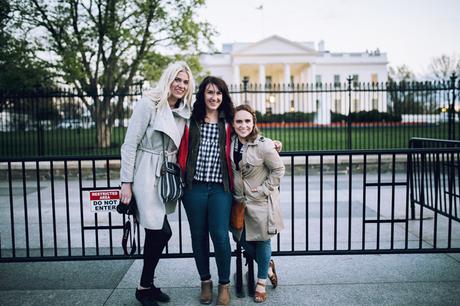 Read Pt. 1 // 2
On the third (and final, for my friends) day in DC, Amy, Raquel, and I first went into the city to hit up the American History Museum. This is always my favorite museum to take people to, because it holds some extremely iconic items. From Abraham Lincoln's top hat to Dorothy's ruby slippers; the hour long line we waited in to enter the museum was worth it! There was one item we had to take a group photo in front of, as it holds special meaning to us and our faith - the Sun Stone from the original Nauvoo Temple of The Church of Jesus Christ of Latter Day Saints.
After the museum, we went out to Mt. Vernon which was George Washington's home! Here we toured the gardens and the beautiful home, took pictures with the fine fellow who stood in the puddle so we didn't have to, and enjoyed the beautiful view of the Potomac River. Afterwards, we drove back into the city to catch the White House at sunset.
After a full three days of DC exploring, I knew we were all ready for a break. So we spent the next day taking it easy with my family and celebrating Raquel's birthday. My friends left the next morning while I stayed an extra week to help out with my nieces and nephews as well as enjoy as much East Coast quality time as I could!