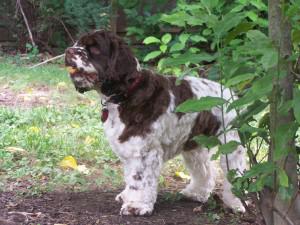 This time of year means B-R-R-R-R cold weather. Contrary to popular belief, fleas and ticks don't take the winter months off. Fleas and ticks are a way of life for dogs and cats, but controlling them is a matter of choice.
As part of the information evolution, a press release was issued on December 8, 2011 by an East Brunswick, N.J. law firm, Green & Associates, LLC, saying  that class action suits were being announced against makers of pesticide-based "spot-on" (topical) flea and tick products.
As a result, alternative, organic, and natural flea and tick repellents are now taking the eco-friendly market by storm, offering safer methods to this age-old "pesty" problem.
Food grade Diatomaceous Earth (DE): Wanting to use a more natural option, rather than applying harsh chemicals to my dog, this product has been a ray of light. I sprinkle this safe alternative on my dog before trekking to the park, on walks, or into woodsy areas. These fossilized remains of microscopic shells act as shards of glass to winged critters. I purchased a salt shaker from a local retailer and sprinkle this onto my hand and into my dog's coat. Bonus: Word has it that this is a good bedbug deterrent, so I like traveling with it, too. (Note: Be sure to get the food grade.)
Ark Naturals Flea Flicker! Tick Kicker!: This is labeled as GRAS (Generally Regarded As Safe) ingredients by the EPA and FDA. Easy to apply, it leaves a mild, fresh smell. Spray on a light application, massage into your pet's coat, and it starts to work immediately to repel and kill fleas, ticks, and mosquitoes. Ark Naturals provides a full disclosure of its Flea Flicker! Tick Kicker! product, and is one of the few, if not the only company that includes a "cautionary statement" on its website www.arknaturals.com.
"The Green Associates' press release was alarming and frightening at the same time," said Susan Weiss, whose Ark Naturals company has been marketing natural pet products for 16 years.
Tick Key: As a resident of northeast Pennsylvania, imagine my surprise when my neighbor asked what he could do about fleas on his dog–in the winter months!  I loaned him my tick key. Using natural forward leverage to remove the entire tick, this is the kind of product that pays for itself the first time you use it. (It is nicely priced for toting on a key ring, too.)
Nancy Scanlan, DVM, Executive Director of the American Holistic Veterinary Medical Association and past president of the Veterinary Botanical Medical Association, said she has long been aware of the problems associated with the chemical and pesticide-based flea and tick products.
"I prefer natural botanicals over pesticides for treating fleas and ticks, and there are a number of good natural products that work without harsh side effects," said Dr. Scanlan. "Herbal flea and tick products tend to be safer than pharmaceutical or pesticide flea and tick products, but all products that are formulated to rid pets of fleas and ticks pose some percentage of risk."
I am not using all of these products in tandem, but rather am applying the food-grade DE as a regular base, and then using the Ark Naturals product weekly, gently spraying my hand and then into my dog's skin. Does it take longer to apply than a once-a-month topical? Yes. Is it safer and yet even more effective on my dog so far? A resounding yes. Fleas and ticks are  gone, with each product costing less than $20!
Carol Bryant traveled with dogs for over 17 years and is touted as a dog product and travel expert. A frequent media contributor, Carol has appeared on Animal Radio and Oprah Radio's Gayle King Show, WBAL-TV, News12CT, and as a guest speaker at conferences and seminars about social media, writing, dogs and dog travel. Bryant is a repeat nominee from the Dog Writers Association of America and winner of the Best Dog Blog Award 2011 from Dogtime Media for FIDO Friendly magazine. She also maintains her own dog blog, www.fidoseofreality.com.