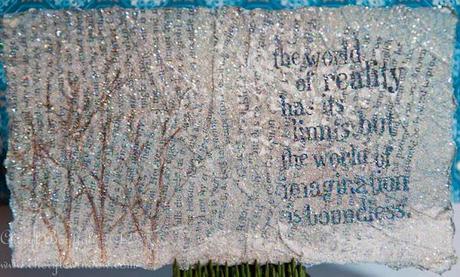 Today, I'm a guest art hostess at Daisy Yellow Art, who is hosting a a challenge to create an Index Card a Day.  It started June 1 and I have been committed to making my ICAD2 cards.  I haven't been as great about uploading them regularly, but I am consistently being creative every day and for that I'm thankful for the spark!  If you are interested in joining us, you can jump in ANY time.  And make sure to check out some of Tammy's other projects.  She is a really fun artist with lots of great information. 
We had some prompts to choose from this week and I chose Winter Colors.  I have been drawn to blues and browns lately.  Maybe because it is getting so hot here in Florida, or maybe the colors are just so pretty together.  But, if you look through the last month's projects or so, I've had a lot of browns and blues. 
This card is so much prettier in person.  I find it hard to photograph glitter.  If you have any tips, please let me know.
The base of my card is, of course, a standard 3 x 5 index card.   But this one has so much more texture than you can see well here.  The fun thing about these cards though, is that it doesn't have to be elaborate.  As a matter of fact, the only rule is to use a 3 x 5 card.  The principle concept is to play and experiment and be creative every day.   This card isn't super fancy and even isn't as gorgeous as many of the others, but I learned things making this card.   For example, if I was going to do this again, I think I would emboss the sentiment so that it would stand out even more.  And that, my friends, is the fun thing about making these cards.  I do hope you'll jump in and join us.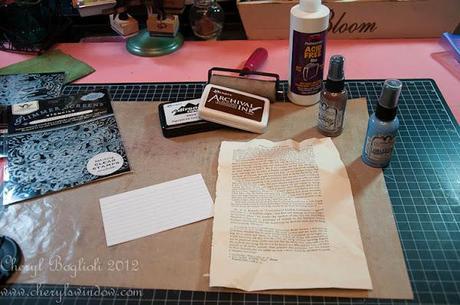 So, let's get started with this one.  Must have one index card.  Then I pulled out some other supplies I wanted to create with.  I added some others while making it and never even used the stencils, so you never know where this little canvas will take you.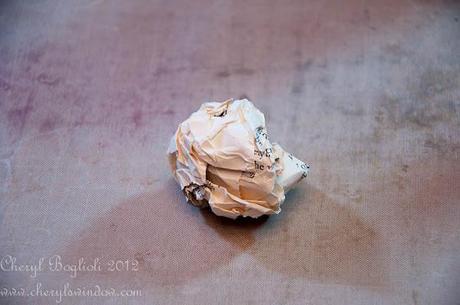 I created the background with a new favorite technique of mine.  I used plain book paper and crumpled it up in a ball.  Unfolded it carefully and did this again.  This helps to break down the fibers some so that the paper is really soft.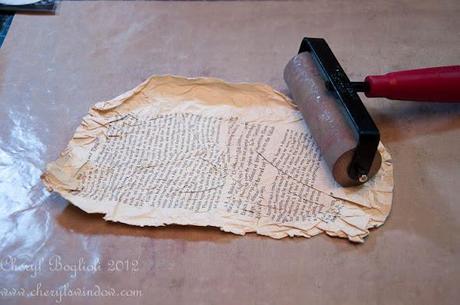 I then covered my index card with Helmar Acid Free Glue, making sure to get the edges.  Next, I smooshed the paper across the card making sure to purposely put in a few more wrinkles and then brayered it really well.  You like my terminology?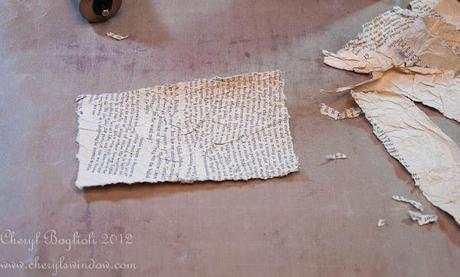 After drying, I tore the excess paper from the edges.  Now, that is a pretty cool background all by itself, huh?  I love book paper.   But I didn't stop there.  I misted it with some Tattered Angels Chalkboard mists, Splash and London Fog, and then inked the edges with some Distress Ink in Stormy Sky.  I added some Snow Cap paint for some snow on the ground and stamped some splat marks with it as well.  I then stamped a few winter trees and a sentiment.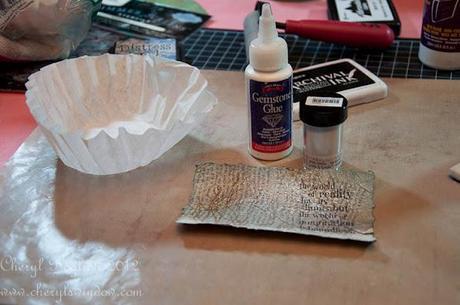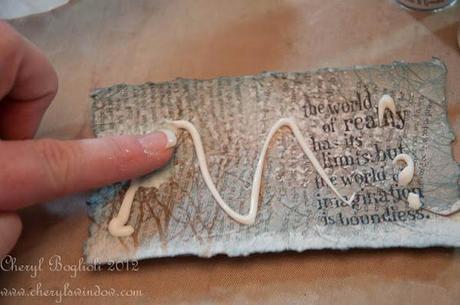 After making sure it was dry, I added some Helmar Gemstone Glue to the entire card front and smeared a thin layer with my finger.  Almost all of us have that implement nearby!  I sprinkled a really fine glitter and then brushed off any excess.  Helmar Gemstone Glue works great as an adhesive for glitter as well as gems.  It dries crystal clear and, did you know it is washable?  That means you can add gems and/or glitter to your clothes and wash it.   If you do, make sure you let it dry for 24 hours before washing and Helmar recommends that you hand wash the item or use the gentle cycle.   What would you glitter? 
I hope you make time to be creative today, even if it's just creating one little 3×5 card.  If you join us, please let me know.   We share our cards on a Flickr group.  I've created a page here on my blog so that you can see my cards from here on my site. 
And, I hope you'll join us at Helmar for a Fabulous Father's Day Blog Hop.  Come back and join us here June 15 to get started and find inspiration from a team of amazing designers.