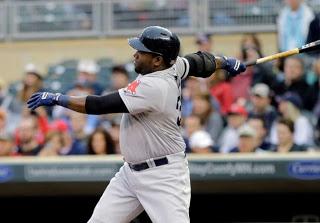 Pick an adjective to describe last night's Red Sox win. Mine would be "laborious."
It was a 3 hour and 53 minute game that seemed to last more like three days. Ryan Dempster was all over the place, walking six batters and allowing five runs. He was one out short of getting a shot at the win, but John Farrell pulled him before he could allow any further damage. (Farrell came out to see Dempster the previous batter and rolled the dice and left him in. It almost cost him dearly.)
David Ortiz belted two home runs, Dustin Pedroia made a sensational catch and throw to the plate in the 6th to kill a Minnesota rally. It looked like the Twins would take the lead, but the Sox held on, and the bullpen shut the Twins down over the final four innings.
Pretty it was not, but the Sox took the series from the Twins, winning 12-5.
I'll take every laborious Red Sox win I can get. The last two nights in Minnesota showed how this Red Sox team will grind it out and come on top. The road trip record is now at 4-1, and they need just one more win over the last four games for it to be a winning one.