White Chocolate Bath Melts Recipe 
Try out this Natures Garden White Chocolate Bath Melts Recipe and experience some well deserved tranquility and stress relief. I'd say that after the holiday season we're all looking for a little bit of time to relax and unwind. No matter how wonderful the season has been, that much excitement is enough to ware out even the most energetic people. It's time to start the New Year off right with a little time to yourself to shed some of last years stress. So, run yourself a nice warm bath and let these white chocolate scented bath melts delight your sense of smell with the sweet scent of white chocolate as the oils nourish your skin from head to toe. Because what's a better way to relax than a bath? Just sit back, relax, and feel your stress slowly melt away.
White Chocolate Bath Melts Recipe Ingredients Available From Natures Garden
Beeswax White Pastilles
White Chocolate Fragrance Oil
White Chocolate Wafers – 12 oz
Silicone Soap Mold -24 Brownie Bites
White Chocolate Bath Melts Recipe Equipment You Will Need
A Scale
A Bowl
A Spatula
A Medium Pot
A Large Pot
A Stove Top
White Chocolate Bath Melts Recipe Total Weights Needed
224 grams of Mango Butter
15 grams of Apricot Kernel Oil
13 grams of  Beeswax White Pastilles
4 grams of White Chocolate Fragrance Oil
5 of the White Chocolate Wafers – 12 oz
White Chocolate Bath Melts Recipe Preparing Your Working Area 
Before you begin creating your bath melts you should make sure that the area you will be working in is clean. Also, make sure you have an available stove within your working area that is clean. Additionally, make sure that your equipment, such as pots, a bowl, and a brownie bites mold, have been sanitized well. If you don't clean your mold before you being the recipe, your mixture may cool before you can get a chance to pour. Further, you may want to start thinking about how you are going to package your finished bath melts. The recipe will create a total of twelve brownie bite sized bath melts, so be prepared with enough packaging.
White Chocolate Bath Melts Recipe Weighing Your Ingredients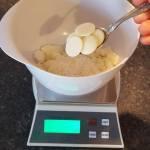 Initially, you are going to want to weigh your mango butter, apricot kernel oil, beeswax, and white chocolate wafers into a medium sized bowl. Set the units of your scale to grams, set your bowl on the scale, and tare the weight of your bowl. Now, you can measure the 224 grams of mango butter. You will want to tare after adding this butter and continue to tare between your future additions. Weigh out 15 grams of Apricot Kernel Oil, 13 grams Beeswax White Pastilles, and five of your white chocolate wafers. We be melting all of the ingredients on the stove top.
White Chocolate Bath Melts Recipe Melting Your Ingredients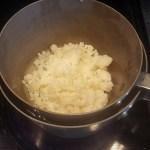 Next, we are going to use your two differently sized pots to create a double boiler. The double boiling method of melting is useful for preventing your ingredients in the mixture from scorching, which could ruin the recipe. So, lets begin!
Initially, we will go over how to create and correctly use a double boiler to melt the ingredients. First, fill your larger pot with some water. I'd suggest filling the pot with about a fourth of the way up with water.  This amount can be adjusted after you can see how the water level rises with the addition of the smaller pot. Now, you can take the medium sized pot and place that into the water of the larger pot. If your water level looks like it is high enough that the water could boil over into the smaller pot, then pour out some water. On the other hand, if your smaller pot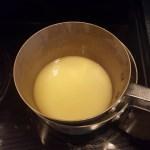 barely touches the water level, then you may want to increase your water level. Further, if you notice later on that the water is getting too close to the rim of the medium sized pot, you can remove the pot and readjust the water levels.
After you have adjusted the water, you can now take your previously measured ingredients and add them to the medium pot. Finally, you will boil the water until your mixture is liquid. You must watch carefully to make sure the water in the larger pot doesn't boil over into your oils in the smaller pot as it could ruin your bath melt recipe.
White Chocolate Bath Melts Recipe Scenting Your Bath Melts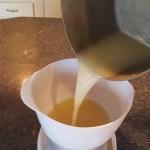 First, I would recommend transferring the mixture out of the pot. The pot is likely too hot to place on your scale and may keep your mixture too hot for you to add fragrance oil as well. Therefore, I would recommend that you take your newly melted ingredients and return the mixture to the bowl that you weighed these ingredients prior to melting. Afterward, we can add the fragrance oil to the mixture.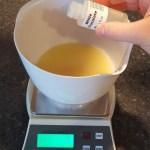 Next, we are going to add 4 grams of our White Chocolate Fragrance Oil to the mix of ingredients . However, the oils may be too hot and could burn off the scent. So, use your own discretion to determine the right time to add the fragrance oil. Once the fragrance oil is included, we'll mix thoroughly yet quickly. Now, get ready to pour the mixture into our brownie bites mold.
White Chocolate Bath Melts Recipe Pouring Into Your Mold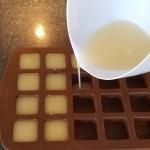 Finally, we are going to pour the mixture into the 24 – brownie bites mold. You should be able to create twelve full bath melt squares with this recipes. Once all of the batter has been poured give the melts some time to set up undisturbed. Later, you can move the mold into the freezer. However, you need to make sure the bath melts are set up enough to move. If you are deciding whether to move the mold and aren't sure if it is time, I'd recommend waiting a bit longer to prevent a potential disaster. Waiting longer before you move the bath melts to the freezer can't hurt the recipe, but not waiting long enough could make a mess of your bath and body creation. Once you remove the brownie bites mold from your freezer you can remove your bath melts from the mold. Finally, enjoy your scrumptious white chocolate bath melts!
White Chocolate Bath Melts Recipe Packaging Your Finished Bath Melts
Before packaging you should be aware that the bath melts can begin to melt in your hand. Be sure not to handle the melts too much. Additionally, the place you intend to store your bath melts shouldn't exceed room temperature as the bath melts will likely melt this way as well. While melting doesn't necessarily ruin the product, it will make transferring the bath melt to the bath tub more difficult.
While there is no one specific way to package your bath melts, I would recommend that you use  something that would require a minimal amount of touching and/or holding your finished bath melts. However, as long as your bath melts are packaged well enough to avoid getting dirty and haven't melted entirely in your hand, then your product should be fine. The white chocolate bath melts that I had created were saved in a zip lock bag and stored at room temperature  for the time being, but feel free to use any method of storage that you have available.
White Chocolate Bath Melts Recipe Using Your Finished Bath Melts 
Once you have a nice, warm bath running, place just one of your bath melts under the running water of your tub. Including the bath melt while your bath is filling up will allow the oils to disperse more evenly throughout the bath water. The bath melts may make your tub slippery, you should be safe and use caution while getting in and out of the tub. 
Adding more than a single bath melt to your tub could create a very slippery situation. While it may feel like it couldn't hurt to use a few more of these little bath melts, remember it is always possible to have too much of a good thing. In this instance, adding multiple bath melts will cause there to be an excess of oils in your bath tub. All of this excess oil from these extra bath melts can sink to the bottom of your tub and have the potential to make your tub very slippery. While you still need to be cautious stepping in and out of the tub with a single bath melt, it is far less slippery than if you were to use more than a single bath melt. You'll only need a single melt to notice the delicious white chocolate scent and feel a difference in your skin. So, it would be wasteful to use more bath melts than you need at one time. Plus, since you are saving all those extra bath melts, you can take even more baths with these delightful white chocolate bath melts!