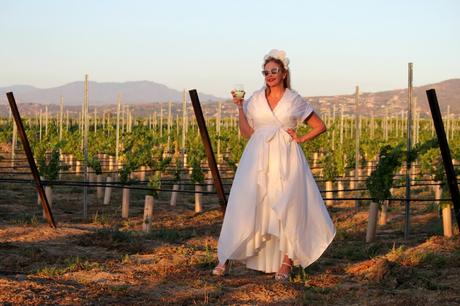 Jeff and I took an impromptu trip to

 Temecula Wine Country

last weekend.
We have been working on home projects for 6 weekends in a rowand we just needed a break!
It was truly an impromptu tripin that I really got dressed that day to go look at model homes for backyard inspiration,
But, I loved my outfit and had styled several looks to do a photo shoot with.I decided my looks would be even more fun to shootin wine country.
So off we went!I have said many times hereI often choose destinationsaround outfits I love!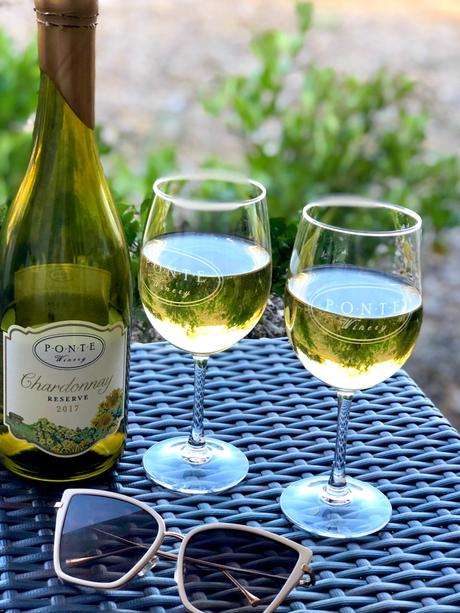 Once we were out therewe decided to spend the night at the lovely

Ponte  Vineyard Inn!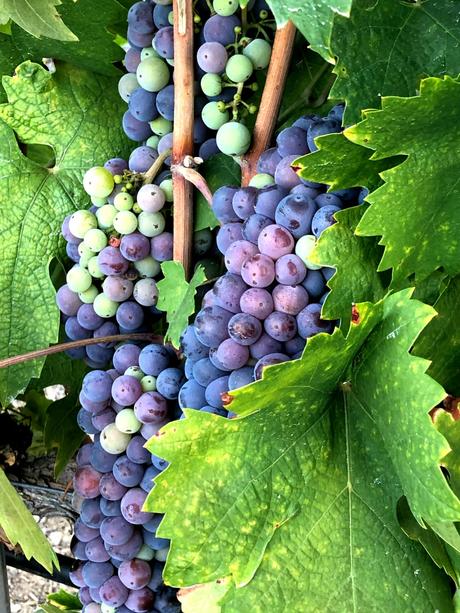 My favorite part of our  roomwas that it opened up completely into the vineyards!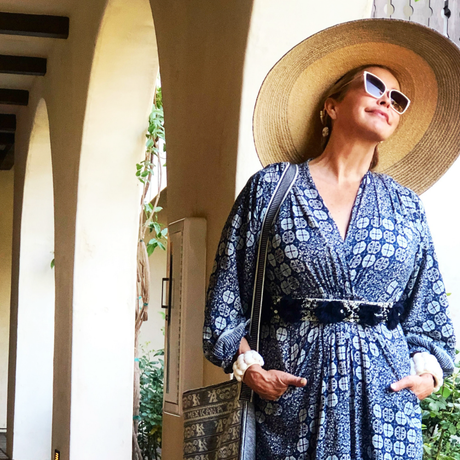 This was my travel and lunch outfit.I will explain more about it below.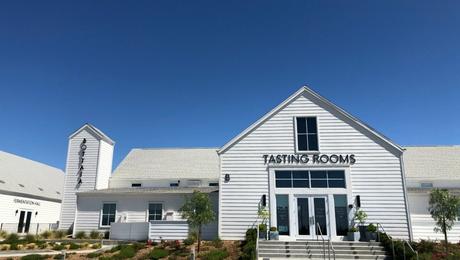 We went to one of our  new favorite spots in Temecula


Bottaia Winery.


Definitely the chicest spot out thereand voted best winery experience by San Diego Magazine.


Bottaia Winery

is "Designed to Enhance Without The Crowds"and they definitely excel at their mission!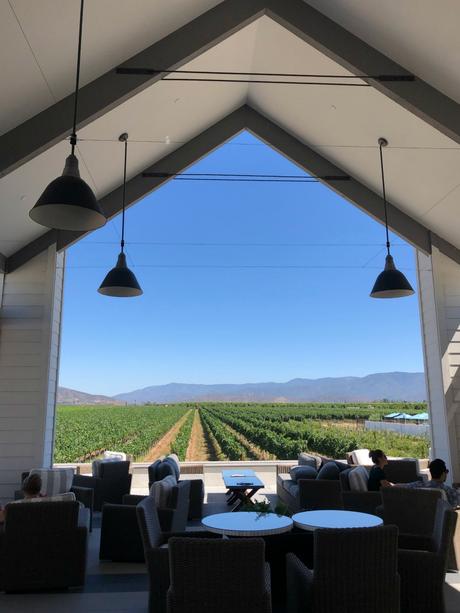 How gorgeous is their patio view!!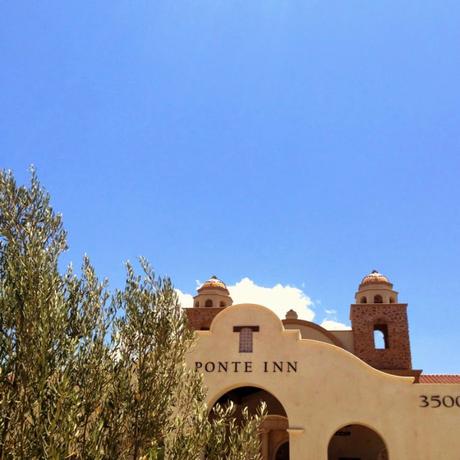 We had been to 


Ponte Inn 


many times for drinksbut it was our first time staying.I was unexpectedly delighted with ourvineyard room in the newest wing.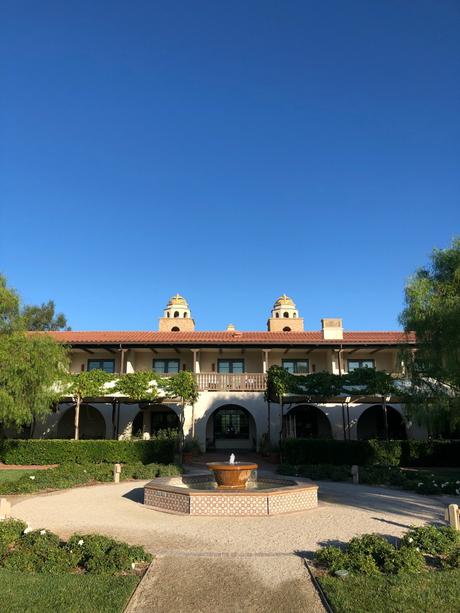 It is a lovely property with alfresco dining and an outside bar.Saturday night they even live music under the stars!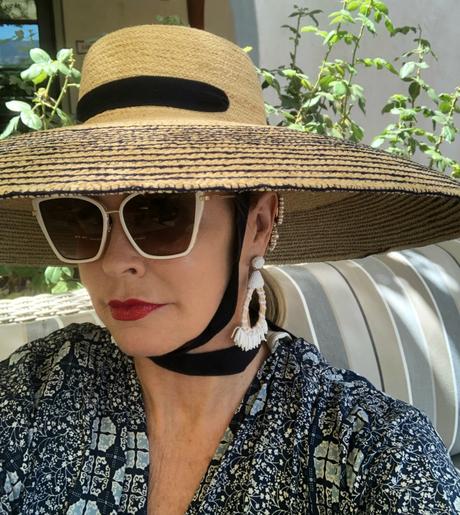 My Lola hat with tieskept my hat in place durning the afternoon breezes.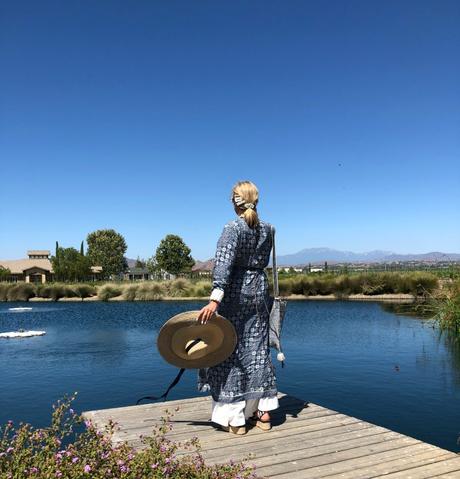 The property has a beautiful manmade lake as well.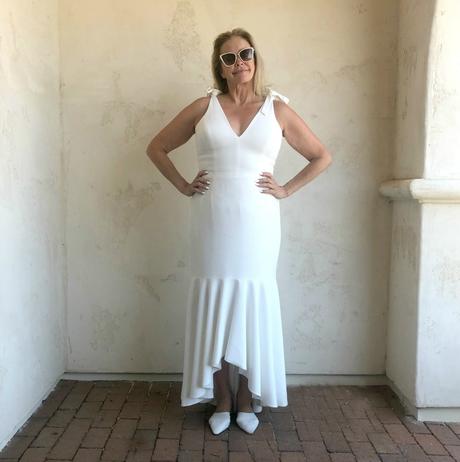 Now back to my outfit.I  did all four of my looks off of this fitted maxi.Quite honestly I would never wear this dress just plain like this.I am only showing this image to illustrate how a dress like this can be a great starting piece.consider this post another 


Good Girlfriend Share.


What I love about using this dress as a styling baseis that it provides one long line of base colorwhich is a flattering start on most any figure.It also doesn't add any bulk under the top layers.
The fun an flirty rufflewas a wonderful addition  to each outfit.No surpriseI love my outfits to have some fun drama!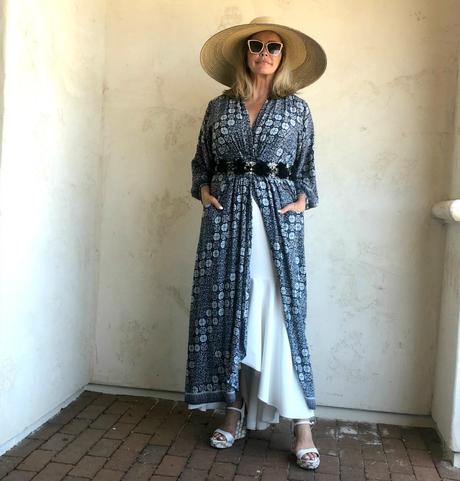 You can see in my travel outfithow it acts as almost a ruffled slip under my dress.I added a tie belt, platforms and my wide straw hat and voila first look complete!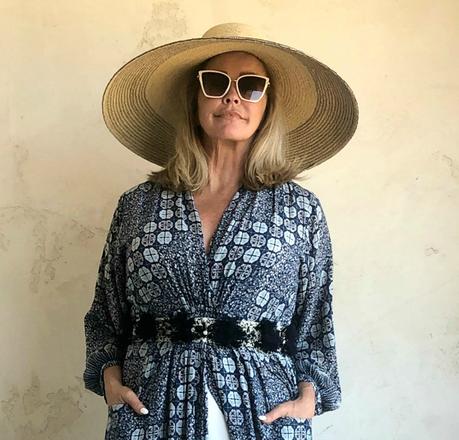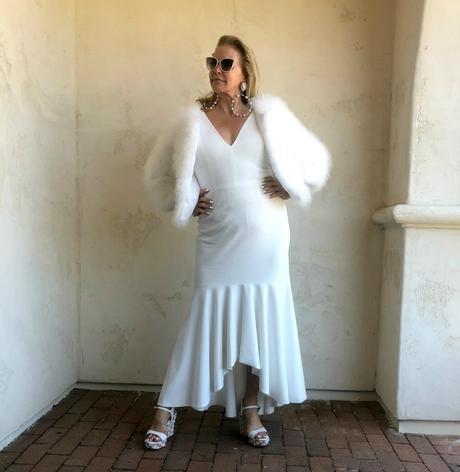 For Saturday Date NightI added my lovely feather jacketslicked back my hairso that my newest designed earrings could play a staring role.The platforms worked again to finish the look!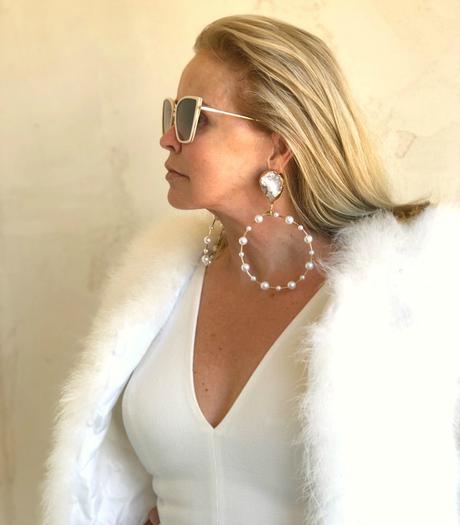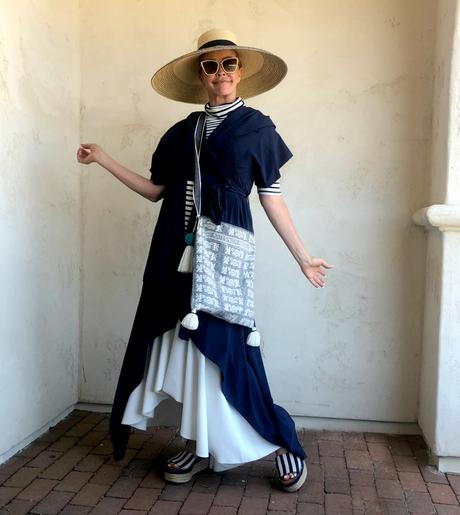 Sunday morning called for a fun outfit tocheck out Old Town Temeculafor brunch.
I wanted a sporty look so I added a striped top over the dressand then a long wrap navy vest.
Stripe platform shoes and a cross body bagmade for an easy walking and shopping outfit!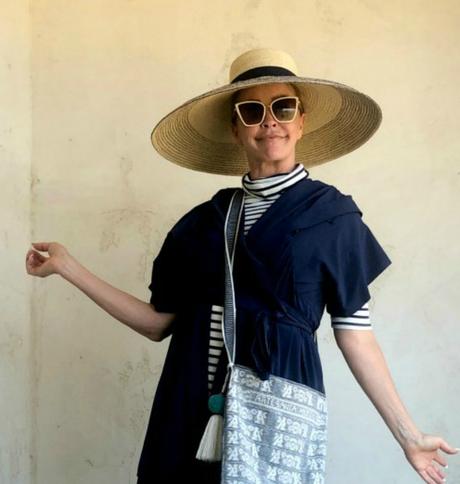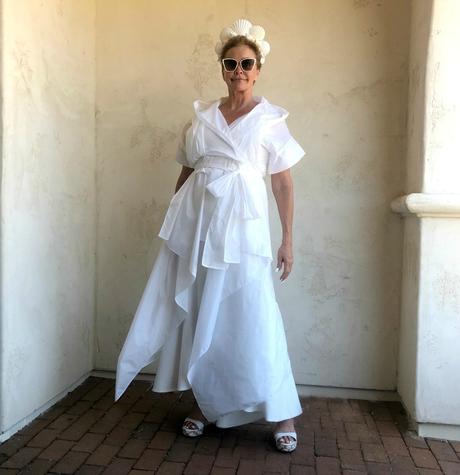 For wine in the vineyardI kept it white and freshwith another white wrap long vestfinished with a shell Crown.
This outfit was so fun to wear outside in the early eveningbecause the vest almost floated behind with every step!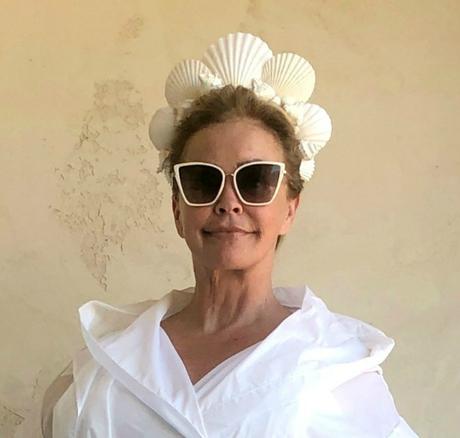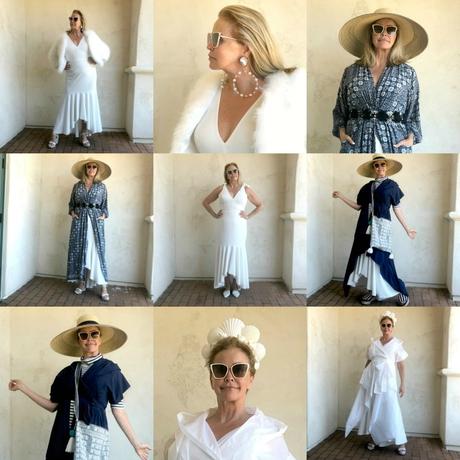 So there you have my Styling Tipsfor one piece 4 waysmy friends!I hope it inspires you to look a some of your own pieces differently!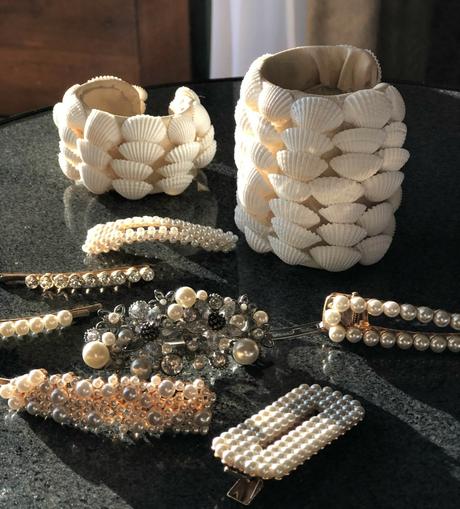 My biggest Styling Tipis always accessoriesthe easiest way to take a single piece differen directions.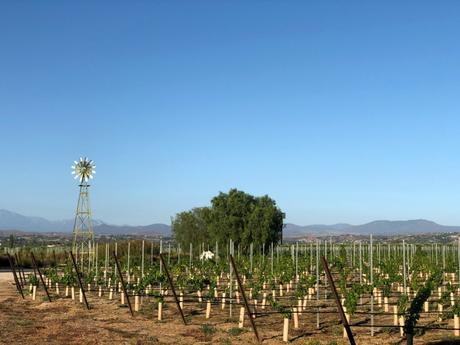 This was our lovely room view.I so enjoyed watching the light changeover the vineyardand the windmill start and stop.
Getting away and seeing natures bountywas a truly needed balm to my soul.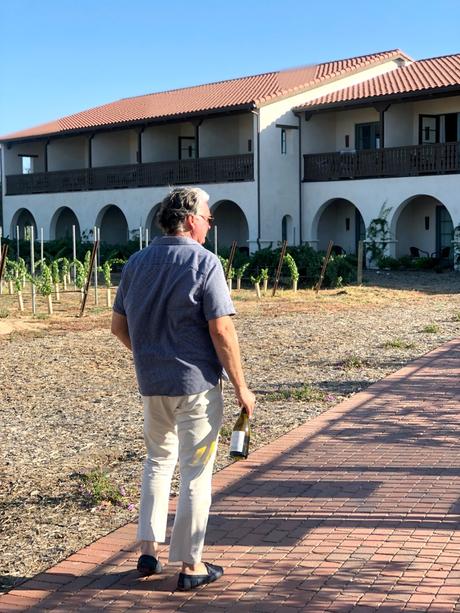 Especially with my one true love.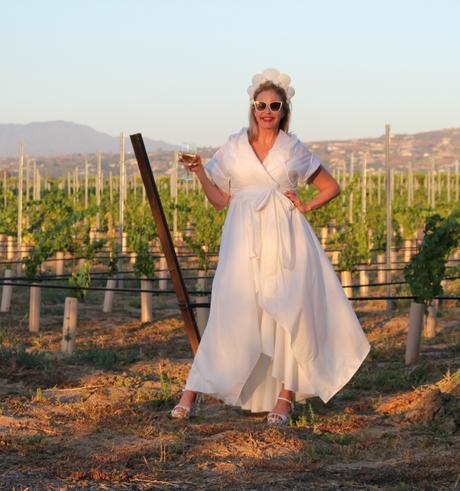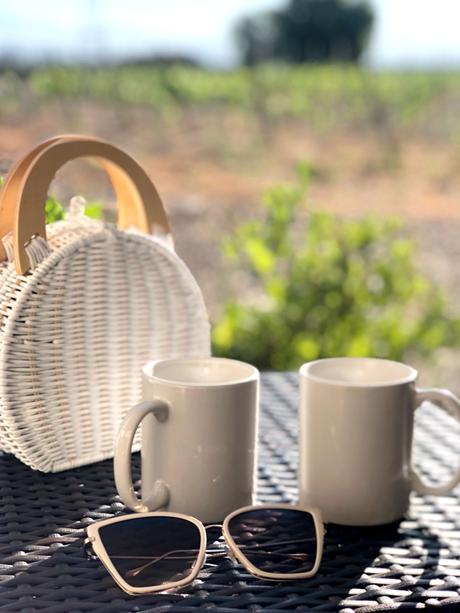 Waking up to this view and coffeewas almost as fun as the wine!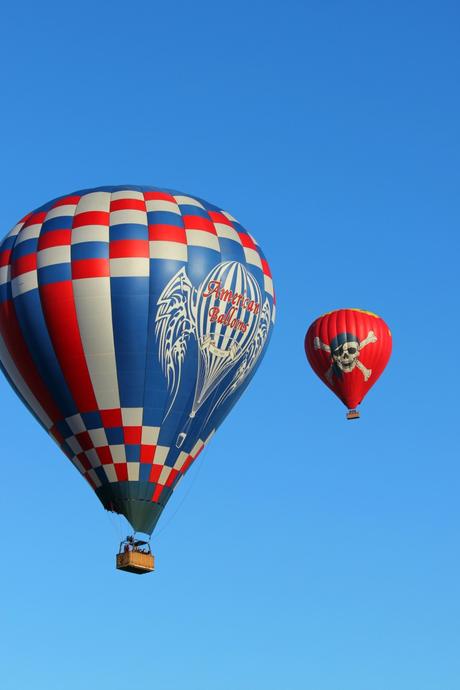 The surprise treat of our staywas realizing hot air balloons literally launched from our parking lot!
To hear them breathe to life and lift offwas truly amazing!
We might need to try this our next time out!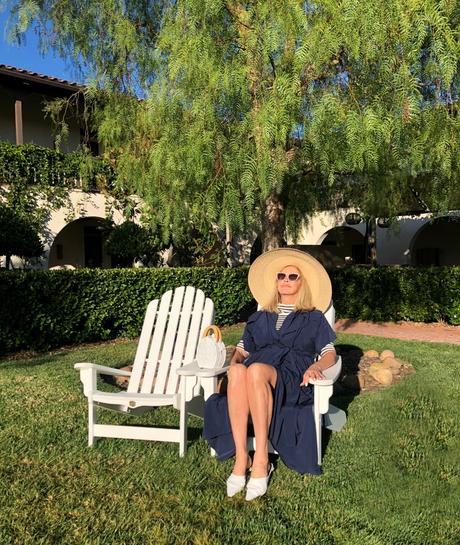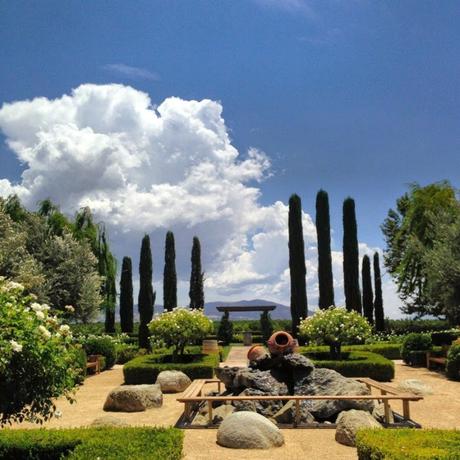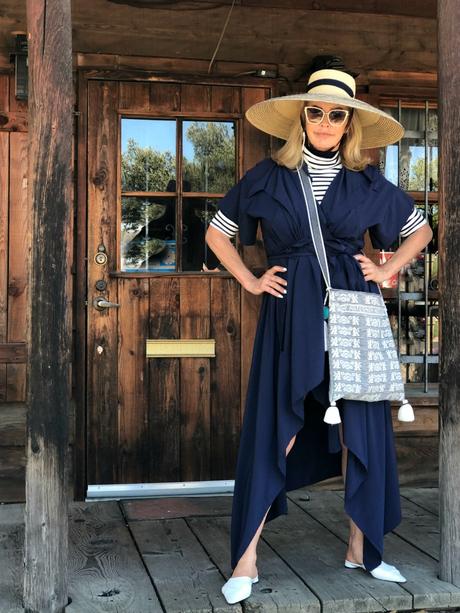 One down side of packing around one pieceis that it can get dirty by.
Before our coffee search I realized my white dress had a spot that I needed to get outso I left my dress to dry in the sun.
And boy did I miss the other layerespecially with a wrap vest.Missing it for a bitjust made me love my layering concept more!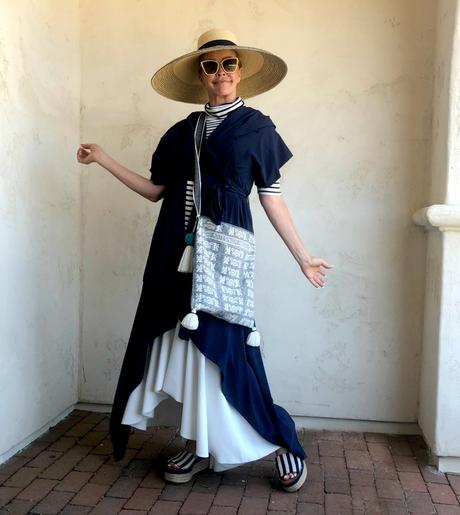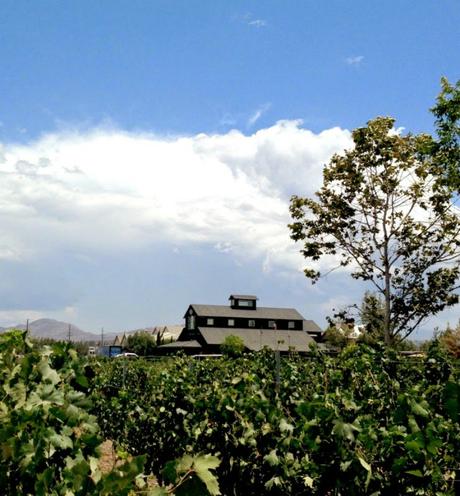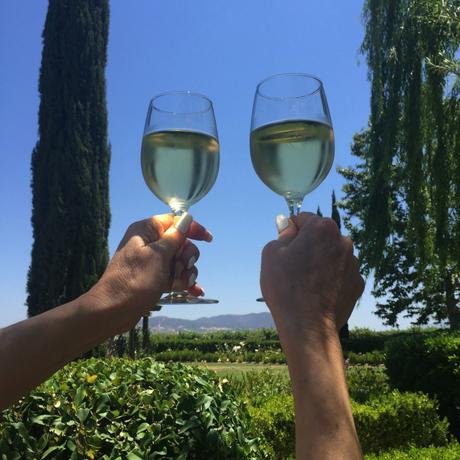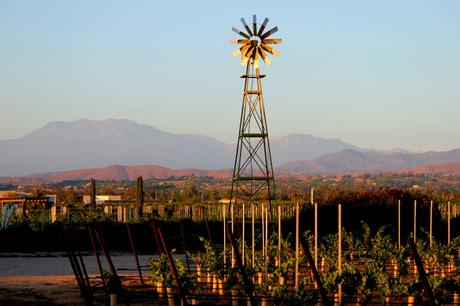 As always my friends


I wish you love and joy

as you style your life