---
---
Windsor Severance Fire Rescue (CO)

FIREFIGHTER/EMT-B
Salary Information: $50,000.00 Annually
Until: November 21, 2018
---
Become a Firefighter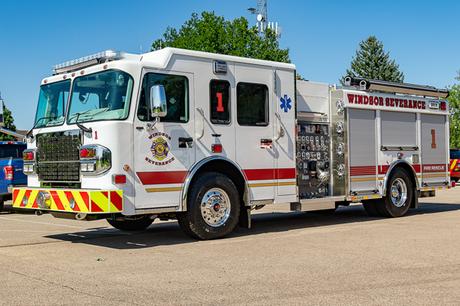 Ian Zahn Photo ©
The Windsor Severance Fire Rescue is currently recruiting for Firefighter/ EMT-Basic positions.  To be considered for further hiring process, all candidates are required to complete FireTEAM
exam and MUST have a valid  CPAT certification. All testing and department application must be completed by November 21, 2018. Application is available at http://www.wsfr.us/firefighter-position .
The department also requires the candidate PHQ.  You can access the questionnaire through your candidate account.  The PHQ must be completed by the closing date or you may not be considered further in the process.

Basic Information: Windsor Severance Fire Rescue is an all-hazards combination fire/rescue organization. We respond to ~3500 calls for service annually from 3 staffed fire stations located strategically within our ~100 square mile service boundaries. We are looking for 4 individuals to join our team to serve in the role of firefighter/EMT to help us carry out our mission of "Providing professional service and compassionate care from our family to yours…"

Area Information: Windsor/Weld County/Northern Colorado

Population: 28,000

---

Job Requirements

Age : 18

US Citizen : Yes, or legally allowed to work in the USA

High School Grad/GED : High School Diploma or GED

Valid COLORADO State Driver's License : Valid Colorado Driver's License

Ability to Read/Speak English : Ability to read and speak the English Language

Necessary Certifications : State of Colorado and/or National Registry EMT-Basic certification, Current CPR certification, Current Candidate Physical Agility Test (CPAT) certificate

Schooling Prior and Post Hiring :
As a condition of employment, successful candidates will be required to attend the Front Range Fire Consortium Academy scheduled to start in February 2019. Disqualification from or failure to complete the academy and required certifications will result in termination of the employment. Candidates that have previously completed the Front Range Fire Consortium academy (or equivalent recognized academy) within the previous 36 months may be exempt from attending based on skills evaluation and Training Chief discretion.

Hiring Process :
Application Period: October 24, 2018 – November 21, 2018
Deadline for application: November 21, 2018, 5pm.

The below application documentation must be received by the application deadline. Incomplete or late submissions will not be accepted. The documents may be submitted to: [email protected] or dropped off in person at WSFR Station #1, between the hours of 8am-5pm, Monday through Friday.

Completed Windsor Severance Fire Rescue job application
Letter of Intent
Resume
Copies of EMT, CPR, and Candidate Physical Ability Test certifications
Copy of current and valid Colorado driver's license
Copies of other pertinent certificates

National Testing NetworkNTNFireTEAM Firefighter Test
All candidates are required to register with the National Testing Networkin order to apply. A Personal History Questionnaire (PHQ) and FireTeam written exam will be required. To apply and schedule a test, go to www.nationaltestingnetwork.com; select Fire and sign up for Windsor Severance Fire Rescue. Upon completion of the exam, all candidate scores are forwarded to Windsor Severance Fire Rescue. Candidates who do not receive a passing score will not continue in the hiring process.


Panel Interviews 12/05/18-12/07/2018
Candidates who meet the minimum requirements and successfully pass the FireTEAM written exam may be invited to participate in the interview process. The number of candidates moving to the panel interviews will be determined by the hiring committee. The selection of participating candidates will be based on a ranking order using the FireTEAM test scores. Selected candidates will be contacted to schedule the interview time and location.

Chiefs Interview 12/20/2018-12/21/2018
Candidates who successfully complete the panel interview may be invited to participate in the Chief Officer interview. The selection of candidates will be determined based on the panel interview ranking of each candidate using a predetermined questionnaire and scoring rubric. Successful candidates will be contacted to schedule the interview time and location.

Contingent Job Offer: 01/04/2019
Job offers will be given to chosen candidates, contingent upon medical evaluation, background checks, and drug screen. Notification will be made either in person or by telephone. Successful candidates will be made an offer and a specific timeline to accept or reject the offer.

Additional Information
The Windsor Severance Fire Rescue full job description for the position of Firefighter/EMT can be downloaded from wsfr.us/firefighter-position

Eligibility List
Windsor Severance Fire Rescue reserves the right to create an eligibility list that may be used for future open positions. Those who are placed on the eligibility list will remain on the list for one year or until the exhaustion within the stated time frame. The list will be created based on the results and ranking of the panel interview. If utilized for future hiring the appropriate number of applicants will be contacted in order of rank and the process will begin with the Chiefs interview.

Candidate Physical Agility Test (CPAT)
All candidates must possess a current CPAT certificate to be eligible for an interview. A current certificate must be held through the final job offer process. Windsor Severance Fire Rescue accepts certificates from any testing organization licensed through the IAFF. Additional information on the CPAT and how to obtain a certificate may be found at: Aims Community College- https://www.aims.edu/academics/fire-science/cpat/
or
Pikes Peak Community College-https://www.ppcc.edu/departments/fire-science-technology/cpat

Questions?
If you have any questions about becoming a career firefighter with Windsor Severance Fire Rescue, please contact the Recruitment and Hiring Team at [email protected]