0 Flares
0 Flares
×
New to little Indiana? Subscribe for free to my RSS feed. Thanks for stopping by!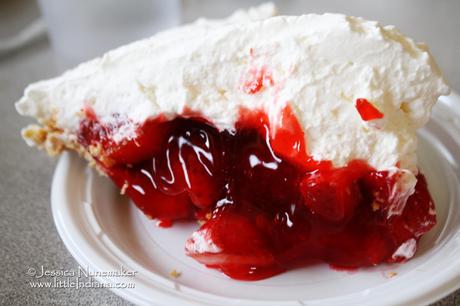 Windell's Cafe: Dale, Indiana
Windell's Cafe in Dale, Indiana is probably one of the places that has garnered more emails from readers urging me to go and try their pie than almost anywhere else!
So finally–little Indiana and family went and ate a piece of pie.
Dale, Indiana: Windell's Cafe
While Dale, Indiana may be a super tiny town, it is clear that Windell's Cafe is the local hangout.
We showed up at a strange time and there were still other folks around eating pie or drinking coffee.
Our waitress gave us the rundown of pie and wowza–there's  a lot of homemade goodness to choose among!
Spencer County Restaurant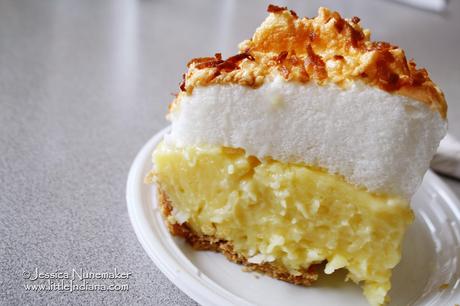 Windell's Cafe: Dale, Indiana
I choose the Coconut Cream Pie, hubs snagged the Cherry Pie, and the boys shared a Chocolate Cream Pie.
Really, though, we sampled each other's generous slices. My goodness. This Spencer County restaurant knows their homemade desserts!
The height of that meringue on my slice of Heaven, I mean, Coconut Cream Pie, was awesome–and delicious.
Go There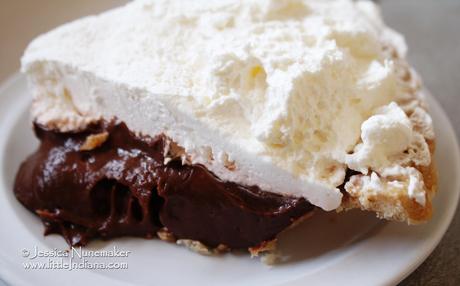 Windell's Cafe: Dale, Indiana
It's nothing fancy. Just really good food–and amazing pie. Friendly folks. Just the way I like it.
Judging from the number of seats in this Indiana town restaurant, I would imagine it gets busy–so for the best selection of pie, you might want to keep that in mind.
Find pictures in Indiana on my Flickr photostream or on the new little Indiana Tumblr blog.
Just don't forget to tell 'em that  little Indiana sent you!
Windell's Cafe
6 W Medcalf Street 
Dale, Indiana 47523
812.937.4253

View Larger Map
Don't miss a moment. Subscribe to little Indiana and receive instant updates to stay on top of everything "little."
little Indiana: Where to Stay, Play, and Eat in Small Towns in Indiana. Discovering Indiana's best small towns! Now get little Indiana on your Kindle.
Targeted. Relevant. Affordable! little Indiana advertising.