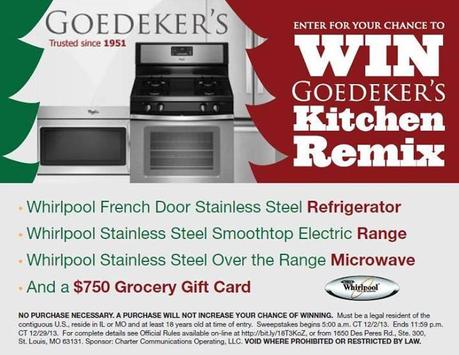 What could you do with a kitchen full of new appliances? Enter the Kitchen Remix Sweepstakes courtesy of Charter Communications and Goedeker's and start dreaming of something far more useful than sugarplums.
The winner of the sweepstakes will receive a Whirlpool Stainless Steel Refrigerator, Smoothtop electric oven range, and over the range microwave. In addition, you will get a gift card for $750 in groceries.
There is no purchase necessary to enter the sweepstakes. There are just two steps to enter:
1) Like us on Facebook (https://www.facebook.com/Goedekers)
2) Enter the sweepstakes by filling out this really short form.
You can find the rules and all the information you could want here. But in short you need to be over 18, reside in Missouri or Illinois, and enter before December 29, 2013.
If you haven't already, liking us on Facebook will keep you informed not only of the latest savings and sales at Goedeker's, but all of our helpful hints, news, and other writings on the blog here, plus some of the best recipes, how-to's, and interior design projects around the web that we find and just cannot help but share them with our customers.
Stay tuned by subscribing, following us on Twitter, or Facebook and you will also get to see all of the great interviews we have coming up with people in the industry and home life bloggers around the internet.
Some of our most popular, shared, and informative posts in the past several weeks include:
6 Trends in Appliance Design You Must Consider Before Buying Your Next Kitchen Appliance
Goedeker's Best Selling Appliances Third Quarter, 2013
Appliances That Make Romantic Gifts (And How to Give Them)
Don't miss another great article – follow us on Facebook today, and you could win a whole new set of appliances to cook with in the new year!