Evening all,
I have a short post for today.
While browsing through charts on my chart station, I came across a certain chart with price action that was easy for me to spot – an unconfirmed symmetrical triangle on Wilmar's chart. Volume is not ideal – in triangles, we look for declining volume through the formation of the triangle. But, my brand of technical analysis is quite lax on volume – especially in pattern recognition.
The unconfirmed triangle is fairly large since it spans at least four months and counting. Size should be enough to validate a pattern, in my opinion (breakout is the most important factor). So, for now, it is a wait and see game to see which side Wilmar decides to break out to.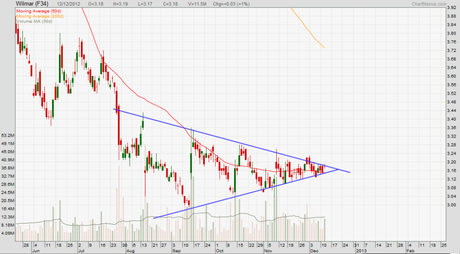 All analyses, recommendations, discussions and other information herein are published for general information. Readers should not rely solely on the information published on this blog and should seek independent financial advice prior to making any investment decision. The publisher accepts no liability for any loss whatsoever arising from any use of the information published herein.