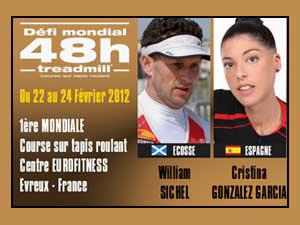 The first 48 hour treadmill race – the "World Challenge 48 Hour Treadmill" is being held in the EuroFitness Centre in Evreux in France from February 22nd-24th. Six athletes have been invited to race each other for 48 hours including Scotlands William Sichel.
The Ultra Treaders
•  Cristina Gonzalez Garcia
•  Christian Fatton
•  Jean Pierre Guyomarch
•  Christophe Laborie
•  Christian Mauduit
•  William Sichel
The EuroFitness center in Evreux launches a new discipline of ultramarathon in France. For this world premiere, EuroFitness wanted to surround itself with the organization of recognized competence in the world of ultramarathon asking Ultrathlétic ® to ensure all the technical and functional details of the event.
The objective of this competition is to tackle the world record for the distance 405.22 km, currently held by the Irishman Tony Mangan.
The current womens record is held by Martina Schmidt of Austria – 309.8 km (192 mi) set on 10 March 2006 in Stockerau.
This test of extreme endurance starts at 17:00 on February 22nd  and will last for 48h00 non stop. The event will be followed on Live Video on the site.