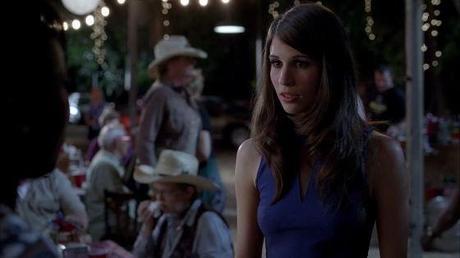 According to Deadline.com Amelia Rose Blair has been promoted to a series regular for True Blood Season 7.
Deadline also revealed that filming of the new season is "expected" to begin in December. (This would be earlier than last year, and may possibly mean 12 episodes but more likely could mean a slightly earlier production finish)
EXCLUSIVE: It's been a fast rise for Amelia Rose Blair on True Blood. She joined the HBO vampire drama as recurring for the recent sixth season, playing Governor's daughter and vampire-rights-activist-turned-vampire Willa Burrell. Blaire ended up appearing in virtually every episode and is now being promoted to series regular. Production on True Blood's seventh season is expected to begin in December.
Willa was last seen at Merlotte's  Bellefleur's Bar and Grill with her best friend Tara, and it now looks like she definitely makes it home in one piece from the attack of the killer vampire zombies. (Whatever!)
All she needs now is for her maker to come home and thrill her and us with his complete and utter awesomeness, and to help the True Blood audience smile again!