As you can see from Dave Fry's SPY chart, we got our usual Tuesday pop but then a rare Tuesday drop into the close and, this morning, the Futures are taking us right back to that 165 line – as if yesterday never happened.  
Note the flash-crash line at about 2:50 that tested support and found there were no actual buyers – just a bunch of TradeBots moving shares back and forth to keep up appearances.  While we are trying to get ourselves in a more bullish frame of mind, the Russell is not helping us as it repeatedly fails to hold it's 1,000 line, which is the Must Hold line on our Big Chart.  
Without the Russell, we remain 3 of 5 bearish at our Must Hold lines and, as I noted yesterday, we WANT to be bullish – really we do – but the indexes are simply not giving us enough reasons to believe just yet.  
Not that we're bearish – that would be market suicide at the moment.  Call us agnostic and proud of it.  As you can see from the Big Chart below, we MAY be consolidating for a proper breakout at some of our significant lines or we may be about to fail 975 on the Russell and 15,200 on the Dow and 1,640 on the S&P and, below that, we'll be testing some levels you don't want to be testing if you are trying to stay bullish.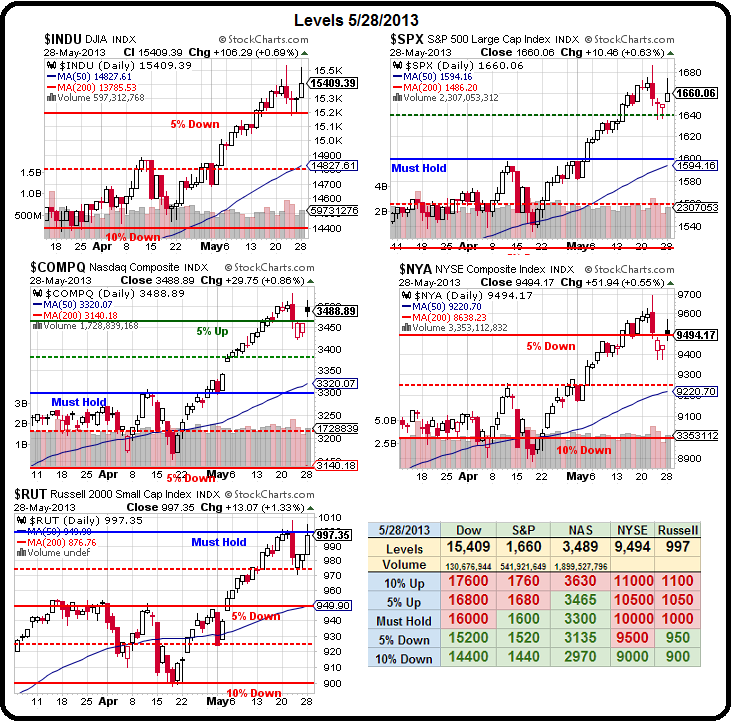 Keep in mind my call for this month was to get to cash at the top here.  The proverbial "Sell in May" play.  IF the market is still up next week – THEN we can put some of that sideline cash back to use.  I'm not alone, either.  A survey by US Trust polled people worth $3M or more and a whopping 88% feel financially secure and 70% feel confident about their security in the future.  
HOWEVER, 56% have a "substantial" amount of cash with only 16% planning to invest that cash in the next couple of months and only 40% planning to invest over the next two years.  That's something like $6Tn sitting on the sidelines!
So we're not fooling all of the people, some of the time yet and the market's going to have to pull that off to get to …
This article will become free after 48 hours (see below for free content). To read the rest of this article now, along with Phil's live intra-day comments, live trading ideas, Phil's market calls, additional member comments, and other members-only features -
Subscribe to Phil's Stock World by clicking here
.