That's $5,000 per contract in your pocket if you followed our lead on Wednesday, the 16th, when  my comment right in the morning post (which you can have delivered to you pre-market, every day by clicking here) was:
In yesterday's post, I reminded you we were shorting oil at $104 and we caught a $500 per contract move back to $103.50 but then (also live in the Webcast), we decided to wait for $105ish to re-short today (/CL Futures).  This morning, I posted early (6:22) to our Members that we had our shorting opportunity at $104.95 and already (8:06) we're back to $104.65 and that's good for $300 per contract after a hard morning's work – plenty of money for breakfast!

We're still expecting a much bigger drop, probably not until after the weekend though, as Ukraine tensions are keeping oil high.  Rather than play the volatile Futures over the weekend, we have SCO and USO plays set up for our Members to take advantage of the potential correction.  Today though, we can still have fun with the Futures (stop at $104.75 at the moment) into inventories at 10:30.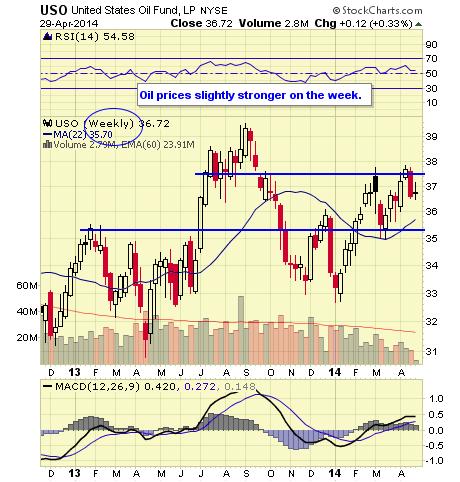 As you can see from the Futures chart above, we hit it right on the nose and caught a fantastic drop right away but, of course, we've stuck to our guns on those short positions and, just yesterday, in our Live Weekly Webinar, we discussed the merits of leaving our SCO position on the table to take advantage of a further fall in crude.  
If not for the continuing nonsense in the Ukraine, oil would be much lower at the moment as we print record US inventory storage today (10:30 is the official report) without near-record supply and nowhere near record demand.   
In fact, if the crooks at the US energy cartel weren't EXPORTING 1.7 MILLION BARRELS PER DAY out of the country to create an artificial shortage, we'd be piling on an additional 12M barrels a week or 618M barrels this year alone.  In other words, the…
You must login to see all of Phil's posts. To read the rest of this article now, along with Phil's live intra-day comments, live trading ideas, Phil's market calls, additional member comments, and other members-only features -
Subscribe to Phil's Stock World by clicking here
.
To signup for a free trial membership, click here.