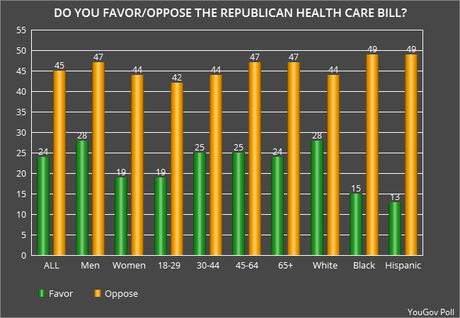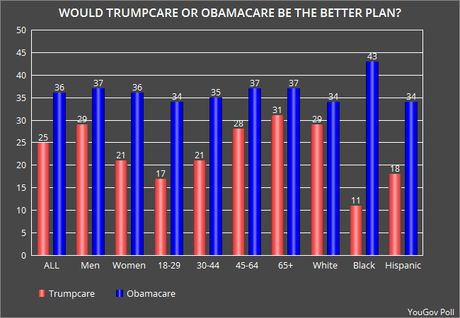 Speaker Ryan is forging ahead to have a vote in the House of Representatives on Thursday to pass the Republican Health Care plan (Trumpcare). I think he and Trump see it as now or never -- because the longer it takes to try to pass it, the more people realize just how bad the plan really is. And as the charts above show, the people are already turning against the GOP bill.
Americans oppose Trump care by a 21 point margin (24% to 45%). And they think Obamacare is a better (even though flawed) plan than Trumpcare by an 11 point margin (25% for Trumpcare and 36% for Obamacare).
Will it pass? That's anyone's guess at this point. The "freedom caucus" (teabagger Republicans) had enough votes to kill it a few days ago. But Trump met with them, and Ryan has allowed some right-wing amendments to the bill. Trump and Ryan say they now have enough votes to pass it. The freedom caucus leader says he has enough votes (combined with Democrats who'll vote against it) to kill it.
Who is right? I had originally thought the bill would pass fairly easily, then thought it would fail because of teabagger opposition. Today, I see it as 50-50 on pass or fail. Either way, it will be interesting to watch the vote on Thursday -- a vote that could determine whether 24 to 26 million Americans get to keep their health insurance.
The charts above were made from info in a new YouGov Poll -- done on March 16th and 17th of a random national sample of 1,000 adults, with a 4 point margin of error.