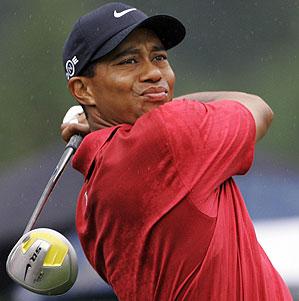 "The Big Miss" was the first thought that came to mind as Tiger Woods missed the cut last week at the Wells Fargo Championship. To his credit it's only the 8th time in his professional career that he's missed the cut.  Woods looks to put last week behind him at The Players Championship starting today in Pointe Verde, Florida. TPC Sawgrass with it's par-3 17th hole, featuring an island green, is one of the scariest holes on tour.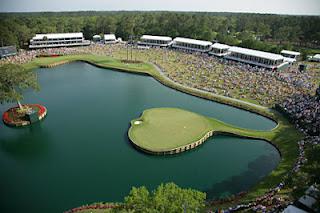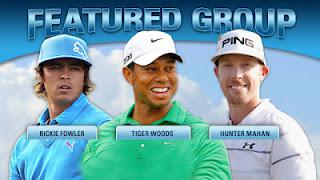 Woods tees off today with playing partners Hunter Mahan and Rickie Fowler (winner of last week's Wells Fargo Championship) at TPC Sawgrass. The field also includes Phil Mickelson, Rory McIlroy and Luke Donald  (battling for #1 world ranking, in an interesting sub-plot) and too many others to name. Woods, hopefully will make the cut, and play through the weekend.
Did I really just type the words, 'Woods, hopefully will make the cut?'  Since 1997, Woods has dominated the world of golf, both on and off the course.   In 2007, I traveled  to Torrey Pines to watch Woods play  at The Buick Invitational (now known as The Farmers Insurance Open).  I'll never forget his commanding presence, his aura,  the way the field withered, not to mention his shot-making ability. Of course, Tiger won the event and left me in awe of his talents on the golf course. That was then, this is now. Rory McIlroy, Phil Mickelson, pretty much all the  players on tour, now look forward to playing  Woods and winning against him.
Which brings me to Hank Haney-Tiger's swing coach from 2004-2010. Haney has authored a new book entitled 'The Big Miss: My Years Coaching Tiger Woods'.  I haven't read the book, Reportedly,  it's Haney's first person account of his life with Tiger Woods. What a life on the golf course the relationship produced. Tiger won six majors with Haney as his swing coach.  The famous 2008 U.S. Open one-legged win at Torrey Pines in a Monday playoff against Rocco Mediate, was and is my favorite. Once again-that was then, this is now. Does Haney know Tiger Woods than even Tiger is comfortable admitting?
Sure, Woods has one win this season, at Bay Hill, breaking a 30-month drought. However, his performance in the tournaments since, at The Masters and last week at Wells Fargo, leaves one wondering. Woods attributes it to "combo-platter" swing issues. Old habits learned from Haney , in combination with new techniques taught by current swing coach Sean Foley. Just writing that is confusing, imagine trying to play golf like that. It seems Tiger Woods is experiencing the same feeling on the golf course.
I miss the days of Tiger, Stevie (Steve Williams) and Hank Haney. I miss the days of what it used to mean when Tiger had an outright or share of the lead after 54 holes. I miss the fist-pumps.  I miss the entertaining Tiger commercials.  I miss Tiger Woods being the #1 player in the world. What I miss most is the conversation about when Tiger would win his 18th and 19th major. The question now is- Will Tiger win a 15th ?   Does Hank Haney "miss" those days too?  Is that what "The Big Miss" is about?
Sure, Tiger Woods is only human. To his credit, he's moved forward, and is giving it all he's got. At times this year Woods shot-making has been brilliant.  I'm looking forward to an exciting Players Championship this weekend.  Wouldn't  be nice if Phil Mickelson, Rory McIlroy and Woods on Sunday, are making a hard charge on the back-nine.  Hopefully starting with TPC, Tiger's performance renders "The Big Miss" as an insightful read,  as opposed to a post-mortem on one of the most fascinating sports careers of our time.