This season has seen many managers sacked by their clubs and the trend looks likely to continue into the 2nd part of the season. With The Fa Cup list of fixtures coming up, I fear that one bad result for any of the four managers in trouble and they will soon find that they are back home drinking a glass of whisky rather than out at the training ground preparing their sides for a congested set of fixtures (due to the winter postponements) Lets look at the candidates who may get the cut this weekend: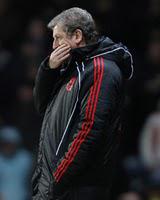 Roy Hodgson - Liverpool 
Having been drawn against Manchester United you feel that a loss will still not bring his departure quite yet as it seems the Liverpool owners are prepared to hold their patience a little longer. However, a few more losses and their will be no hope. Especially, when you take into account that he has already lost the support of the Kop faithful. 
By the time Fa Cup weekend comes to an end, will any of these four be out of a job? 
ONLY TIME WILL TELL...
Avram Grant - West Ham 
After the allegations made that he had been issued with an ultimatum stating that he would be sacked if he did not get a result in 1 of his three important fixtures. He passed with flying colours when he took all 3 points at Craven Cottage and although they did get thumped the other night at the Toon, one must believe that he can steer West Ham away from relegation. Barnsley will come, be difficult to break down and will play to hit on the break, and with The Hammers vulnerability, you never know.
Gerard Houllier - Aston Villa
Since his arrival Villa have only won 1 in 8. Although this season is already a write off in my opinion for the team, they will comfortably avoid relegation and I believe that with a little freshness added to their squad they will be ok. Mid-Table mediocre. Away at Sheffield United will be tricky, but if Heskey does take one of his chances (unlike his display against Sunderland) I am sure they will progress.
Carlo Ancelotti - Chelsea
No one could of predicted the slump that has come apon Chelsea with their seemlingly strong 11. However, in recent weeks it has been exposed their lack of depth in their team while they have lost key players (such as Lampard) at key times of the season. However, I expect them to role over Ipswich fairly easy at the Bridge.