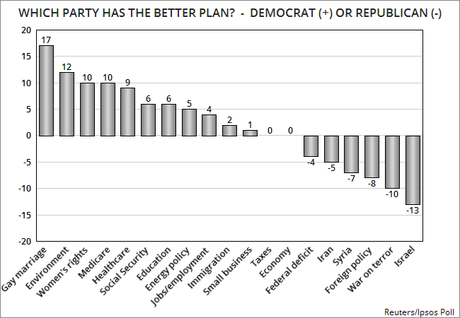 This chart was made from the new Reuters / Ipsos Poll -- which queried a random sample of 1,319 Americans between July 4th and 8th, with a margin of error of 3.1 points. The values on the chart were arrived at by subtracting those thinking GOP policies were best from the percentage saying Democratic policies were best. In other words, the positive numbers are good for Democrats and the negative numbers are good for Republicans.
Note that most of the issues favoring the Republicans are issues of foreign policy, while the issues favoring Democrats are domestic issues. This poses the question -- will the next election be about domestic issues or foreign policy issues? Can the Republicans scare Americans enough to make them vote against their domestic wishes, or can Democrats keep the focus on issues here at home. The answer could show which party goes into the next election with an advantage.
Normally, American elections revolve around domestic issues, but there is still a lot of time before the election and one tragic incident (like a terrorist attack) could easily change that.