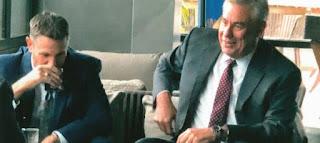 Mark Crosswhite (right) and Jay Town

What fallout might Alabama Power (APCO) executives face in the wake of reports about surveillance of Tom Fanning, CEO of Southern Company, the power company's parent firm? Publisher K.B. Forbes addresses that question -- especially as it pertains to APCO CEO Mark Crosswhite -- in a post at banbalch.com. You might say it creates "bad optics" for Crosswhite. Writes Forbes:
The allegation that Alabama Power Chairman and CEO Mark A. Crosswhite authorized the spying on and surveillance of Tom Fanning, the Chairman and CEO of Alabama Power's parent company, Southern Company, and Fanning's then-girlfriend has rocked the utility sector.

Although Southern Company is attempting public relations damage control to prevent further fallout, the facts speak for themselves and Crosswhite appears to have made a mockery of Southern Company.

For decades, Alabama Power has run uncontrolled.
What kind of environment has that created at Alabama Power? It appears to have led to some hot water:
Crosswhite, a former Balch & Bingham partner, has funneled millions of dollars to the embattled and alleged racist law firm, subsidizing the firm. The firm has lost millions as money-making partners leave and numerous clients dump the firm.

He appears to have directed millions a year in secret contracts to the Oompa Loompa of Alabama, "Sloppy Joe" Perkins and his affiliated companies with no invoicing needed. Perkins and friends are accused of engaging in alleged unsavory if not criminal misconduct.

While Perkins is in a heated fight with his once-protégé Jittery Jeff Pitts, criminal investigators are looking at election violations, money laundering, and abuse of bogus tax-exempt entities among other matters tied to the Matrix Meltdown.
The Perkins-Pitts legal battle could lead to more unsavory revelations about Big Power in Alabama:
Although Alabama Power was unmentionable during the North Birmingham Bribery Trial, the jaw-dropping photos of Crosswhite chugging cocktails with U.S. Attorney Jay E. Town allegedly at the height of the criminal trial appear to confirm a secret deal was cut.
Crosswhite's downfall appears to be a culmination of uncontrolled hubris, unlimited arrogance, and the need to be in absolute power.
Last week, we asked: Did Crosswhite find out if his boss Tom Fanning wears boxers or tighty whities?
Now, today we present a possible answer and another satirical cartoon addressing Crosswhite's surveillance scandal. Click here to download image.