"Spring Break" and "caution" don't go together too often, but this year, students who are headed to violence-scarred Mexico need to be paying attention to the news. As we've detailed here, drug violence continues to rage in multiple states across Mexico.
Over this past weekend, the violence was in the headlines again as 44 inmates were killed in an escape at a northern Mexican prison. Presumably, your Spring Break destination is not Apodaca prison, but Mexico might just be; more than 100,000 students head to Mexico each year for Spring Break. So, are they foolish for heading there this year? The answer is no – as long as they stay in the right geographic locations.
Earlier this month, the U.S. State Department expanded its previous travel warning for Mexico-bound tourists; the advisory warns Americans not to travel to 16 different Mexican states.  Many of the areas of northern Mexico that border the U.S. are considered to be too dangerous to travel to. But here's a little bit of good news: There are no advisories in place for many of the most popular Spring Break destinations – Cancun, Cozumel, Playa del Carmen, and others. To help Spring Breakers to have a better idea of where the trouble spots are, Travel Weekly put together this map of the hot spots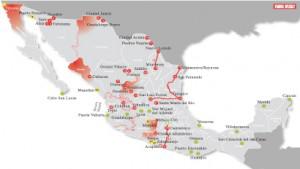 One popular travel destination that seems to be a little dicey is Acapulco. The State Department warned Americans not to travel more than two blocks inland from the boulevard that runs along the popular beaches. So, they aren't saying don't go… but they are saying don't think you're going to have free run of the city. And I'm saying, why don't we pick another spot to vacation?
Spring Break is famously a time for shutting out the real world, forgetting all your cares and cutting loose. But for students headed to Mexico this coming March, they're going to have sprinkle in an extra dose of responsibility with their partying.