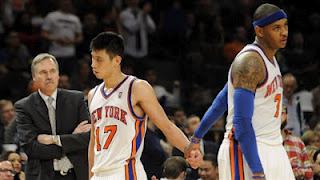 (Photo: Bill Kostroun/AP)
New York Knick fans have been debating what impact the return of Carmelo Anthony would have on the team. A day after the Knicks defeated last years NBA Champion Dallas Mavericks, without 'Melo' in the lineup, the Knicks lost to the lowly crosstown rival New Jersey Nets, with 'Melo' in the lineup. Surprising? Not really. Team chemistry and flow are hard to develop on the fly. The question I'm pondering is, "Will 'Melo' end 'Linsanity'?
'Linsanity' was launched by Jeremy Lin the bench warmer, transforming into Jeremy Lin starting point-guard for the Knicks. With Lin starting the team has won 7 of the 9 games playing winning team basketball, unlike losing basketball, Knick fans are weary of. Carmelo Anthony was traded to New York amid much fanfare last season and along with Amare Stoudemire, guided the Knicks to the playoffs. This season looked to be even more promising with the addition of free-agent Tyson Chandler and the drafting of Iman Shumpert. Promise quickly turned to disappointment.
Injuries, survival instincts, Carmelo Anthony suggestions to Knick head coach Mike D'Antoni, etc. led to Jeremy Lin being given a chance and what is commonly referenced as 'Linsanity'-winning Knick basketball led by Jeremy Lin was launched. Again i wonder, ' Will 'Melo' end 'Linsanity'–the Knicks playing winning basketball?
One night doesn't a season, make or break. However, in this lock-out shortened campaign, the importance of each NBA game is magnified. New players in new places are having to learn team chemistry without the benefit of the usual practice time, playing more games on consecutive nights. Change is hard. Human nature is to resist change, to go with what one is comfortable with. Carmelo Anthony won a NCAA Championship with Syracuse in his one year of college. Anthony can create his own shot and score with the best in the NBA. Does that lead to championship basketball? How would Kobe Bryant, Shaq , and The G.O.A.T. respond?
Teams win Championships. Teams led by players with amazing talent, players like Carmelo Anthony. Will 'Melo' merge his superior talent with the New York Knick team? Is 'Melo' capable of bucking human nature and allowing the new starting point-guard, Jeremy Lin to guide the team to it's full capability? The Knicks on paper, are as deep as any team in the league, certainly the East. This season is up for grabs. The Knicks could compete for a NBA Championship, something New York fans crave. 'Melo' holds the key.
Will 'Melo' end 'Linsanity' and the Knicks winning ways? The Knicks play Miami on Thursday. What a great opportunity for 'Melo' to begin to answer the question!
Stay Tuned…..