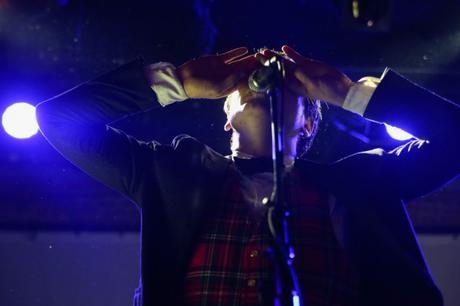 Photos by Mia Min Yen
It's been a great year for Will Butler. The core Arcade Fire member released his debut solo album, Policy, in March, went on his first solo tour, played almost every major festival and had Emma Stone featured in the music video for his single "Anna".
Butler played his last show of the year at Music Hall of Williamsburg in Brooklyn. The holiday show line up also inlcuded Jazz fusion group Hearing Things and comedian Jo Firestone, who played a "WBONWB (Will Butler Or Not Will Butler)" game with the crowd, conducted a Q&A session with Will Butler (where the singer admitted that his brother is both his worst enemy and best friend) and prepared a gigantic Christmas card with fan signatures. "I'm super proud of this line up," said Butler.
Butler kicked off the show with "You Must Be Kidding", followed by "Son of God", "Something's Coming" and "Anna". Everyone was dancing, and the night peaked when memebrs from Hearing Things joined Will Butler on stage in Santa costumes. He and his band closed the night with "Take My Side", the first single from Policy, as the encore.