I'm not terribly fond of petrol mowers at the best of times but when they break-down repeatedly, I think them insufferable.   If only they would listen to reason and I could patiently explain how simple their duties really are.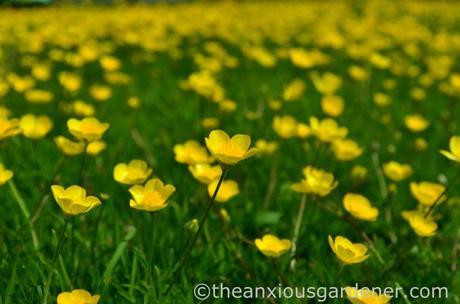 At least a temporary forced-stop to mowing at The Old Forge gave me a compensation of buttercups;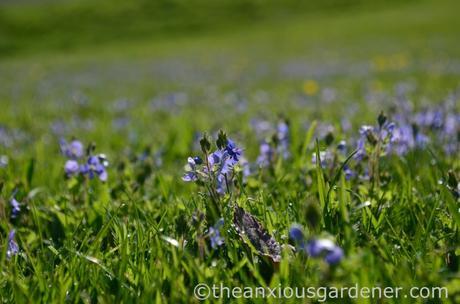 and a patch of blue speedwell salved – a bit – my disgust at uppity machinery.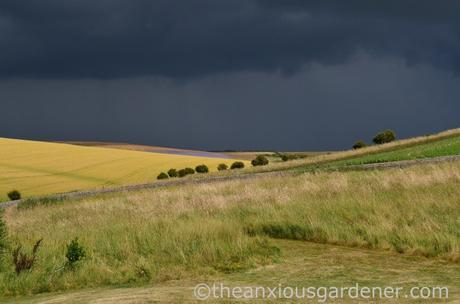 July 2014
As pretty as flowering lawns are however, for big color impact on the Downs you must lift up thine eyes unto the hills.   In summer, fields are turned golden by ripening wheat; or the powder blue of flowering flax.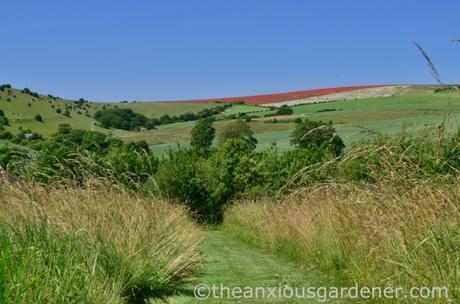 In July 2013, I was wowed by a remarkable field poppy display.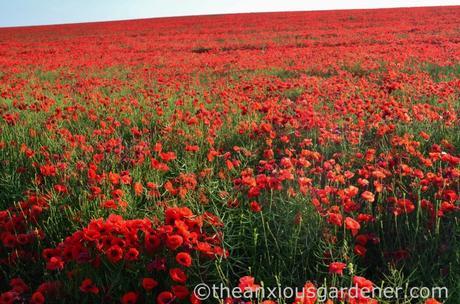 Mesmerised, I took far more photos than I ever needed (or published – so here's another two).  The sheer amount of flower hasn't been repeated since; though poppies aren't the only wild-flower to daub the skyline above the 'Forge.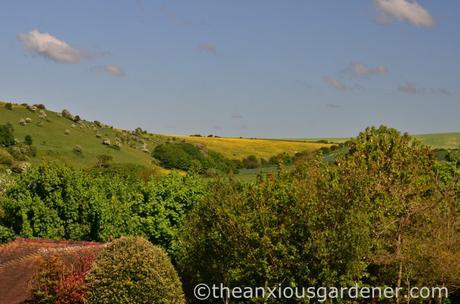 In May, the field next to the 'poppy field' glows from a mile away.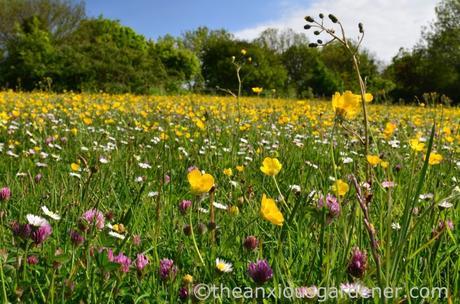 At a distance one might mistake it for rape but no, it's buttercups again.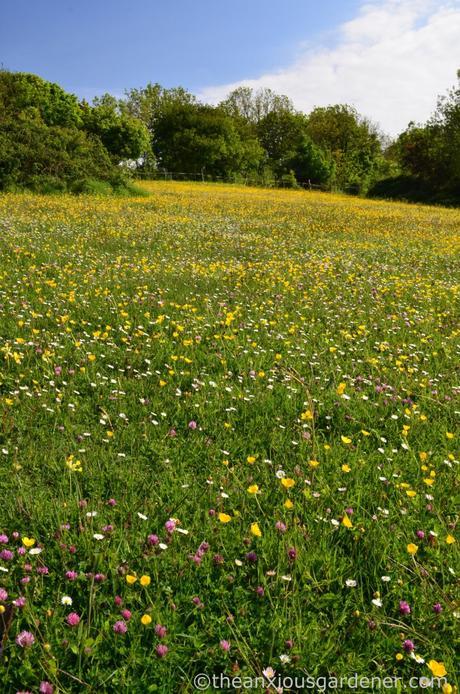 Thousands of buttercups, cowslips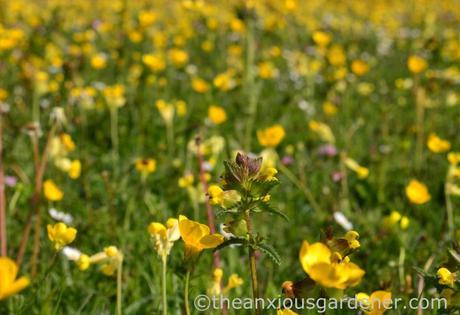 and some yellow rattle too.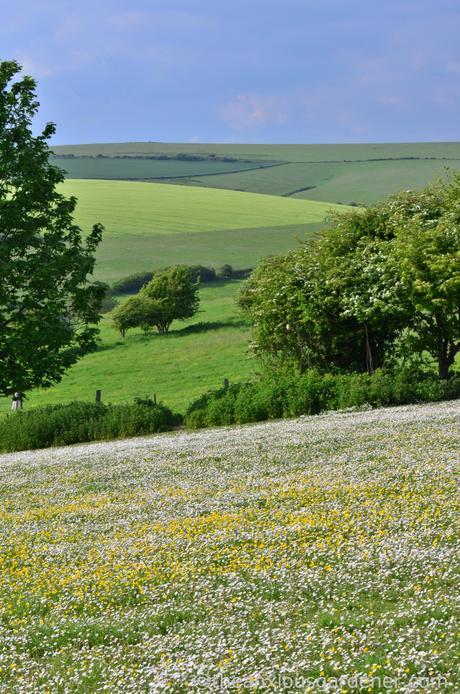 From my new front door, a short walk leads to pasture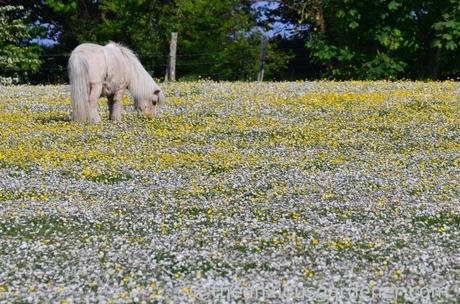 and small paddocks smothered by buttercups and daisies.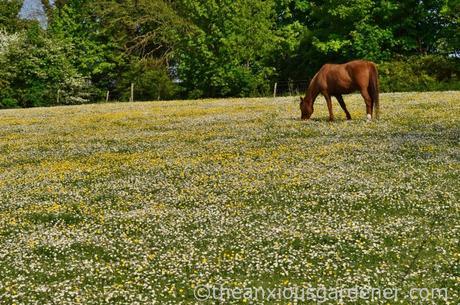 And I instantly recall  a primary school hymn, 'Daisies are our silver'.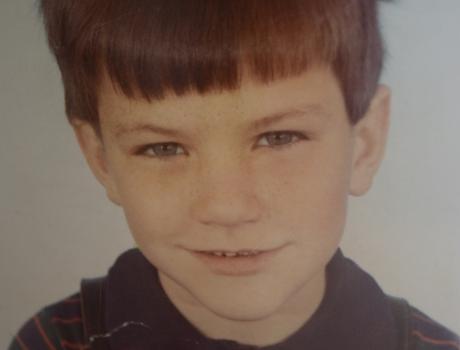 About the time I was singing 'Daisies are our silver' – for the first time
Almost 50 years later, the first verse still comes easily and I sang it again, lustily like a Welsh miner.  (There was no-one about).
Daisies are our silver,
Buttercups our gold:
This is all the treasure
We can have or hold.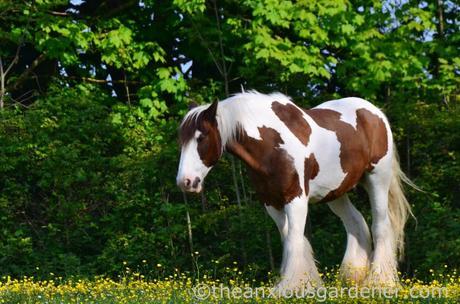 As well as charming to a five-year old boy with a nascent gardening gene, the words proved prophetic too – given the chances of me ever owning a chest of treasure.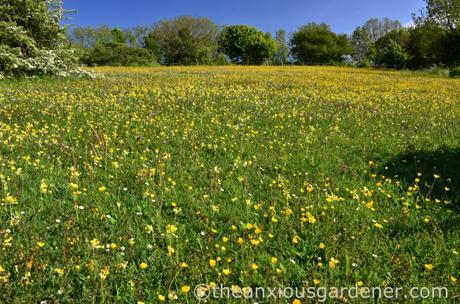 Since I first visited fifteen years ago, these paddocks have been grazed by ponies and horses and, in one case, by the same pony – despite the toxicity of buttercups.  (My equine dietary expertise isn't up to much and no doubt some horse owners will be dismayed at buttercup-rich, poisonous pasture.  I'll just add that in East Sussex, in spring, it is a very common sight).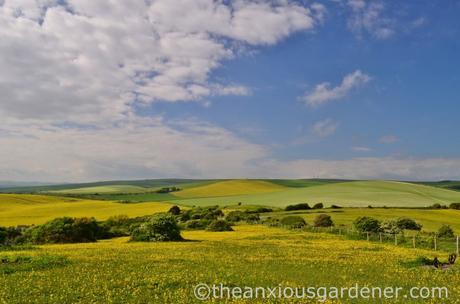 Higher up, a larger field is burnished too; mirroring distant blocks of rape.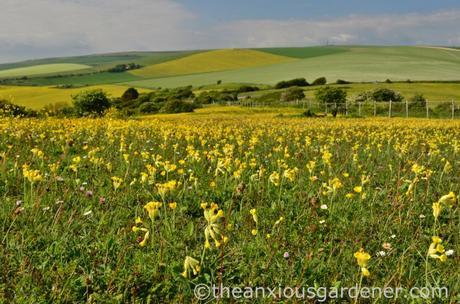 Only here, the predominate species isn't buttercup but cowslip; a colossal number of cowslips.  Which doesn't match my usual view of them at all: as an occasional hedgerow flower or a few individuals lining a country lane.
I hope that July 2016 will see a return to magnificent poppy-red splodges above the 'Forge.  But if they don't, that's OK.  I know that one year they'll be back; and will again force people to pull over, park and whip out their camera phones – as they did in 2013.  In the meantime, buttercups and cowslips have magically transformed the Downs to cloths of gold; far more gold than I should have or hold.
oooOOOooo
I rarely meet anyone who knows the hymn I sang as a young boy, but for those of you who do, (but like me, can only remember the first verse) here are all the lyrics.  (I'm pleased speedwell gets a mention, if not cowslips).
Daisies are our silver,
Buttercups our gold:
This is all the treasure
We can have or hold.
Raindrops are our diamonds
And the morning dew;
While for shining sapphires
We've the speedwell blue.
These shall be our emeralds
Leaves so new and green;
Roses make the reddest
Rubies ever seen.
God, who gave these treasures
To your children small,
Teach us how to love them
And grow like them all.
Make us bright as silver:
Make us good as gold;
Warm as summer roses
Let our hearts unfold.
Gay as leaves in April,
Clear as drops of dew
God, who made the speedwell,
Keep us true to you.
The words to 'Daisies are our silver' were written by Joyce Maxtone Graham, under the pseudonym, Jan Struther.  She also wrote the hymn, 'Lord of all Hopefulness' (which surely you do remember?) and the novel, Mrs Miniver – one of the most beautifully written books I know.