Courtesy of ilene
Wild Which-Way Wednesday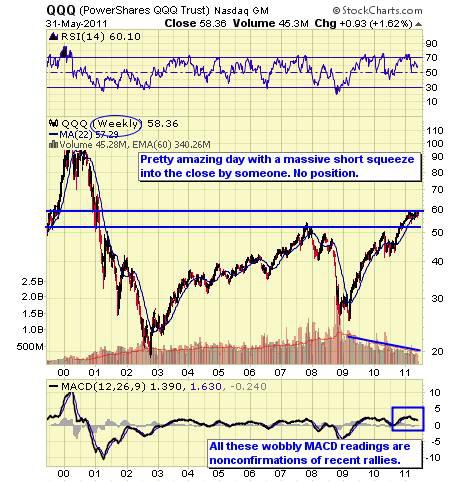 Gosh that was some impressive BS yesterday (Tues. May 31), wasn't it? 
As David Fry said: "Most market veterans will tell you when markets rise on bad news that's bullish. It's hard to question this experience; but, Tuesday put this wisdom to the test. The news was just dreadful. The Greek situation is by no means resolved which is the slender reed bulls ascribed as a reason to rally. Frankly, all this Euro Zone troubles will continue to bob to the surface as troubles get only temporarily papered over.
What news there was featured awful Consumer Confidence data (60 vs 67 expected) which made the previous Michigan Consumer Sentiment data seemed as bogus as suggested here last week. On top of this was the double-dip in the Case-Shiller Home price data and a large drop in the Chicago PMI from 67.6 to 56.6 vs expectations on 63.

The good news from all this is just a repetition of the previous theme: "bad news is good, and good news is better". This has dominated bullish thinking as they believe interest rates will remain low offering little competition for stocks. Naturally, another round of $7 billion in POMO Tuesday just threw gas on the fire." (chart by Dave Fry)
So much was going right for the Nasdaq yesterday we just HAD to short it, going for the SQQQ July $24/25 bull call spread at .35 and selling the June $23 puts for .30 for net .05 on the $1 spread with a 1,900% upside if the ultra-ETF (short the Nasdaq) is over $25 at the July close. Other than that, we mostly stayed on the sidelines in shock and awe of the amazing display of bullish firepower against a background of some of the most bearish news we've hear all year.  
I spent pretty much all day yesterday warning Members not to fall for the other kind of blatant manipulation as the funds gave us a mega window-dressing day.  Today I will either be a hero or a goat but, when push comes to shove – you do have to go with your gut and my gut was screaming BS at yesterday's move from the minute we opened all the way until that ridiculous close.  
…