0 Flares
0 Flares
×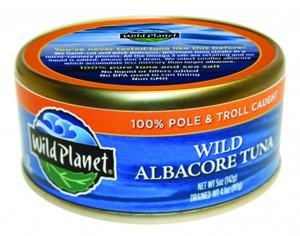 Wild Planet Albacore Tuna. Image Used with Permission
We love my quick and easy
stovetop tuna casserole recipe
around here but with the addition of 
Wild Planet Albacore
, pure tuna, it was really something!
Wild Planet Foods Albacore is pure tuna with no water or oil to drain.
Wild Planet Foods Albacore
Now this is good stuff! Containing an average of 3,350mg Omega 3 per can – including 2,200mg DHA and 750mg EPA, it is packed with good for you things! Why is the Omega 3 content in Wild Planet Foods Albacore Tuna so high? It's all thanks to their cooking method–and that they don't add water or oil to the process.
So? The tuna stays better for you–and tastes great, too!
Because Wild Planet uses smaller fish, there is less mercury in each can! The longer a fish lives, the more it collects mercury. By pole or troll catching young fish, it keeps down the mercury content. The average mercury testing concluded that there  is 62% less mercury in a can of Wild Planet Foods! That is really incredible.
Sustainable Tuna Fishing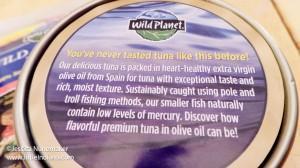 Wild Planet Albacore Tuna
It matters how your tuna is caught. Every year, 200,000 loggerheads and 50,000 leatherback sea turtles are hooked by longlines and lost.
Think about that one
!
That doesn't include the number of sharks, rays, sea turtles, seabirds and many species of fish that are considered a "by-catch" and thrown back to sea, dead or dying, because they got hung up in the line. Which is why Wild Planet Foods do things differently.
I find it startling! If your can on tuna doesn't list how it was caught, well, there's a reason for it! Wild Planet Foods is very forthright with their fishing methods, and work hard with various environmental agencies to be sure that they are 100% sustainable!
Better Tuna, Better Health, Better Planet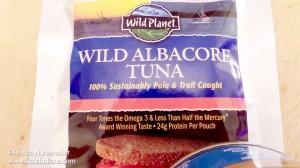 Wild Planet Albacore Tuna
When it comes to tuna fish,
you've got options
! Wild Planet Foods carries the original albacore tuna as well as Wild Albacore Tuna in Extra Virgin Olive Oil, Wild Albacore Tuna – No Salt Added, and Wild Skipjack Light Tuna.
We were so impressed with the quality of Wild Planet albacore, from the green factor of the company to the nutritional content of the tuna, that you know it will make a frequent appearance in our home!
little Indiana received the items listed above in exchange for an honest review. No additional compensation was received for this article. littleIndiana.com will always provide honest opinions about products reviewed. Only products or services that are of benefit to little Indiana readers will ever appear on little Indiana. If you have any questions or would like your product featured on little Indiana, please contact Jessica Nunemaker of little Indiana.
Small Towns: Destinations, not Drive-Thrus! I'm Jessica Nunemaker and THIS is little Indiana!
Find pictures in Indiana on my Flickr photostream or on the new little Indiana Tumblr blog.
Just don't forget to tell 'em that  little Indiana sent you!
Don't miss a moment. Subscribe to little Indiana and receive instant updates to stay on top of everything "little."
little Indiana: Where to Stay, Play, and Eat in Small Towns in Indiana. Discovering Indiana's best small towns! Now get little Indiana on your Kindle.
Targeted. Relevant. Affordable! little Indiana advertising.