Thanks to Dole Sunshine for partnering with me for this post! I am the creator of this recipe and for the description and information that follows. For a full disclosure, click here!
You never know what blueberries will do when your cooking them. Especially in cookies. Sometimes they can burst open in the cooking process and spread the beautiful hues of blue Sometimes they just plump up and stay intact not coloring the other ingredients. It really doesn't matter because when you make these wild blueberry pistachio oatmeal cookies, you're gonna be focusing on the deliciouness in every bite!
I'm typically always cooking in my kitchen creating recipes for Dole Sunshine as their brand ambassador, other companies with whom I might partner, and for my family and friends. And, honestly, what do you do with all the grub you prepare if there's typically just the two of us, Ben and me. Well, I'm the neighborhood pusher of food! Yep, when someone pulls up into the driveway to deliver a package, UPS or FedEx, I never get turned down when I say, 'Would you like to taste such and such?' There's sheer delight! And, since our house is usually the last on the runs of delivery companies, I just know those drivers are hungry.
Then there are the great guys who work hard in our yard. Keeping it spruced up, grass cut, bushes trimmed, and everything looking sparkling and healthy takes a lot of work and elbow grease. Our yard is kind of big and it takes time. So, when these fellas are working the heat of the summer, they're ready for a treat. Just look at them chowing down on these wild blueberry pistachio oatmeal cookies on their break! Everyday folks are my taste testers. They're people who eat real food and who want real good tastes, textures and flavors. And, if I'm making them happy, then I know I'm creating recipes that will please!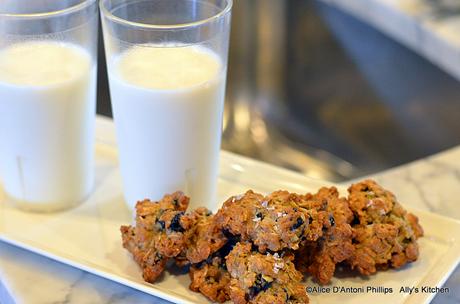 Ingredients
Preheat Oven to 350
1 tsp. baking soda
1 ½ cups rice flour, regular flour can be substitute
3 cups whole oatmeal, not quick cooking
2 cups Dole Sunshine wild blueberries, thawed and most all the excess moisture drained and patted dry 1 cup salted shelled whole pistachios
1 cup soft salted butter
½ cup packed dark brown sugar
¾ cup regular sugar
2 tsp. vanilla
½ tsp. sea salt
2 eggs, room temperature
Instructions
Notes
https://allyskitchen.com/49286-2/