Wild Blueberry Coconut Baked Oats Crunch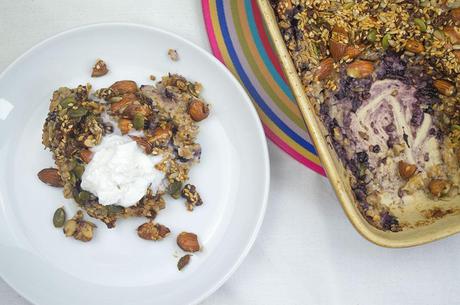 I did not think I would get a post out to you this week, I have been so hectic I have hardly had time to think. Part of the reason for this is that it was my birthday on Monday and had a wonderful day off. My mom took me to a vegetarian restaurant in Islington that does loads of vegan options. The Gate is easily one of the best restaurants I have been too, the food is so tasty and imaginative that even hardened meat eaters are sure to love it there. The other reason for the delays on everything is I have been teaching a lot more classes and have just found it hard to fit everything in. I am going to have to get a proper plan in place so that I know when to post and what I need to stick to. (I can live in hope!)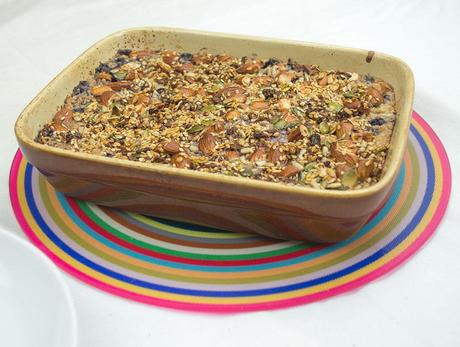 I would love to tell you that this breakfast recipe was a birthday special but it wasn't. For my birthday I had pancakes, the French crepe type using our new crepe maker that could sit in the middle of the table and we could make and eat without moving. I filled mine with chocolate almond spread, fresh fruit, coconut cream and a little agave nectar and trust me it was so tasty I am not sure how I had space for lunch. Obviously the crepes were made vegan and I used light spelt flour to give them an extra bit of flavor and you could never have told that they were vegan which was perfect.
Ok on to the actual recipe and I have to tell you that baked oats are one of my favorite things and then put with wild blueberries and coconut it is like pure heaven. I have to be honest and say that before this recipe I had never had wild blueberries before. I had looked at the jar in the shop and thought about buying them but had always used fresh from the green grocers. I am so glad that I took the dive and bought the jar for this recipe, they are amazing. It is just like a step up from regular blueberries, they have an amazing sweetness and are so full of flavor.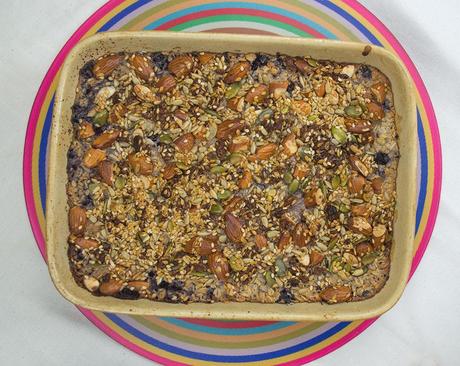 Now in terms of the health benefits of this recipe there are lots of great blood sugar controlling elements like coconut and almonds and it is full of lots of good fats that will keep your body working properly. I have divided this recipe into 4 portions and believe me it is quite a generous portion but even despite that the glycemic load of this breakfast is approximately 10 making a great option if you are following the low GL diet. Regardless of the health benefits it is just a really yummy dish and would be perfect for a lazy sunday morning and you have time put this together and bake it in the oven.