Courgette Bread with Raspberries and Walnuts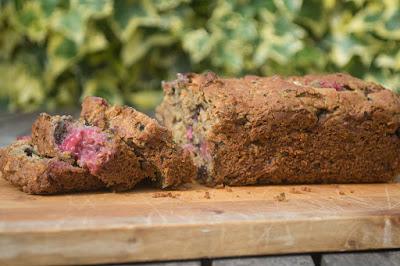 This recipe looks like it should be a sweet recipe and although there is some element of that it really is not sweet at all although not a savoury recipe. It would be perfect served with some number butter and or jam as a treat. However it is also quite moist and so you could just have it with nothing on, especially if you do not like things too sweet.
Now in terms of ingredients we should look at the flours I have used. It is made from a combination of coconut flour and spelt flour which each have their own benefits. Looking at the coconut flour first it is worth mentioning that it is gluten free and although it is not relevant for this recipe it is something to keep in mind for other uses. It is also very high in fiber and very high in protein making it far more filling than regular wheat flour. The healthy fat that this flour contains is great for your body and brain. As with so many of these great ingredients it is also good at balancing blood sugar so adding a little bit of this to your baked goods has some excellent benefits. I would not necessarily use only coconut flour when baking as it is very dense and will make things a bit heavy but as an addition to other flours it is an excellent ingredient.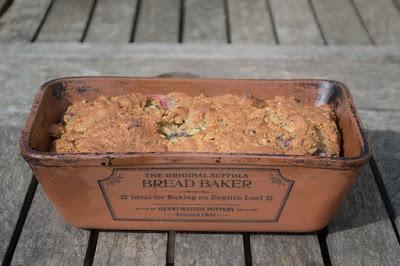 The other flour used in this bread is spelt which is an ancient grain and form of wheat so does contain gluten however there are a lot of advantages to it. In regards the gluten, if you are celiac then you need to avoid this flour but if you have a minor gluten intolerance then this grain may be easier to digest and be something you could consume. Even if you do not have any gluten intolerance its ease on your digestive system is worth considering. In terms of nutrients this grain is high in vitamin B3 (niacin) as well as being high in a number of minerals including copper, iron, zinc, magnesium and phosphorus. The reason the gluten is easier to digest in this flour is the fact it is high in soluble fiber which also has other benefits of lowering blood cholesterol and aiding in regulating blood sugar so good all round then.
So not only does this great bread have wonderful benefits from the flours it is made from but there is also the courgette (zucchini), raspberries and walnuts adding all of their yummy goodness to this bread. The other thing that it might be worth mentioning is I used peanut butter in this recipe and you could use any nut butter or seed butter, if you want to stick with the walnut theme then I think walnut butter would work really well or if cannot tolerate nuts you could use pumpkin seed butter or even tahini. So go on grab yourself a slice today and share with friends in the knowledge that you are treating your body with love and with care.