There's one film that arrived through the post recently that I'd be highly anticipating for many weeks… It would've been quicker to have bought the DVD but I decided to play a game of patience. Bundled with that, came another title with far lower expectations. I'm not even sure why that one was even added to my LoveFilm Rental List…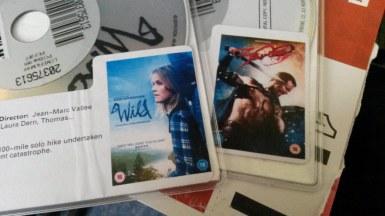 Wild is a film that has been recommended to me by several individuals since January. If there's one common interest that we all share then it's a passion for walking in the great outdoors.
…How was I not going to fall in love with this film?!
It recounts the true story of Cheryl Strayed; a woman who, twenty-years ago, set off on a personal journey to walk the entire length of the Pacific Crest Trail (from Mexico all the way up to Canada, I believe). This recreation, starring Reese Witherspoon, is not a simple showcase of the trail itself, which is what I was half-expecting…
You get to see the personal story behind this adventure and, alongside the present tense, a series of flashbacks and memories revive her haunting past and the motivation that set her on this path.
As an active walker with an interest in long-distance hikes; it was intriguing to see the familiar struggles of packing early on. While later in the story, you get to realize some of the real-life struggles that can be faced, living 'away from home' – including the need to keep hydrated while trekking so far from civilization.
If you like walking or the outdoors, it's definitely for you. If you like a film with a strong personal narrative then this also for you. Perhaps I'll also check out the book one day.
Why I had an interest in watching 300: Rise of an Empire, I'm not too sure.
I've seen the original film several times. There are gory parts and everyone seems to applaud… Yet I don't entirely get it. My repeat viewings of that first film have mainly been to rekindle my interest in the strange and 'mythical' goings on… Perhaps that's why it was on my Watch List, then!
You see, I saw the trailer for this film last summer in the cinema. It did nothing for me. Like too many modern films; it just appeared to be an attempted rehash of the original. On top of that, I question why they refer to it as a '300' film when it's revealed early on (and in every trailer I've seen) that Leonidas are his Spartan army are dead. I think there's supposed to be a third film to this – I wonder how the title for that will form?
It starts off with intrigue, as you witness the transition of Xerxes, from son of Darius in the the God-King who featured in the original film. Actually, this was the one thing that caught my attention in the trailers… But, rather anti-climatically, the entire 'story' is completed in a matter of minutes.
From then on until the end; this film features the occasional large-scale brawl, some eye-catching choreography and perhaps one of the most bizarre sex scenes to ever grace the cinema… I don't know. It probably offers a great amount of appeal to people with a certain kind of fetish, while teenage boys around the world will be pleased to learn that Eva Green appears topless in this film [but hopefully not too excited right now!!].
I realize that there is some reference to historic events, names and places in Frank Miller's graphic novels so, if you're already a fan of his work, you may be interested to see how it's been translated in the film. If you didn't like the first film, you won't like this – unless you have some odd perverted penchant for physical violence with sex…
Thanks for reading! There will be less talk of nakedness in my next review!!