While assembling the two Rast chest of drawers that I'd purchased from Ikea, I needed to be able to increase the height of my Neiden bed frame for them to fit underneath.
Here, I'll be sharing what and how I did that.
I had an idea that involved purchasing some lengths of 69mm x 18mm timber and a length of 69mm x 44mm. With everything being 2.4m long, there was enough to give me everything I needed and with minimal waste. I cut them down to a more manageable length before bringing them in to my flat to work on... Which initially meant lots of Lazy Sanding (no dust extraction) in my kitchen to remove the machining marks from the wood - leaving a fine dust on every surface! A mistake I've vowed never to repat.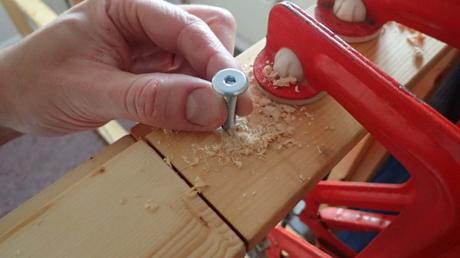 My idea was that I could create sections that would overlap and support the existing bed legs, all of which could be screwed and bolted together.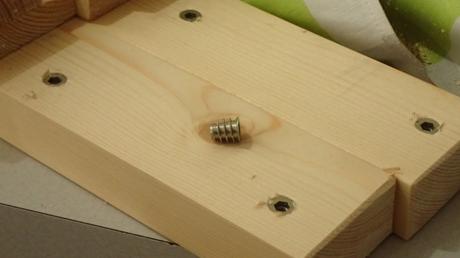 I purchased a set of bed bolts and M6 threaded inserts to facilitate this; leaving many small piles of sawdust on the floor of my kitchen and then later, my bedroom.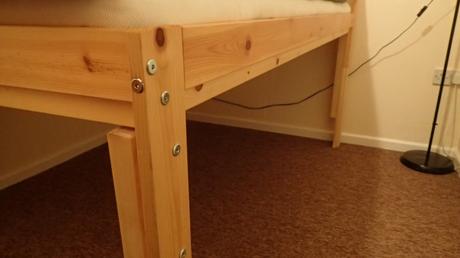 With three coats of oil applied, these went together quite successfully (I'd managed to cut the 69mm x 44mm sections too short but it wouldn't matter). My biggest challenge was doing it all and upending the assembled bed in my bedroom, which isn't really large enough for a double bed frame. These bed bolts and inserts allow me to easily dismantle it all should I need to.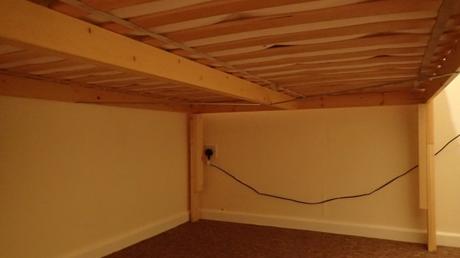 This work gave me a height of around 710mm underneath the lowest portions of the bed frame. It was large enough to take the two chests and a lot more... But each night I slept on this, it was hard not to notice the unnerving wobble, as the bed would rock across its shortest dimension.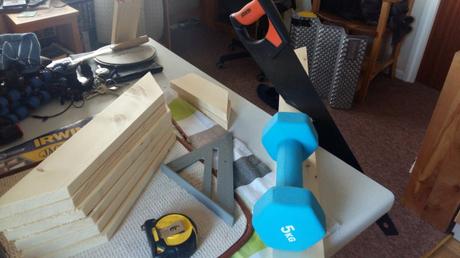 So, I needed to cut some diagonal braces for each of the corners (eight, in total). These were only cut by hand in the kitchen.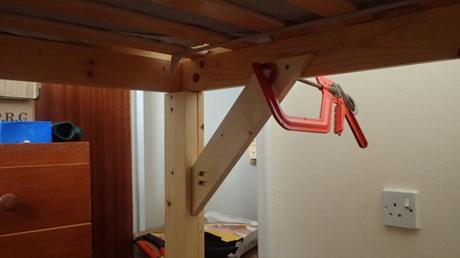 At the top of each brace, I screwed in to the horizontal bed rails from the inside. Pocket hole screws were used to attach the lower end of each brace.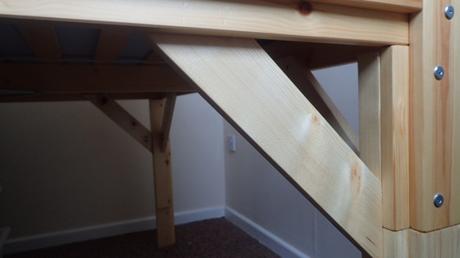 This immediately fixed the rocking and each corner joint is now rock solid.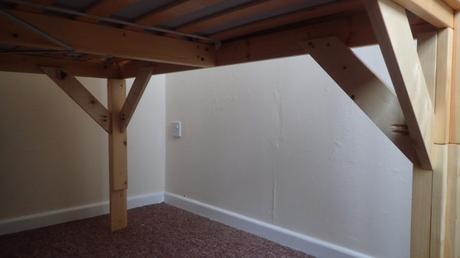 But each time I climb in to or move in my bed, there's a horrible creak that sounds like a badly hung door. It's something to do with the longer rails, running head to toe, but I'm not quite sure of what. Perhaps I should release the braces there?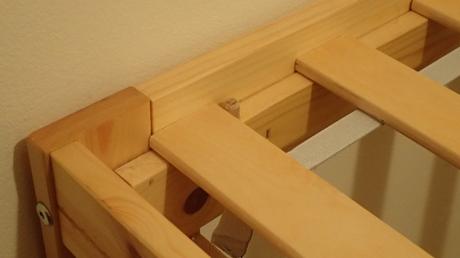 Something Ikea don't tell you in their literature the Neiden design is that the sprung bed slats are supposed to stretch over wooden dowels that fit in to pre-drilled holes (I hope it's clear enough in the photo above). I wasn't going to screw mine in place before someone else pointed this out to me.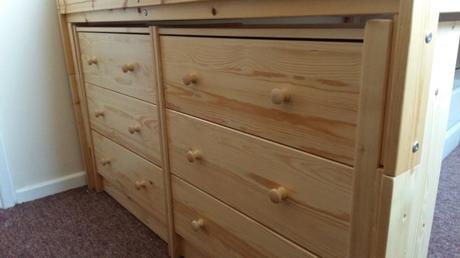 Although I haven't photographed it, these drawers do fit neatly beneath the long right-hand side of my bed and in between the diagonal braces. It works okay for now but I'm not sure if I'll still with the increased height forever - I'm sleeping at close to 3ft above the ground! In the mean time (and until my next idea...), I hope this has been helpful!

I live in Weston-super-Mare, close to the Mendip Hills and I enjoy spending time outdoors. This inclues long day walks, camping trips and backpacking trails. I have two blogs: Olly Writes (woodworking, DIY, baking) Olly Outdoors (walking, camping and kit) You can also find me on YouTube, Twitter and Facebook. My second YouTube channel is titled 'Walks with Olly'. View all posts by Olly Parry-Jones