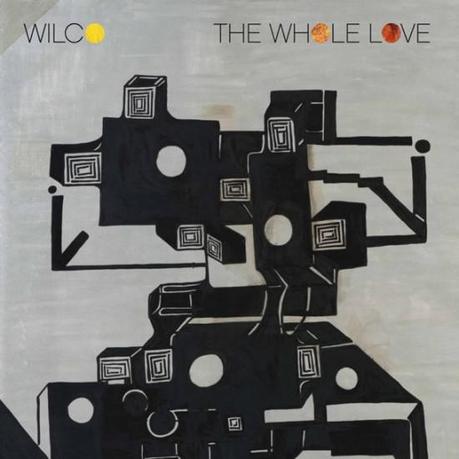 I Might – Wilco (Buy)
The Whole Love marks Wilco's ninth studio release and eighth proper LP. With an evolution of sound ranging from alt-country, neo-folk, Americana, pseudo-psych rock and more, we never quite know what to expect from a Wilco release. Coming off the decidedly mature "dad rock" vibe of Wilco (The Album), The Whole Love exhibits a band experimenting with more juvenile flavors.  And they're better for it.
The album kicks off with "Art of Almost", a seven-minute lo-fi jumble beauty that gives us an aggressive Wilco that we haven't seen since A Ghost is Born, not to mention one of Nels Cline's most blistering recorded solos ever. The song is disjointed yet dovetailed and sets up the single "I Might" perfectly. "I Might", already in the public ear for a few months as a single, works even better in context. Fuzzy bass and Cline's guitar work mashed against the Farfisa organ hooks make this song deserving of all the plays it will undoubtedly rack up in your library.
Wilco brings us the first slow number on the album with "Sunloathe." It's here that The Beatles influence prevalent on the entire album first surfaces. There's something in the aesthetic of the arrangement that just screams George Martin. "Dawned on Me", one of the catchiest tunes on Whole Love, is even more evidence of the heavy influence from the Lennon/McCartney catalog.
"Capitol City" sounds like what would happen if Randy Newman rewrote "Being for the Benefit of Mr. Kite". Tweedy finds the lyrical sweet spot between classic and inventive in "I can't call with a subway token/anyway the phones are all broken". Then, for a change of pace we get the hard and unapologetic, "Standing O", A true rock ripper that busts out of the starting gate and doesn't stop. The Whole Love ends with the twelve-minute acoustic beauty of "One Sunday Morning", an expertly crafted odyssey that is almost baroque in its construction and use of counterpoint — an appropriate ending for an album that is a decided return to the band's roots of traditional song structures.
This album is truly brilliant. With 60s influences spread throughout, Wilco has pushed this oft-visited retro vibe into new territory, putting their own flavors on classic dishes to create something that sounds entirely unexpected yet immediately familiar. Definitely a contender for my album of the year, The Whole Love is one more reason why Wilco just might be America's best band today.