USA, 2003
Kill Bill: Vol. 1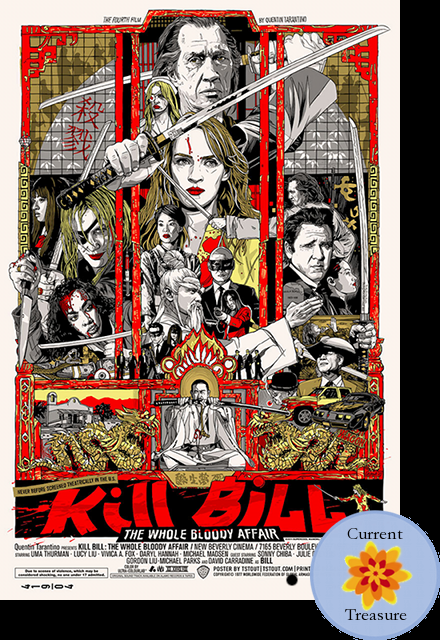 Directed by Quentin TarantinoWritten by Quentin Tarantino, Uma Thurman★ Uma Thurman, Lucy Liu, David Carradine





There was a time when I thought Quentin Tarantino must be a good director since he is admired by so many film-loving people. By that time I had only seen Inglorious Basterds, a film that is surely unique and entertaining - maybe close to awesome - but not completely awesome to me.
Then I watched Kill Bill, and I finally understood.
Kill Bill is not only a masterful cinematic work, it is also the perfect embodiment of today's pop culture. I am surprised how few people are aware of that - me for instance, I didn't have a clue before watching it. For example, there's the X-Factor melody - I think it's that the one, just one of those talent shows - a tune everybody knows, associating it with the show only. The whistling song; in fact the whole soundtrack can be considered a part of modern pop culture.
The same goes for the films style which I have seen copied in countless contemporary Hollywood action films of the less qualitative kind. The anime. The humor. The action. I've seen all of this in films before, but never as well-done - almost perfect - as in this one.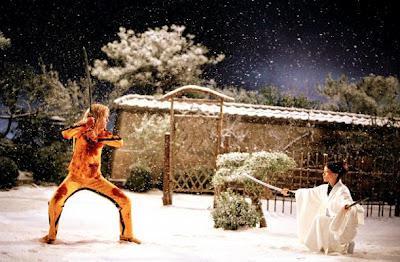 It strikes me that my until now favorite martial arts films happens to be labeled Made in Hollywood. Perhaps it's the many slaughtering female characters that have become so dear to my heart (especially the protagonist). While I won't deny the existence of martial arts films that have important female characters, they are still a minority - and many of them are just not of high cinematic value (Silver Hawk...). Actually, this doesn't count for the martial arts genre only, it's a phenomena that spreads over the whole work, including commercial Hollywood films. I (sadly) haven't seen The Avengers yet, but the majority of action films (if they have female characters) tend to focus on the females' sexiness in a way that can sometimes be annoying for a female audience. It's not that I want ugly kick-ass women, but can they please at least somehow indicate some profoundness or something like that? They should at least be at the same level of depth as their male companions, that's all I ask for.
Getting back to Kill Bill, what I liked especially was that, no matter how evil the (mostly female) characters seemed, you always had a feeling of sympathy, or at least empathy, for each of them. This is particularly true for the character of O-Ren Ishii, whose youth is presented to us in an anime sequence - a superb stylistic element by the way. There are scenes in which she is almost resembles a second leading woman, and what also makes her seem less "bad" is the fact that The Bride (the main character) herself is a brutal and ruthless person. The difference is that she's the one the film focusses on, and we know her the best.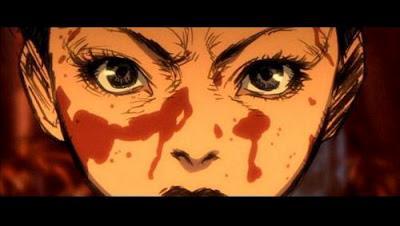 Though in fact we don't know her very well.  There is a lot of mystery in Kill Bill, making the film even more suspenseful and stylish. Talking about style, I liked the shifts to black-and-white occurring one or three times in the film, in my opinion underlining the most gory sequences. Thankfully, because firstly this makes these scenes less unsavory, and secondly more serious and realistic. You should keep in mind though, that Kill Bill isn't realistic in many ways. It reminds me of Drive, another favorite film, that has some realistic elements (more than this one) but also some very extreme and more or less unrealistic scenes. This is only my personal opinion though, who knows what people are really like in the environments portrayed in these films?
In the end I want to advise the readers who haven't seen this film yet to finally do so. I know, it doesn't look like something truly special, at least not that poster with Uma Thurman in the yellow outfit, but I promise you'll surprised be the sheer awesomeness of this film. For those who have seen it already; let's hear what you love most about Kill Bill! I don't think there are any skeptics or even haters present?


--------------------------------------------
facebook | twitter