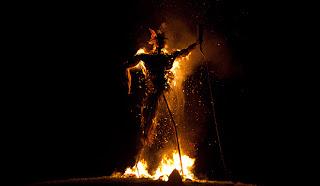 Behold, the burning man of wicker, informing you all that the Wickerman Festival is now upon us like a weekend blessing of orgasmic music.  Returning for it's 12th year, Wickerman is firmly establish amidst the Scottish music festival calendar as Scotland's 'alternative' offering, and probably the biggest of the smaller festivals behind Rockness and T in the Park.
It's my first year at the festival, and I'm thoroughly looking forward to the whole experience.  And if a giant Jimmy Carr head, a burning pagan effigy and feel good atmosphere wasn't enough, there's lashings of great music on offer too.  Here's our Scottish Fiction:
Friday - Summerisle Stage - Admiral Fallow

I don't really need to introduce this load do I?  Louis and the gang, fresh on the heels of their SAY Award short-list nomination for second album 'Treebursts In Snow', will be playing as the afternoon drifts into the evening on Friday.  Always a stand-up bunch of perfomers, AF's set will get you jigging and enjoying the mild Scottish air!
Friday - Solus Tent - Honeyblood

Glasgow two piece Honeyblood embrace vocal harmonies, sweet melodies and super strong drums all with a coating of kick ass sugar.  Really infectious indie-pop, listen out for forthcoming single 'Bud' during their set in the Solus Tent.
Friday - goNORTH Festival Tour Tent - Hector Bizerk

Phenomenal hip-hop straight of the streets of Glasgow.  Combining the teutonic power of Audrey's drum beats with the blistering insight of Louie's rhymes, and padded out with bass and samples, Hector Bizerk will blow your square little minds.
Friday - Solus Tent - Machines In Heaven

Mumblecore experts (note - in joke) Machines In Heaven will rip your fleshy face from your skulls, caress it with electronic salvation, then reassemble.  Having headlined the T-Break Stage at T in the Park, the band continue their summer festival melee with an early evening slot in the Solus Tent.
Friday - goNORTH Festival Tour Tent - Plastic Animals

I like to judge bands on two things.  How they sound, and how they taste if they were a beer.  Plastic Animals get top marks on both counts.  Their alt-rock fuzz sound ticks all the boxes my ears require, and, as part of Song By Toad's RSD 'Beer vs. Records' escapades, the Plastic Animals ale delighted my taste buds too.  Yah!
Saturday - Solus Tent - Vasa
Thoroughly one of the most enjoyable bands I caught at T in the Park, Vasa rip it up on stage like a post-rock behemoth set loose in a delicate guitar shop.  Raw power, building riffs and layers, face gurning bass.  Don't miss some mid-afternoon rock out action down at the Solus Tent.


Saturday - goNORTH Festival Tour Tent - The Yawns



The Yawns are previous Scottish Fiction gig buddies, and I'm really looking forward to seeing how they've progressed since playing for us back in January of this year.  Indie from the mould of Teenage Fanclub and The Pastels, they are effortlessly good. Saturday - goNORTH Festival Tour Tent - Prides

'Out Of The Blue' was always destined to be an anthem, and if you catch Prides headline slot in the goNORTH Festival Tour Tent on Saturday, I guarantee you it will be stuck in your noggin' for ever.  There's no shortage of passion, sweat and electro-pop vibes when these guys get into their stride.
So there's some picks for you, however there's a raft of other bands you should consider checking out should stage times and general festival milling about allow. 
Swing by for Lidh, Pinact, Friends In America, Blood Relatives, Solareye, Young Philadelphia, Siobhan Wilson, Behold The Old Bear, Blochersta, Woodenbox and Holy Esque on Friday.
And on Saturday check out Book Group, Garden Of Elks, Casual Sex, Giant Fang, Fake Major, Fat Got and Flues.