Looking for some FABulous summer reads to add to your eReader? Love contemporary and paranormal romances? Get your thrills from action-packed romantic suspense? Love them cowboys? If so, Wicked Wednesday offers you a selection of review shorts of must-reads to sizzle up your Kindle.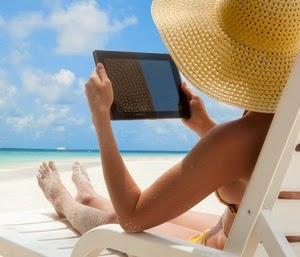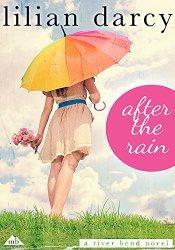 A must-read romance set in cowboy country that breaks the standard mold
After The Rain by Lilian Darcy
Montana Born Books (Tule) | ISBN B00LR0G038 | $2.99 | Pub Date: Jul 11, 2014
Purchase from Amazon
Purchase from Amazon
When I began to read After The Rain by Lilian Darcy, I wasn't sure what to expect. I hadn't read the previous three titles in Darcy's River Bend series, but found I didn't have to. This is a stand-alone-title, but, I'll warn you. Once you've read it, you'll be heading over to Amazon like I did last night and purchasing the three previous series titles. Yes, this is THE perfect romance to read on a rainy (or sunny) summer day. Just make sure that you don't have any distractions as this is a book you'll want to read through in one sitting. Darcy takes what could be a simple romance and throws in such emotional charges that your Kleenex box better be close at hand. Protagonists Kira and Casey were both scarred by the accidental death of Kira's sister years ago following the high school prom. Casey was Neve's boyfriend and always blamed himself for her death. When Kira and Casey return to their hometown of Marietta, Montana, working for the same artists' foundation, the question becomes, not are they good together, but can they find forgiveness. In addition, the secondary characters, particularly the romantic entanglements of Kira's stepdaughter, are fascinating. If you're in search of a romance set in cowboy country that breaks the standard mold, Lilian Darcy's After The Rain is a must-read!
To read my more extensive review of After The Rain, written exclusively for Writerspace's The Best Reviews, go to TheBestReviews.com.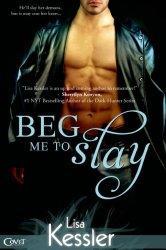 A flat-out amazing paranormal must-read!
Beg Me To Slay by Lisa Kessler
Entangled: Covet | ISBN 9781622664115 | $2.99 | Pub Date: Dec. 23, 2013
Purchase from Amazon
When author Lisa Kessler has a new book out, it's guaranteed to find its way to my Kindle. I admit, going into this review, that I just think she's tops. Her two series (Moon and Night) are some of my favs in the paranormal genre and definitely hold their own on my must-read shelf. Beg Me To Slay is a little bit different. A stand-alone title (for now), that gives us a demon-slaying, Sam Spade-ish hero (Gabe). A heroine (Tegan) who proves the adage once threatened twice prepared (I think I made that up, but it's true… right?) And a story about demons and dragons that I couldn't put down. I love the fact that Tegan is a kick-ass martial arts instructor who can take anyone - human or not - down. When she seeks help from Gabe as she's afraid her bogeyman-of-the-past may have returned, neither realized that her case might lead to something more. But it does. Be prepared as Tegan and Gabe are amazing characters that just are smoking hot together. The story twists and turns, adrenaline spikes like mad, and the romance burns hot, but then… Well, pick up Beg Me To Slay and find out what happens from one of the Mistresses of Paranormal Romance, Lisa Kessler. She's one of the best new writers around and this story is just flat-out amazing!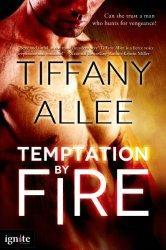 Tiffany Allee ROCKS the paranormal romance genre
Temptation by Fire by Tiffany Allee
Entangled: Ignite | ISBN 9781622662005 | $2.99 | Pub Date: Dec. 30, 2013
Purchase from Amazon
Tiffany Allee ROCKS the paranormal romance genre. This. Is. A. Fact. If you're familiar with her Otherworlder Enforcement Agency series, you'll be intrigued by her stand-alone title, Temptation by Fire. I still think there could be a series here…hint, hint. You'll know why when you pick up this book and can't put it down. I was totally wrapped up in this new alternate world featuring a band of tattooed demon hunter bad boys, humans who can serve as demon detectors, and plot twists that keep you on the edge-of-your-seat. Oh, did I mention the very HOT romance between Ava and Karson? They definitely set some flames to the virtual pages of my Kindle. I'm still hoping for a sequel as there seem like there could, should be other stories to be told. But until then, if you're looking for an intriguingly different, suspenseful, and HOT paranormal read this summer, pick up Tiffany Allee's Temptation by Fire.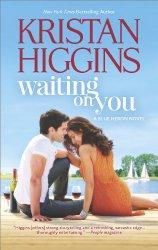 Laugh, cry, and even curse a bit with this engrossing second-chance-at-love readWaiting On You by Kristan Higgins
Harlequin HQN | ISBN 9780373778584 | $7.99 | Pub Date: Apr 1, 2014
Purchase from Amazon
To have a second chance at love with the guy of your dreams. . . Wow, isn't that something we all have wished for at one point or another. A friend of mine always talks about soul mates finding one another somehow, someway. I'd like to believe that, so always am drawn these second- chance stories. Kristan Higgins in the third book of her Blue Heron series (which I LOVE), finally tackles the story of sassy bartender Colleen. She's helped other couples find their bliss, so why is she solo - still. Someone broke her heart. Splintered it to pieces and she's never quite recovered. When HE - Lucas Campbell - walks back into her bar, you can feel her heart crack a bit more. Lucas left his hometown, became a big city success, and married someone else. But why? Why if they were so in love did this happen? Take a journey with Kristan Higgins and find out. You'll be laughing, crying, cursing-a-bit, and just as engrossed as I was in Waiting On You. Higgins is a master at engaging her reader's emotions and this is one FABULOUS emotional ride.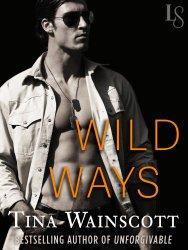 A perfect HOT, adrenaline-pumping summer read
Wild Ways by Tina Wainscott
Loveswept | ISBN 9780345548351 | $7.99 | Pub Date: May 13, 2014
Purchase from Amazon
Do you love romantic suspense? Super alpha bad boy heroes with a unique backstory? Motorcyle riding ex-Navy SEALS? If so, stop reading and just pick up Wild Ways, the third story (second book) in Tina Wainscott's HOT Justice Alliance series. But if I need to convince you, here are some details... This is a story about Molly Reagan, one kickass heroine, who's visiting MCCs throughout the country looking for her sister and facing down some really bad guys. In a finger-biting confrontation at a biker bar in the first few pages of the book, Molly meets motorcycle-riding Julian Cuevas. He's an ex-Navy SEAL who's looking for his next gig now that his team was burned and disbanded. Will he join some of his other teammates and go to work for the Justice Alliance? He's not sure, but he is going to help out this sexy damsel-in-distress, at least for a moment. I love, LOVE this series. Wainscott's stories keep me guessing till the last page is turned and are filled with HOT romance and edge-of-your seat suspense. I'll admit to wanting to close my eyes once in a while (like I do when watching scary and/or slightly violent films), but that's because I was so wrapped up in the story that I was *seeing* everything that was happening. This book keeps the danger level set as high as the steamy romance between Molly and Julian. Wild Ways is a perfect HOT, adrenaline-pumping summer read.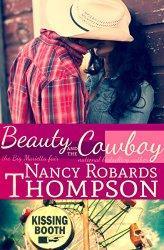 A fun, fast-paced, and charming cowboy romance
Beauty and the Cowboy by Nancy Robards Thompson
Montana Born Books (Tule) | ISBN B00LP2H046 | $2.99 | Pub Date: Jul 10, 2014
Purchase from Amazon
Looking for some cowboys with heart? Nancy Robards Thompson dishes up a cowboy to take home in her novella, Beauty and the Cowboy, the first book in the Montana Born Fair series. When Charlotte and her almost-fiance, Professional Bull Rider and hometown hero, Tom, can't agree on an engagement ring, doubts about their relationship soon begin to cause Charlotte to panic. Plus she's thrown together with the HOT, former boy-next-door, Jessie, and those doubts turn into certainty when Tom finally returns her panicked call to tell her he got married - to someone else. Now, I couldn't understand how Charlotte would ever have considered Tom with Jesse around. Cause he's not only a cowboy (another bull rider who was sidelined because of an injury), but he's also a hunk who knows his own mind. This is a fun cowboy romance with quite a few twists that doesn't fall into the trap of being sickly sweet like the fair's candy floss. Yes, a cowboy romance for adults! Beauty and the Cowboy is a fun, fast-paced, and charming romance!
To read my more extensive review written exclusively for Writerspace's The Best Reviews, go to TheBestReviews.com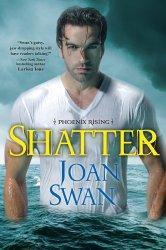 Melds romantic suspense with a touch of the paranormal for a fabulous summer read
Shatter by Joan Swan
Brava | ISBN 9780758288271 | $8.99 | Pub Date: Dec 31, 2013
Purchase from Amazon
I admit to being totally hooked on Joan Swan's Phoenix Rising series that melds a HOT and sexy team of ex-firefighters who're just a bit special. This group has become a pretty close-knit family along with their spouses, siblings, and friends to make up a new team. Like the Phoenix, these firefighters went into some flames and came out with a variety of paranormal talents. But this gift was the result of a illegal government experiment gone awry. This series focuses on the fight the team has against those in the government who're trying to create the supernatural super soldier. Along the way, they've been aided by lawyer Mitch Foster - who's also the brother of one of the teams spouses. Okay, now that I've got you sort of caught, here's my take on Shatter, the fourth Phoenix Rising book. I'd been waiting for Mitch's story, because you just knew he had one. Yes, he's one of those guys who not only won't commit, but doesn't seem to have a lot of respect with the glamorous women who are in and out of his bed. But Halina Beloi, an enigmatic character, is introduced in Shatter and it's obvious that she's the one who broke his heart. But who is she really? Is she part of the government cover-up? Another evil scientist?  Is she an enemy or a friend? And why did she break his heart? This is an engrossing read, just not my favorite. Joan Swan knows how to keep your full attention on the page. There's enough suspenseful and HOT romantic action to keep you engaged till the story is told. Shatter melds romantic suspense with a touch of the paranormal for a fabulous summer read.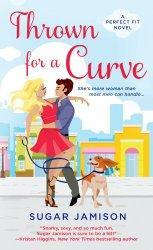 A thoughtful and fun read that's a slightly different "fit"
Thrown for a Curve by Sugar Jamison
St. Martin's Paperbacks | ISBN 9781250032980 | $7.99 | Pub Date: Feb 25, 2014
Purchase on Amazon
Sugar Jamison is an author that I added to my must-read list after reading the first two books in her Perfect Fit series (Dangerous Curves Ahead & Have Yourself a Curvy Little Christmas). So it hurts me to admit that at first glance I just wasn't crazy about Thrown for a Curve. I had been looking forward to reading this story of handsome and uber-charming Irishman, Colin, and wallflower-in-her-own mind Cherri, ever since the characters were introduced in book one. Their attraction was palpable. But for some reason this story just never grabbed my attention the same way as her first two books. Yes, it was a bit more serious, but I usually like that in romances. At the point where I found myself skipping to the last chapter to see how it ended, I knew something was up. Instead of being able to go with the flow in reading this, I was impatient for it to end. And I felt like I was doing the author a disservice as I couldn't, as a reader, really, really get into this story. So I put it down for a bit. Took a little time and then began to reread it, but not with the expectation that I had unconsciously held - that it would be a similar read to her earlier stories. Now I found myself laughing at bits of dialogue, tearing up a bit, and, oh my goodness, sympathizing with Cherri's winter commute. I loved Cherri's grandmother and totally fell in love with Colin as he interacted with her. Plus he's a hot Irishman, who's also sensitive and caring. Looking for a hot hero? He's it! And I loved Cherri. As I read her story, at times I wanted to shake her, at others, give her a big hug. Jamison's portrayal of the stages of grief that Cherri experienced was spot on. So, I'd highly recommended adding Thrown for a Curve to your bookshelf if you're looking for a story that explores ALL the meanings of love in both a thoughtful and fun manner.