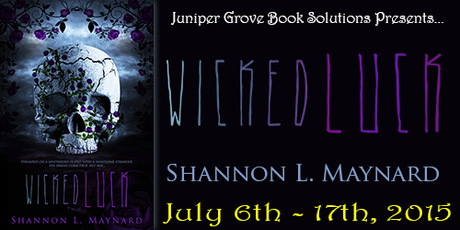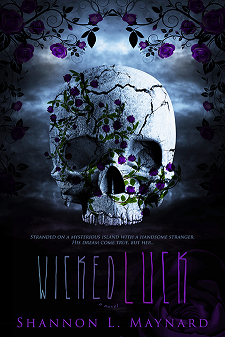 Title:  Wicked Luck
Series:  Wicked Luck Trilogy #1
Author:  Shannon L. Maynard
Published:   June 23rd, 2015
Publisher:  Crimson Tree Publishing
Genre:  NA Romance
Content Warning:  Violence, Adult Themes
Recommended Age:  14+

Synopsis:  How can Ava Starr's worst nightmare be Dax Miller's dream come true?

For the past three years, Dax has been stranded on Lamarai Island with his stepsister and two tribes of cannibals. But now a beautiful girl named Ava has washed up on shore. After secretly reading her journal, he believes she is a perfect match to the girl of his dreams. He's determined not only to keep her alive, but also to win over her heart by convincing her to forget about her past and the secrets that continue to haunt her.

Ava Starr has always been the epitome of bad luck, but she never imagined she would wake up and find herself on a cannibal-infested island with no memory of how she got there. The last thing she remembers is boarding a plane with her pilot boyfriend, Preston. But now he and his crew are missing, and she must find him before a tribe of hungry cannibals finds him first. But Ava's troubles have followed her to Lamarai, where once again she's surrounded by danger and people who want her dead. She finds herself caught in a web of deceit and soon discovers the answers to her mysterious past can be found in the most unlikely of places, and that no one is actually who they seem to be.

Amazon | GoodReads
Excerpt for Wicked Luck by Shannon Maynard:
With a satisfied grin, I drop the book in my pocket and step out from behind the tree.
"Well, well, well. What a predicament. Gives new meaning to the phrase 'sticky situation' doesn't it?" My voice startles her and causes a sharp intake of breath as she opens her eyes.
"Dax," she says with a relieved exhale.
"Hey princess." I give her my best Cheshire smile. "Looks like your little escape plan didn't work out so well, huh? Well, I hope you have better luck escaping from that pit of quicksand."
I turn to walk away.
"Wait! Where are you going?" she asks, and despera­tion oozes from her voice.
I pause to get control of the amusement cracking away at my serious expression before turning around. "I don't know. I think I'll head back to the beach and wait for a hot blonde to wash up on shore." Her mouth falls open right on cue. "Oh, and sorry to break it to ya', but you didn't get the part. Since it's my fantasy, I was looking for someone friendlier, a little more trusting, a little less sassy, and what was the last thing? Oh, yeah. Someone who actually likes me. But don't feel bad—you nailed the physical profile," I say with a wink.
"Stop being a jerk and help me," she says, and then softens her tone. "Please?"
I uncross my arms and rest my hands on my hips. I'm pretty sure she already regrets that last comment, but I can't stop now. "Look, princess. I'm a lot of things, but a jerk isn't one of them. And don't worry; I'm sure someone else will find you soon. A hungry cannibal—or Roxy. And I'm starting to think you and her might make a good team. The pity-party duo. She's hateful, complains constantly, and she's also a member of the 'I hate Dax club', just like you."
I turn my back on her again and take a step.
"Wait! I don't hate you. Please don't leave me. I'm sorry."
I'm a sucker for apologies but when I turn to face her, I can't resist putting one hand behind my ear and tilting my head.
"I'm really sorry," she says again. "For running away and being so grumpy." I wait for more, and she grits her teeth. "And for not listening to you."
This is the part where I know she expects me to jump to her rescue, but I lean against a tree with a cocky grin and pull a banana from my pocket. She stares while I peel it, take a bite, and chew slowly. I'm savoring the fruit but also my triumph in having the upper hand.
"Aren't you going to help me?" she finally asks with a hint of worry.
"I'm still debating. If I leave you here, at least I'll know where you are and won't have to worry about you running off. I could even build a little hut around you and toss you food and water now and then. You'd be a lot less trouble that way."
"Very funny," she says, but I think it is and I can't keep from laughing.

MY REVIEW
4 STARS
This book was rather a strange experience for me.  I loved the creepiness of the island inhabited with cannibals.  There was a bizarre tension that radiated through the story from beginning to end; an eerie sense of foreboding that never let up.  I thought the concept was ingenious, and the pacing steady.  There is a deeper darker mystery here that the cannibals are only a small part of. I want to find out more and I look forward to the next book in this series.
I wanted to like Ava, and I especially wanted to like Dax, but for the most part Ava acted like a silly ninny. I just did not cozy up to her needy, clingy personality.  I did not get her idiotic, all-consuming infatuation with Preston.   It just made me gag!  Dax's dream girl washes up on shore, and he will do anything at all to protect her.  He has all these noble ideas but he is so star-struck over Ava he basically overlooks her flaws and thinks instead that she is just perfect for him.  That he secretly snoops into her diary at every chance he gets further irritates me.  The final straw though is the mean way he treats his step-sister Roxy.  According to Dax, Roxy is a crazy, self-centered, conniving, sniveling burden.  The few times they interact together Dax treats Roxy despicably. There is very little evidence to indicate she deserves his scorn to such an extent.  I am hoping that the next book will explain that animosity so I can feel more sympathetic to Dax and understand his attitude better. Right now, if I had to pick between Roxy and Ava, Roxy would get my vote.  I guess I just do not know her well enough, yet.I loved the gothic atmosphere, and it was easy for me to picture the island, tree house, beach cave, and secret, hidden place.  The cover of the book grabbed my attention, and after reading the blurb I knew the story sounded fascinating.  I thought the writing was compelling and the story structure riveting – I had a hard time putting the book down and wanted to get back to the story as fast as I could. Normally, If I don't like the characters the story loses its appeal for me, but in this case I love the story in spite of the main characters.This book was given to me in exchange for my honest review.

Reviewed by Laurie-J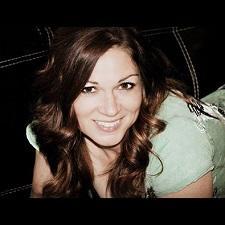 About the Author:
Shannon L. Maynard lives in Colorado with her five girls where she is a legal assistant by day and an author by night. In between working and writing she can be found driving kids to soccer, folding mountains of pink laundry, or eating her weight in chocolate. Other addictions include shoe shopping, reading YA, and Australian and British accents (which may be partly to blame for her massive crush on Thor). If she had one wish it would be for more hours in the day to spend enjoying all of the above. Okay, everything except the laundry.

Shannon studied art and criminology before getting a license in cosmetology, but eventually wound up an expert daydreamer; a skill that occasionally leads to getting lost while driving, but has been a huge asset to her love for writing. Her debut novel WICKED LUCK is set to release June 2015 and is the first book in the Wicked Luck Trilogy.

Amazon Author Page | Facebook | GoodReads | Website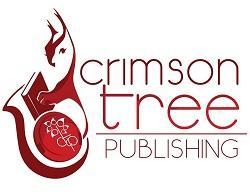 Crimson Tree Publishing Links:
(An adult division of Clean Teen)
Website | Facebook | Twitter
Giveaway Details:
There is a tour wide giveaway. Prizes include the following:
A bookmark swag pack, winner's choice of any Clean Teen Publishing eBook, and a $15 Amazon gift card.
Giveaway is International.
a Rafflecopter giveaway