TENS LIST
What 10 things drive you absolutely insane? 
1. Just the process of thinking about all the things that drive us absolutely insane. Though to answer this means to admit that we're absolutely insane. Maybe we can compromise on "relatively" rather than "absolutely"?
2. Coming from a career in playwriting to fiction, we're slammed by the concept of "genre." In theater today, there's a vast commingling of styles, and the terms "comedy," "tragedy," "musical," are almost meaningless. The most successful stuff is a crossbred alley cat. In publishing, though, it's way beyond finding the right shelf to stock it, it's breaking down demographics into young-adult, new-adult, SF paranormal urban romantic fantasy, etc. etc. It seems the market is forcing writers into conformity to the genres. We're enormously desirous of our books being read, but when an agent asks, "What book is your book like?" we're tempted to say, "If it was like X, we wouldn't have written it. X is already out there."
3. Intelligent comments about writing raised to the level of Biblical pronouncements. E.g. "avoid adverbs." Certainly it makes sense to look for active verbs that don't need'em, to avoid redundancies, etc. But should we take "He shrugged his shoulders" (what else would you shrug?) as evidence that you should never use a direct object?
4. Heroes & heroines written to serve as "role models." That's a laudable ambition, but not one we're capable of. We've both known people who were enormously inspiring, but our skills were honed writing comedy, and that means we see the warts along with the stalwart chins. We're much more interested in the complexities of people, their contradictions, their struggle through the labyrinth of themselves. We want to create characters that persuade the reader to an empathic generosity, despite the blemishes.
5. Poets who read their work in a very flat voice, as if they're trying to disown the words or mimic the flatness of the ink.
6. The advice to "write what you know." That works fine up to a point, and we've written stories based on personal experience, plus a memoir and a novel set in the world of theater and puppetry, which has been our life. But no one tells the archaeologist, "Dig in the block you grew up in" or the anthropologist, "Study only your mom and dad." You can make huge errors—and many have—venturing outside your particular culture or gender or social class, but we feel it's worth the risk. For us, each project is an expedition into the unknown, and it's up to us to try to see clearly.
7. Our cats, when they start meowing outside the bedroom door at 6 a.m. But you think, well, they're cats, and they're created to drive you crazy enough to keep them.
8. Radio/TV commentators (of all persuasions) speculating on what might happen, feeding either the fear or the false hope, though they rarely know anything more than what we know after hearing five minutes of news.
9. Folks who share your politics (we admit it: we're unreconstructed Lefties) but say stupid things. We're not so troubled by what the other guys say—we expect it—but we hate it when our own guys make a good case badly. But just as well leave politics out of this litany. Nothing surprises us. Nothing.
 10. When people don't like our books or our plays. It hurts—whether in the NY Times (that one was a doozy) or on an obscure blog—but that's part of the game. Over the course of life, you have some colds, some gastric distress, maybe a surgery or two, but that doesn't mean you're required to die. When we've had small audiences for our performances, we've performed for those who were there, not for those who weren't. So you write for the people who like it, not for those who don't.
Blind Walls
by Bishop & Fuller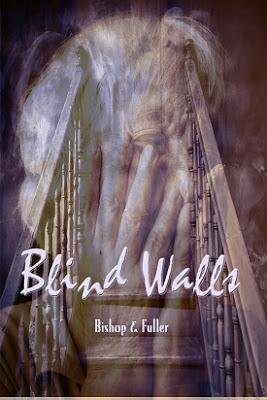 GENRE
: Urban Paranormal
BLURB:
It's a monstrous maze of a mansion, built by a grief-ridden heiress. A tour guide, about to retire, has given his spiel for so many years that he's gone blind. On this last tour, he's slammed with second sight.
He sees the ghosts he's always felt were there: the bedeviled heiress, her servants, and a young carpenter who lands his dream job only to become a lifelong slave to her obsession. The workman's wife makes it to shore, but he's cast adrift.
And the tour guide comes home to his cat.
The pairing of Bishop and Fuller is a magical one. . . . It's a brilliant opus, melding the past, present, and future with intimate, individual viewpoints from a tightly arrayed cast of believable characters in as eerie a setting as might be dredged out of everyman's subconscious searching. . . . Blind Walls offers a weird alternative world, featuring a blind man with second sight and an acerbic wit as its charming, empathic hero.
—Feathered Quill
These characters are so well developed that one has to think of them as live people – laughing with them and crying with them, even getting old with them.This is an amazing story based on the Winchester Mansion and told with such quiet, compelling, raw humanity that the reader simply can't stop until the entire tale is told.A wonderful, spooky look into others lives and what may or may not happen on any given day.
—Dog-Eared Reviews
Bishop and Fuller have constructed a story rich with imagined detail and visionary ideas about life's possibilities. The cast of ghostly characters, servants, workman, and family light up the story with dramatic effect as their actions and choices are observed. . . . The authors' prose is effortless and moves easily from humorous to weighted seriousness. The dialog is perceptive, giving voice to compelling characters and particularly to the tour guide whose second sight he confers on the readers. The latter will not want to look away from the myriad rooms of Weatherlee House.
—US Review of Books
EXCERPT
As always, I stood by the Here sign under a fig tree sprinkled scantily with small ripe figs. Behind me, as always, I felt the looming massive labyrinth of Weatherlee House.
Being a short man, I habitually assumed a military stance, stretching myself upward at least a quarter of an inch. My clipped hair, which I'm told is mostly gray, added gravitas to my otherwise bland face, or so I imagined. My tour guide's uniform—crisp navy blazer, burgundy rep tie—bulged only modestly at the midriff. A brass name plate, over the buttoned pocket where my heart might be, labeled me Raymond Smollet. My round wire-rimmed black glasses were the only discordant feature in my demeanor. The fact is that I am blind.
The figs and my necktie hue I knew only by report. The wire-rims made my nose itch. I had tried wrap-arounds, but my supervisor Mr. Bottoms said they looked creepy. In fact, Management surely discerned that I looked even creepier with wire-rims. I could intuit patrons peering in sideways at my fixed milky orbs, a perfect match for those haunted-house billboards that sucked them in. People would pay top dollar to visit alien worlds where the only true risk was blurring a snapshot.
Today was the final day of my life and now the final hour. Final, at least, for life as I had lived it. I stood cockily under my fig tree on the brink of my retirement—a Friday that marked the completion of thirty years as a tour guide of Weatherlee Ghost House.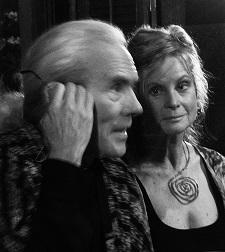 AUTHOR Bio and Links:




Conrad Bishop & Elizabeth Fuller's 60+ plays have been produced Off-Broadway, in regional theatres,and in thousands of their own performances coast to coast. Their two public radio series Family Snapshots and Hitchhiking off the Map have been heard nationally. Their books include two previous novels (Realists and Galahad's Fool), a memoir (Co-Creation: Fifty Years in the Making), and two anthologies of their plays (Rash Acts: 35 Snapshots for the Stage and Mythic Plays: from Inanna to Frankenstein.)




They host a weekly blog on writing, theatre, and life at www.DamnedFool.com. Their theater work is chronicled at www.IndependentEye.org. Short videos of their theater and puppetry work are at www.YouTube.com/indepeye. Bishop has a Stanford Ph.D., Fuller is a college drop-out, but somehow they see eye to eye. They have been working partners and bedmates for 57 years.




Website: http://www.damnedfool.com/

Facebook: https://www.facebook.com/indepeye/




Conrad Bishop Amazon Page: https://www.amazon.com/s?i=stripbooks&rh=p_27%3AConrad+Bishop&s=relevancerank&text=Conrad+Bishop&ref=dp_byline_sr_book_1




Elizabeth Fuller Amazon Page:https://www.amazon.com/s?i=stripbooks&rh=p_27%3AElizabeth+Fuller&s=relevancerank&text=Elizabeth+Fuller&ref=dp_byline_sr_book_2




Conrad Bishop Goodreads:https://www.goodreads.com/author/show/4352.Conrad_Bishop

Elizabeth Fuller Goodreads: https://www.goodreads.com/author/show/4350.Elizabeth_Fuller




Conrad Bishop Facebook: https://www.facebook.com/conrad.bishop

Elizabeth Fuller Facebook: https://www.facebook.com/lizful




YouTube:https://www.youtube.com/user/indepeye/videos




e-book 99 cents from Smashwords. Can do preorders during tour, receive it June 1st. Will be $2.99 after preorder period.




GIVEAWAY




Bishop & Fuller will be awarding a $25 Amazon or B/N GC to a randomly drawn winner via rafflecopter during the tour.


a Rafflecopter giveaway