This is part 2 in a 3-part series about Mexico's upcoming presidential elections. Read part 1.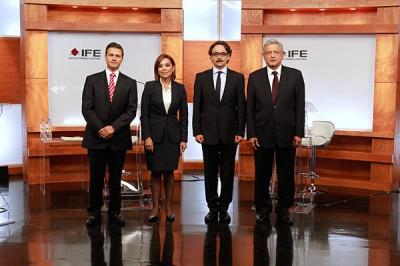 The four candidates vying to be President of Mexico. (Photo: Christian Science Monitor)
What is justice? Should Mexico's national oil company be opened and more competitive? What would you do with 200 billion pesos ($14.4 billion – the amount Mexico currently spends on oil subsidies)?
These are just a few examples of the kinds of questions various NGOs in Mexico, including CIPE partner the Center of Research for Development (CIDAC), are asking in the run-up to the Mexican presidential elections on July 1. As discussed in a previous post, Mexico and the US matter to each other politically and economically. So it is important learn how best to follow not only the polls, but also the debates and issues at hand.
Discussion of real policy issues has historically been lacking in Mexican presidential election races. Instead, candidates make vague, general statements, while avoiding concrete talk of specific policies. However, increasing pressure from citizens and civil society has begun to yield results. This year, for the first time ever, all four candidates took part in two live, televised debates.
Mexico has made enormous strides in democratic and economic development over the last two decades. The signing of the North American Free Trade Agreement (NAFTA) in 1994, coming on the heels of the Mexican economic crises of the 1980s, dramatically reconfigured the Mexican economy. Since 1994, the Mexico has become much more open and more dependent on trade – especially with the US, its largest export market. In 2008 Mexico's exports accounted for 31% of GDP, triple the share of twenty years ago, with 80% of those going to the United States. At the same time, new investment and export opportunities in Mexico have increasingly helped to drive economic growth in the United States.
Economic change aided a gradual opening of the Mexican political system as well. In 2000, the party that had ruled Mexico for more than 70 years, the PRI, was defeated by an opposition party candidate in that year's presidential election. In spite of progress made since NAFTA was signed, however, the last two decades have also underscored the challenge of reforming democracy without strong institutions.
The next president of Mexico will certainly have a myriad of difficult issues to deal with, including rising violence and the power of drug cartels, the need for judicial reform, and the crafting of policies that will boost Mexico's economic performance in a way that benefits even the poorest citizens. For example, both the National Action Party (PAN) and the Institutional Revolutionary Party (PRI), the two largest parties, have indicated that they want to continue with policies that will encourage free trade and better incentives for entrepreneurs. This bodes well not only for Mexicans, but also for the country's trade relations with the US.
However, the differences lie in how the candidates and their parties propose to achieve this: the PAN advocates fiscal discipline and restraints in public expenditures to maintain a healthy macroeconomic balance, while the PRI will face pressure to stick to campaign promises to improve the financing of social programs.
With issues of security, justice, and economic growth at stake, what is the best way to follow the elections?
For those who read Spanish: visit Arena Electoral, a Spanish-language website that profiles each candidate, details their public policy proposals in numerous areas, and then ranks them. It also has a feature that helps you figure out which candidate aligns with your own viewpoints.
For the non-Spanish speakers, the has a frequently updated page about Mexico that pulls together background information and important news updates.
Follow the candidates on Twitter:

Enrique Peña Nieto (@EPN):

Party: PRI (the old ruling party)
Credentials: former governor of Mexico State

Andrés Manuel López Obrador (@lopezobrador_):

Party: PRD
Credentials: former mayor of Mexico City

Josefina Vázquez Mota (@JosefinaVM):

Party: PAN (the current ruling party)
Credentials: former Secretary of Education

Gabrial Quadri de la Torre (@g_quadri):

Party: PANAL
Credentials: Academic, civil engineer, media contributor
Check out www.cidac.org for information in Spanish about the hot topics surrounding these elections and to find out how you can weigh in. Also, follow CIDAC on Facebook and Twitter.