Why #TidalForAll is Not For Me
The Tweet that started it all.
#TIDALforALL not! How many people can afford such a subscription service? So very much out of touch with the people.#TIDALforNOONE
— Indie Visual (@ImSoJheanelle) March 31, 2015
Guilty! I was on Twitter making my opinions known about the new streaming service Tidal and the Twugs ( Twitter Thugs) came out. Some folks agreed, others clearly thought I was being cheap and unsupportive of the arts. Even my favorite podcasters Crissle and Kid Fury from The Read disagreed with my choice.
Au contraire, my fellow readers I am none of these things.  I will explain why TIDAL may not be the best streaming service for MY financial health.
Let's break down Tidal's price point and asses whether or not it's worth the $9.99 or $19.99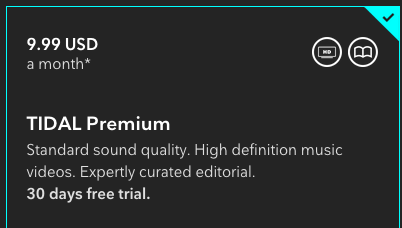 The typical response to this would be, "$10 a month? I  can afford that." However, my response would be, "Yes I can too, but I won't." The music I purchase are few and far between, and most definitely do not add up to $120 per year.I am fan of music, and will always be,  but now that I am older my tastes have changed and I am not so receptive to everything playing on the radio.
Since the beginning 2015 I have bought the following albums :
To Pimp a Butterfly by Kendrick Lamar - $15.88
My Garden - Kat Dahlia -$9.00
Tetsuo &Youth by Lupe Fiasco - $11.88
Outer Limits - India Shawn -$10
In addition to 5 singles :
 Rachet Commandments -Tink
Classic Man - Jidenna,
Chasing Time - Azealia Banks
Well Done - Kabaka Pyramid 
Each single valued at .99 cents in the iTunes Store.
As you can see my kind of music I listen to are exactly Top 40 Radio Artists, with the exception of Kendrick Lamar and Lupe Fiasco.
I am all about supporting Black Businesses, but these prices exclude certain household incomes, and gives the aura of exclusivity. Although Jay-Z has already started moving his catalog from Spotify to Tidal, I feel that artist will miss the opportunity to reach people outside of the Tidal network.
I won't even go into the Tidal HiFi option, I know Marketing techniques, and to get me to pay $20 for the same songs that I can bump in my surround sound and get the same experience, I will also pass.  As I read  and compared Spotify and I must  agree that Spotify's profit sharing is extremely unfair. Since Sean Carter has a better plan to compensate artists via Tidal, then I'll applaud when I hear success stories.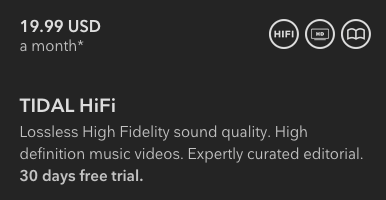 So the selling point is the content that will be #TidalExclusive, which feature first look at new releases, singles from favorite artist and even movies. Again, that may work for people who actually care about that stuff, as you can tell I don't.
I don't mean to sound like a pessimist, but when you've been around industry executives, you know that every move is a chess move to get the people to buy, buy, buy. My point of view is both from a Marketer's and insiders perspective.
In a nutshell, #TidalIsNotForMe because I don't like subscription services (no cable for me) and I don't spend $120 or $240 yearly on music.