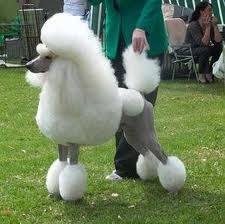 This is the typical show cut-Continental Cut
Many people are stumped at why poodles get a ridiculous looking cut that has made them known as foo-foo dogs.  I'll have to admit, as a child growing up on a farm with 'working' and 'herding' dogs, poodles were a mystery to me.  They looked like high maintenance fantasy dogs.
I quickly learned that poodles are far from foo-foo!  A poodle's haircut is dated back to the 16th century and bred in Germany as amazing retrievers and water lovers.  These are serious working dogs.  Poodle is from pudel, short for pudelhund meaning 'water dog' in German.  Pudeln in German means 'splash'.  The English root word for it is 'puddle'.  So clearly the Poodle's breed name was very clever indeed!
Not only is the name clever, but poodle's are considered in the top 3 smartest breeds their are.  So they have the name, the smarts AND the glamor!
Now for that crazy haircut.  Believe it or not, the cut is because of their original day job hundreds of years ago till today.  A poodle's coat would be heavy in water, and if it when aloud to grow, it creates coils like dreadlocks.  In the water that would put them in danger, so the bottom half of the body is shaved.  This makes poodle's swim with ease.  The hair around the chest is left to keep the vital organs warm in the cold water, and the hair is kept around the joints to protect from injury and even prevents rheumatism.  The hair around the face must be kept clean shaven to help with the retrieving.  Now the hair on top of the head is the fun part…owners actually tied the hair up to keep it out of the poodle's eyes and attached a bright ribbon to identify there faithful retriever.
My favorite part of their history is France's involvement.  Leave it to the wonderful french women in the 18th century to see these hardworking dogs as works of art.  They are the reason we foo foo poodles up to this day from elaborate decorations to toe nail paint.  Thanks to these artistic ladies, the poodle became the national dog of France, thus the French Poodle name-but deep down they are tough, energetic, German working dogs!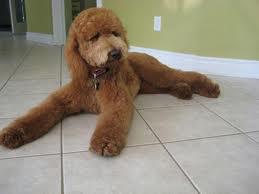 So cute Puppy Poodle Cut-more common
I love this breed!