I'm compelled to preface the main point of this post with a little insight: I'm not exactly a champion of facial hair.
Sure, I know and respect that it's totally a guy's decision, and there are times when I find a bit of facial hair just so right, but not always.
I struggle to talk to fully bearded men because not being able to see half of their face freaks me out. I cringe to think of the times at school and uni when boys went through that bizarre rite of passage known colloquially as "growing bum fluff". Even stubble, which I admit is hot from afar, makes my lips scream for pawpaw or some other soothing lip balm. But moustaches? They're different.
Well, at least for this month they are. I am a huge supporter of Movember - a Mo Sister as they say – and somehow every single 'stached sir is sexy from today until the 30th.
I first noticed this fairweather attraction when I lived in Canada. I was working for Granville Island Brewing (still one of my favorite beer companies!) and helping with their first ever Movember campaign. All the guys in the office and on the road took part in Movember.
Around the middle of the month I suddenly realised how much I was flirting with them. I mean, sure, we'd always had a healthy amount of office banter (jokes about going to the "copy room", comments when people walked away, that sort of thing) but this was different.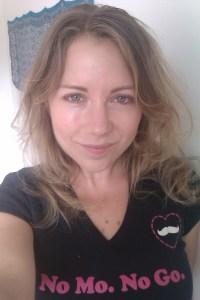 Movember shirt from Granville Island Brewing.
All of the guys were more attractive to me. I remember mentioning this to a colleague at the time, who just laughed and looked at me as if I'd made a funny joke. She must have missed the sincerity.
But I think I get it: there is just something so sexy, so right about guys growing a mo for a cause. It's making a difference in the most fundamental way, committing 100% to supporting something so important.
It's one thing to donate money or volunteer for events, but to change your entire appearance for a month? That's taking it to another level.
Even guys who don't get much facial hair and worry that they won't look good for a month are all the better for being a part of Movember.
You could dye your mo, use mascara to darken it or borrow some other makeup from girls to fill in the gaps, I don't care. Movember isn't about how you look, it's about raising awareness of prostate cancer, mental health and mens health in general.
And for me, that makes the guys who get behind it as attractive as can be.
Movember runs throughout November around the world with Mo Bros growing moustaches and Mo Sistas supporting them. You can register to raise funds at www.movember.com or support my team (joined after this post was made) by going to http://mosista.co/amybg.
Filed under: Opinion Tagged: Granville Island Brewing, mens health, Moustaches, Movember, prostate cancer