The globalisation of productions particularly for film has seen self tape auditions become an important part of the casting process.
Self tape, or self test auditions are recorded outside of the casting studio, which means that people can audition from anywhere in the world. This process gives casting directors a greater pool of talent and can lead to many other creative and financial benefits for productions.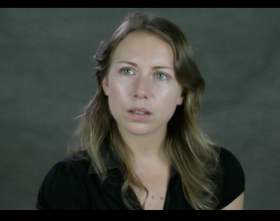 A shot from a self tape I did for Pilot Season 2014.
While self tapes have been around for years, it's only recently that they've really started to take off.
"The last three years have seen a landslide shift in the casting process," LA acting coach to the stars Joseph Pearlman wrote for Backstage in 2013.
"Actors are being asked, with greater frequency, to "self-tape" their auditions and e-mail them directly to the casting office or production team," he said, adding that a growing number of his private coaching sessions are actually booked and used to film self tape auditions.
They're also becoming more common in Australia. For the past year I've been working as a reader at the Self Tape Audition Studio in Melbourne, and in that time I've come to the conclusion that self tape auditions are an essential part of the future of the film and television industry. The international benefits have already been established, and many Australian actors (including me) already self tape during the US Pilot Season.
But I suspect self testing will become a valuable asset to local productions as well. With vast distances between Australian capital cities, and tight casting deadlines to consider, the option of self test auditions means that more actors can be considered for more productions. So while a Melbourne actor might have previously been ruled out for a Queensland production unless they could fly up to audition, now they can at least self submit for the first round of auditions.
I find this whole process really exciting. I've already seen people get cast in major productions based on the auditions they shoot at the Self Tape Audition Studio. The Self Tape Audition Studio's owner, Ben Steel, and me have also noticed an increase in the number of self test audition studios and workshops on offer. Even Coca Cola has recently taken note of the popularity of self tape auditions, and it's a company not directly in the industry.
These observations and the growing commentary around self tapes suggest they're here to stay in a very big way. That's why I think it's important actors understand every facet of self taping to make sure we all put our best foot forward for any audition.
So over the coming months I'll be sharing some of the things I've learned about self taping, along with anything else I feel is relevant and interesting. In the meantime, you can check out this cool little intro to self taping that Ben Steel put down for the Self Tape Audition Studio.

Self Tape – introduction from Self Tape on Vimeo.
Filed under: Acting Tagged: audition, auditions, film and tv auditions, pilot season, self tape, self tape audition studio, self test