It's bad enough that left-wing journalists are Obama suck-ups and continue to refuse to report on his many questionable biographical documents, such as that fake birth certificate and his fraudulent use of a  Connecticut-issued Social Security number that belonged to a man, now dead, who was born in 1890.
But it's downright professional misconduct when a journalist for a major publication such as The New Yorker writes a satirical faux piece of news, but does not identify it as satire.
That's what a steaming pile of sh*t called Andy Borowitz did. Below is his article in its entirety (colored pink):
March 28, 2013
Bitter Scalia Leaves U.S.
Posted by Andy Borowitz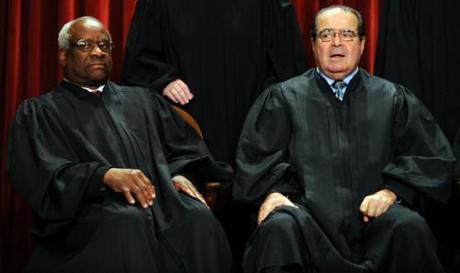 WASHINGTON (The Borowitz Report)—Justice Antonin Scalia dropped a bombshell on the Supreme Court today, announcing his decision to resign from the Court "effective immediately" and leave the United States forever.
Calling this week "by far the worst week of my life," Justice Scalia lashed out at his fellow-Justices and the nation, saying, "I don't want to live in a sick, sick country that thinks the way this country apparently thinks."
Justice Scalia said that he had considered fleeing to Canada, "but they not only have gay marriage but also national health care, which is almost as evil."
He said the fact that nations around the world recognizing same-sex marriage are "falling like deviant dominoes" would not deter him from leaving the United States: "There are plenty of other countries that still feel the way I do. I'll move to Iran if I have to."
Throwing off his robe in a dramatic gesture, Justice Scalia reserved his harshest parting shot for his fellow-Justices, screaming, "Damn you! Damn each and every one of you to hell! You call yourself judges? That's a good one. You're nothing but animals!"
Breathing heavily after his tirade, he turned to Justice Clarence Thomas and said, "Except you, Clarence. Are you coming with me?"
Justice Thomas said nothing in reply.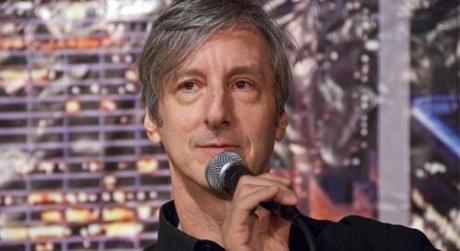 Andy Borowitz
Two FOTM readers took the bait and e-mailed Borowitz's article as legit news to FOTM.
But after 4 years of blogging, I've developed a nose for sniffing out suspicious "news." Besides, I just know Justice Antonin Scalia would not throw a temper tantrum like some 4-year-old snot-nose brat.
Sure enough, at the bottom of Borowitz's article is this:
Keywords:

Supreme Court

;

humor
The article is satire, pretending to be real news. Leftwingers like Borowitz write this precisely to yank our chains — and we fell for it.
To be fair, regular readers of The New Yorker would know the 55-year-old Borowitz is a satirist. He is described by Wikipedia as "known for creating the satirical column "The Borowitz Report", which has an audience in the millions and was acquired by The New Yorker. In a profile on CBS News Sunday Morning he was called "one of the funniest people in America."
But conservatives wouldn't know that, because I doubt that The New Yorker is among their regular fare of reading material.
So this should be an object lesson to conservatives to be more careful, less naive and less gullible when we forward emails and disseminate false "news". Doing so only feeds into the Left's malicious stereotype of us as stupid uneducated rednecks.
~Eowyn