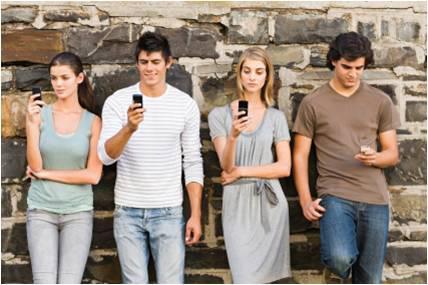 Social media is a HUGE component of an individual's life. If we can only change Maslow's Basic Hierarchy of Need, I'd put social media above physiological needs.
The soaring application of social networking has eclipsed the relevance of food, clothing, sleep, and social sanity, in exchange for quick Instagram photographs of what we had for breakfast or what we bought for Mother's Day.
Social networking has become part of us. It has become a global phenomenon where connectivity and engagement both gets a major facelift, overpowering the sluggish deliverance of message brought by e-mail and the humdrum interface of SMS. Social media has become so unstoppable that employees that belong in the Y-Generation bracket prefer applying for companies that allow its workforce to brag and lounge around in their extensive social media networks.
Microsoft Malaysia shockingly reveals that Y-Generation jobseekers prioritize mobile phone and social media access over salary. Younger employees enjoy the absolute freedom given to them during one-hour or fifteen minute breaks, and the kind of respite they're looking for is complete control over their mobile and social life. The changing landscape in today's corporate employment has taken a turn for the good and the bad, whichever way you look at it.
This Is An Intelligent Response to Corporate Slavery
Signing an employment contract entitles the employer monetary and social benefits that secure a well-deserved retirement program. These common perks motivate us into achieving a college degree and although it sounds rudimentary and crude, being employed is the safest, risk-free way of earning honest money. For the Y-Generation people, employment is the complete equals of sustaining a healthy financial and social media lifestyle.
Cisco's Connected World Technology Report of 2011 states that two in every 5 college students and young employees treat social media as fundamentally important as air, food, water, and shelter. This twisted belief mobilizes the truth that there is a growing relevance behind social media's pleasure and professional functions. Certainly, these respondents are looking at the big picture, collecting every advantage they can get in their accounts.
Young employees grew up in a society fueled by dynamism; from playing tag to enduring retinal problems caused by video games, the Y-Generation actually experienced unbelievable transformations in their environment among other demographic cohorts. The image of them seeing their parents remove their high heels or ties in a lethargic fashion paints a horrible image of how work looks terrifying once it's time to hit the sack.
Assemble together the influences provided by the frequent to no moderation of television programs that sneak in sensationalized events at work, and you'll definitely be rewarded with young people afraid to go home drained and battered. Corporate slavery produces dissatisfaction, and this dissatisfaction leads to high turnover rates.
The Y-Generation isn't really excited of working in a grey-shadowed cubicle with paperwork and curled telephone lines beside their elbows. They want a dynamic workplace. An office that breeds fun and outgoing co-workers and most importantly, a business organization that pays them to do their job while commenting on a friend's Facebook status change or bashing a Tweet.
Here's my personal opinion why the Generation-Y insists on building a professional portfolio in the confines of a company that allows unrestricted exposure to social media:
1. Social networking isn't all about fun and games – The social media sphere is dominated by big names like Facebook, Twitter, Pinterest, and Tumblr. These online avenues continue to generate millions of unique traffic, unparalleled engagement, and business opportunities who are in it for a variety of reasons. However, younger professionals see social networking as an alternate dimension wherein they can enhance areas of their craft through communications and resources that are otherwise paid or limited in their location.
Social networking platforms like the popular Linkedin and other under-utilized sites like Upspring and Ziggs connect like-minded professionals on a local or international scale, hence users can promote and ask questions directed to industry leaders in their field. These networks are absolutely useful in mining for job prospects that might entail higher pay or extraordinary bonuses (e.g. memberships to elite clubs or free parachute diving lessons are all the rage now, or maybe not.).
2.  Social networks boost morale – Younger professionals are expected to show signs of weakness whenever they are confronted with pressure at work, and that's absolutely fine. Now let's talk about Facebook and Twitter. From out of nowhere, the two colossal social networks provide emotional comebacks for young employees who are feeling a bit enervated or unmotivated.
Social media lights up morale. Publishing a simple I need motivation, help me status change that gets hoarded with hundreds of personal comments and thousands more of Likes from people you barely even know, sparks the dead batteries infusing it with invisible motivation and psychological push. Messages, Tweets, and even Shares (sharing status updates rarely occurs, unless you're some Hollywood hotshot) containing inspiring, but not limited to you can do it or weekend is just around the corner, mush forward quotes, installs an additional spark plug to an emotionally-stressed employee exposed to higher concentrations of social media toxins.
3. Social media and the concept of gamification – Social media provides younger employees the feature to explore the depths of personal achievements and through the concept of gamification, unlocking leading some virtual scoreboard is close to being awesome, or god-like. Younger employees enjoy this kind of social challenge, and it's a mature way of re-conceptualizing the feeling of being on top of someone for a change.

Derek VicenteView My Other Posts
Derek Ian Vicente is a Search Executive and content marketer. He's into social media and he's into practicing his outreach to webmasters that often call him stiff and unentertaining. You can catch him on
Twitter
, though his page looks like a barren wasteland.