"Philosophy is not about finding the answers, it's about asking the questions".- My philosophy class book.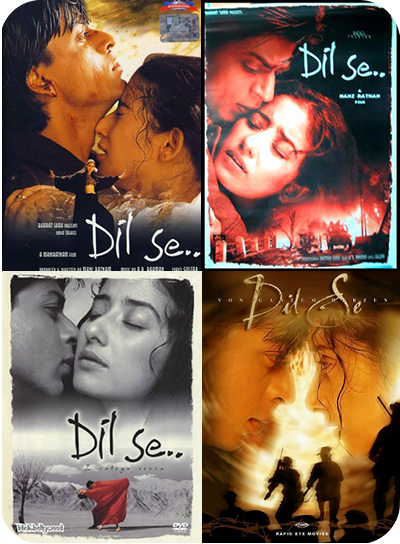 Dir.
Mani Ratnam | India
★ Shah Rukh Khan - Manisha Koirala - Preity Zinta






Any great movie could be my favorite one, a thought that made me shiver of fear when I first tried to put together my 100 Favorite Films list. But it happened to not just be any movie, but a movie that had followed me through many years and that has never stopped intriguing me every time I watch it. 
Having finished the list, there was suddenly no other movie I could imagine, that could be my favorite. The thought surprised, even unsettled me - after all, I hadn't actually seen
Dil Se..
 for about two years. It was time to finally re-watch it with eyes that are quite different from the ones of my 13-year old predecessor. 
I was scared but also excited. And you know what? I feel I admire and love this film even more than I did before.
Dil Se..
 is not flawless, objectively speaking - so what makes it so special to me?
That's what I want to find out in this post, namely by listing all the things I love about this film. Of course I won't be able to fully understand and explain the greatness of this film, I know that - but it's an attempt that I have to do. And an excuse to make a lot of screencaps.
ALL THE THINGS I LOVE ABOUT
DIL SE..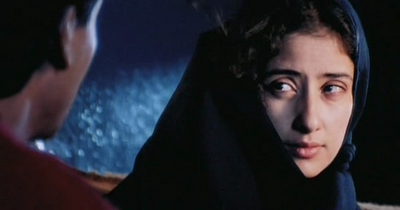 1. Manisha's mysterious implication of a smile. Who wouldn't get crazy about her?
2. The intro-song. Can't understand it's not on the soundtrack. I think it's Ladakhi.3. This interpretation I just read:
"Dil Se is said to be a journey through the 7 shades of love that are defined in ancient Arabic literature. Those shades are defined as attraction, infatuation, love, reverence, worship, obsession, and death."
-
read more
4. Shah Rukh's youthful and natural performance - I miss that.




5. The sexiness. I remembered a lot of good things about the film, but I never realized how sexy it is. Mostly in the songs, but not only.
6. Amars beautiful declaration of love:Meghna
:
Tum bata tumhe kya pasand hai.
Tell me what you love.
Amar
:
 Mm. Paihle main yeh bataaunga ki mujhse sabse zyaada naa pasand kya hai. Hum dono ke biich mein yeh doorii hai. Yeh mujhe bahut naa pasand hai. Tumhaari andar jo yeh bahut kuch chupa hota hai. Aur sabse buurii lagti hai mujhe tumhari aankhen. Kitna bhi main inmen dekhna chaahoon... mujhe kuch dekhta hi nahin. Ab bataaoon mujhe kya pasand hai.
 No. First I will tell you what I hate the most. This distance between us. I hate it... So many things are hidden inside you. And most of all, I hate you eyes. No matter how much I want to see something in them... I can't. Now I will tell you, what I love.
Meghna
: Hm?
Amar
:
Mujhe sabse zyaada pasand hai tumhaari yeh aankhen. Kyunki main jitna bhi inmen dekhna chaahuun... mujhe kuch dekhta hi nahin. Tumhaari andar itna kuch chupaa huaa hai. Mujhe woh bahut pasand hai. Aur sabse zyaada pasand mujhe yeh doorii hai... Kyunki agar yeh doorii naa ho... to tumhaare kariib aane ka bahaana naa mile...
The thing I love the most are these eyes of yours. Because, no matter how much I want to see something in them... I can't. Everything that's hidden inside you... I love all of that. And most of all I love this distance. Because if it wouldn't exist... there would be no reason to get closer...

I love the way Manisha's expression alters in the scene

7. Rahman's soundtrack in its entirety - might even be his best.
8. The 90s-style that isn't embarrassing. Haven't experienced that in any other film.
9. The fact that I never know how to describe and "classify" it. You can see that from the amount of genres above.
10. It's rather unknown and unloved by the masses, kind of an insider tip. My filmic taste is exciting and rebellious.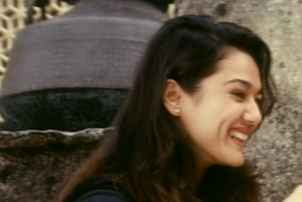 11. Preity's debut. Fresh and bubbly, you can see how excited she is.
12. I don't care that the kids call her character "Hitler". 
13. Amar's radio broadcasts - that guy would be a hit in todays podcasting world.
14. Its audacity. I think even today it would flop and cause demonstrations in India.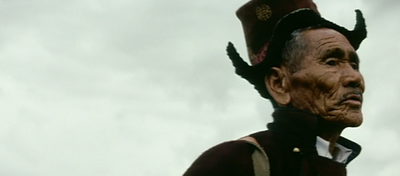 15. The Ladakh-setting in the first half.
16. The beautiful, beautiful, incredible work of cinematographer Santosh Sivan.
17. All the songs are total are partly dream sequences (except for one), and they are awesome.Or as I would write in a proper review: they have great artistic and visual value.
18. The choreography, setting and look of "Satrangi Re" is awesome: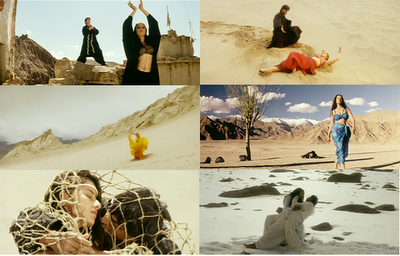 19. And daringly sexy without being vulgar:



20. This is true:
"Elleke Boehmer and Stephen Morton argue that the songs and locations in the film fill a sexual void with their exoticism." -wikipedia
21. You get an earwig of the word "All-India-Radio"."I'm Amar, All-India-Radio".
22. Shahrukh's voice. Reminds me of mine. Nasal and youthful.
23. Manisha's voice. Mysterious and soft.
24. Preity voice. Always loved it, it's very... bubbly.(Too much of these reasons, right?).
25. This gaze and the appendant quote: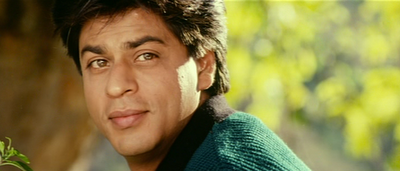 Meghna:
Aakhir tum jaante ho mere baare mein?
After all, what do you know about me?
Amar:
Kuch nahin. Sirf yeh ki main tumhe chahta hoon. Dil Se.
Nothing, except that I love you. From the heart.
26. The fact that the quote doesn't seem kitschy.
27. Dancing to the song "Chaiyya Chaiyya" at the beginning. By the way, that's the exotic song from Inside Man. Legendary.
28. Reading the name Mani Ratnam in the opening titles.
29. That rawness, everything seems so raw... even the title font is raw.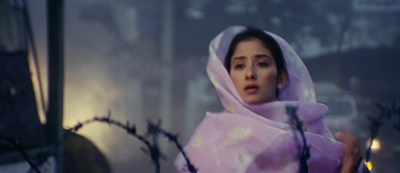 30. Dil Se Re is an un-romantic, romantic song.
31. It's the first film to enter the Top 10 in the UK box office charts.
32. It played at the Era New Horizons Film Festival and at the Helsinki International Film Festival. Oh, and at the Berlinale (Biennale). My taste is even more rebellious and exciting.
33. It's disturbing. But you don't want to put a gun at your head after watching it. You want to... applause.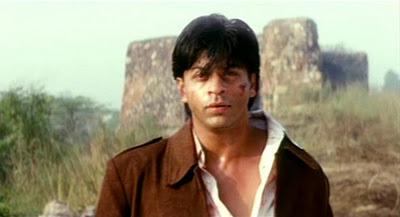 34. The blood-thirsty, cloying last 30 minutes don't get the film down at all.
35. The end is perfect.
36. The amazing script written by now respected director Tigmanshu Dhulia, Mr. Best Indian Director Mani Ratnam and - interesting, I never knew - a seemingly fantastic tamil writer and novelist, the late Sujatha Rangarajan.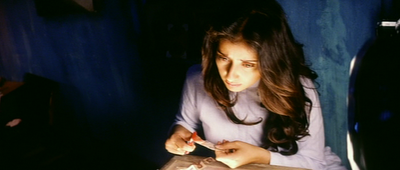 What's up, just tinkerin' a bomb.
37. A terrorist has never been easier to sympathize with.
38. The lyrics of Ae Ajnabi - shockingly close to perfection.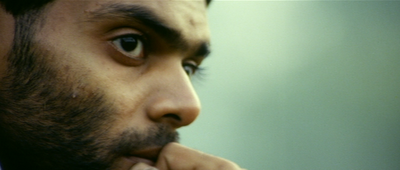 39. This guy. I just can't find out what his name is.
40. The fact that I'm giving away precious leisure time to list up everything I love about this film.
41. The beautiful colors, even in the saddest, most brutal scenes.
42. Only two points after the title, instead of three.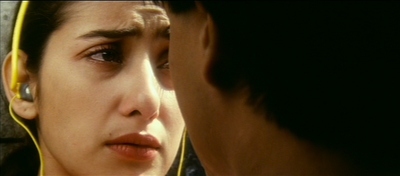 43. The yellow earphones. And what she's listening to.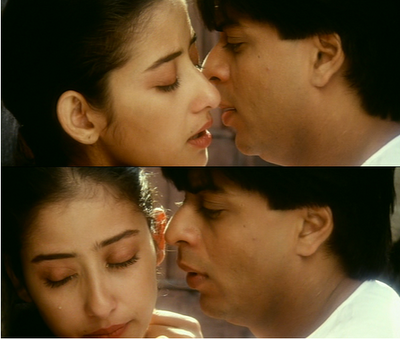 44. No kiss. Never.I often watch films for the kisses, if a film has a good kiss it's better than a film with a bad kiss. But Dil Se.. is perfect without a kiss. Perfect.
45. The weird choreography of Jiya Jale is kind of cool, I don't know why.
46. Amitabh Bachchan sings Jiya Jale in Nishabd. He says it's the only songs he knows. If I knew only one song, I would be glad if it was this one.
47. The poetry of the film. Everything has a meaning, every shot, word, song... and the result is perfection.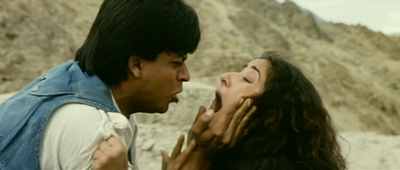 48. No other Indian actress would've been able to deliver this performance. 
49. I don't know what the "re" in Dil Se Re means. And I don't care.
50. I learned my first Hindi sentences from the film, by learning some of the quotes by heart and reading the lyric translations.
51. I just found out that the song Satrangi Re also shows the 7 stages of love from arabic poetry, which is why Amar looks like he is dying at the end of the song. That would also explain the arabic look of the song.
52. The more I find out about the film, and the more I think about it, the more I love it.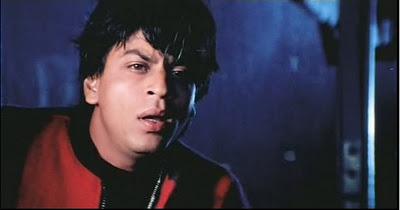 53. Shah Rukh won Filmfare Awards for films like Deewana, Mohabbatein and Chak De India. I like his performances in those, but it's ironic. Wondering why I this is one of the things I love about the film? Well, it's not. I was trying to express how great his performance is in Dil Se.. And I failed.Anyhow, Manisha still gets my biggest applause.
54. The locations. Read more.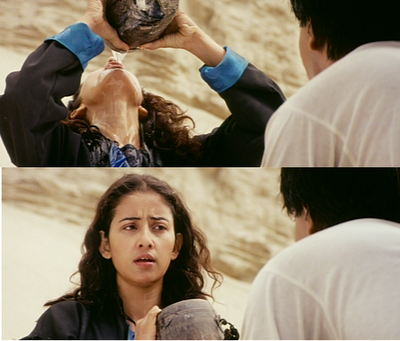 55.
"Kabhi ladki nahin dekha, kya?"
"Never seen a girl before?"
56. True love is said to be kitschy, non-existent and many other things. But after watching Dil Se.. I feel it is at least one thing: true.
57. All of this wouldn't have happened if Amar didn't smoke."Hey, uncle, got some matches?". Forgive him, for he knew not what he was doing.
58. The smell of spring reminds me of this film, because I bought it in spring.Oh, those times when buying a DVD was such a seldom thing that you got obsessed about any movie... Not that this is just any movie.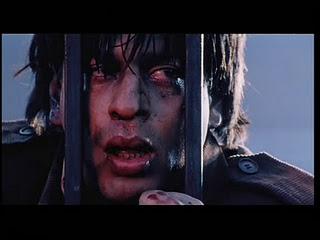 59. This was the first R-16 I watched. I was 10... did it clandestinely.
60. Manisha only wears make-up in the songs. And she still looks stunning.
61. Meghna:
I'm with him.
Amar:
What did you say? My wife, huh? (To other people): This is my wife. We've been married for 15 years. Right? Congratulations, Honey.

62. The film was released 50 years after the independence of India.
63. I was alive when the film was released.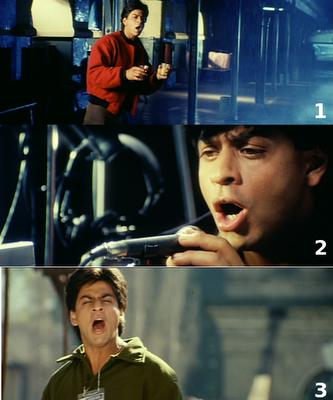 64. "HOYE!"
65. Politics. An interesting topic that is often uninteresting.Well, Dil Se.. certainly had some comments to it.
66. The way Meghna turns the radio on and off.
67. The contrast between the two film-halves.
68. No "Intermission".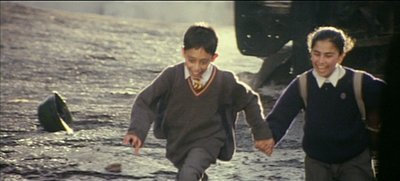 69. The kids in Dil Se Re are wearing Gryffindor-uniforms. Or at least they look like it.
70. The female station-director. Kick-ass! (At least at the farmer's market).
71. Terrorist-leader to Amar:
When you're done with this radio business, you can come and join us.

72. The Terrorist-leader says he won't speak Hindi, and then speaks Hindi.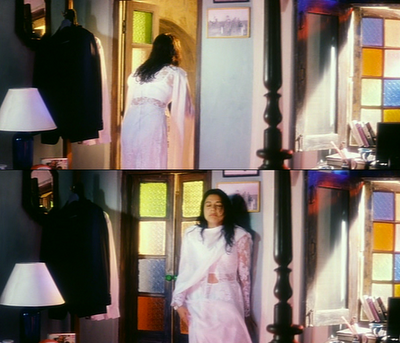 73. "AAAAUU! ... Maine Kuch Nahin Dekha. I swear maine kuch nahin dekha."
(Didn't see a thing, I swear).

74. The monk in the Ladakhi convent. Every time I see the scene I wonder what he must be thinking. "These crazy young people", or something like that.
75. "Bom-bom-bo-bom-bom-bom... Marching tunes."
76. After Meghna's "brothers" battered Amar, the first thing he tells Shukla is that she's not married.
77. The result of all the words from this list of positive words put together would come close to describing my feelings for Dil Se.. "Kissable", "graceful", "splendid"... and of course "Take the biscuit".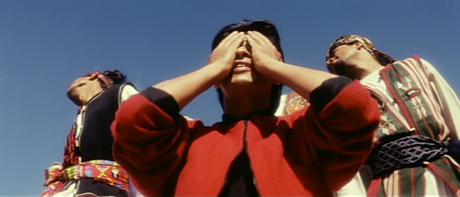 78. It's been 78 months since I bought and first saw the film, and today I love it so much more than I did back then.

There is no other way to say it:
I LOVE YOU, DIL SE..!
... Dil Se (from the heart)!
And if you don't love Dil Se.. yet, then watch it for God's sake.