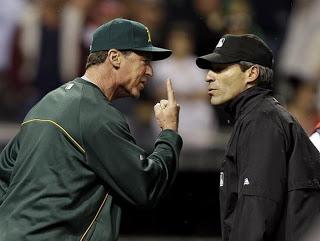 The whole baseball world knows of the travesty that occurred in Cleveland last Wednesday night when the umpires botched a ball that the A's Adam Rosales hit which was originally called a double, but on replay was clearly a home run that cleared the wall.
The crew chief was the infamous Angel Hernandez, who is generally agreed to be the worst umpire in MLB (and maybe of all-time). Anyone with half a brain can see it hit the railing three feet above the wall and came back on the field. And you can't blame the TV equipment in Cleveland, as their TVs are in HD, and should even be clearer.
Peter Gammons went on the Dan Patrick Show and had an interesting theory: that Hernandez deliberately botched the call in protest to the current replay system in place.
If there is any truth to this, Angel Hernandez should be fired immediately. Replay is part of the rules of the road, and will probably be expanded in the future. Hernandez should find another line of work if he can't handle modern technology. And if there is NO truth to it, it proves what a disaster he is as a umpire.
Again, if it's true, what Hernandez did was deliberately cost the Oakland A's a possible win, and it's as if he had bet money on the Cleveland Indians to win. The integrity of MLB is one the line if they keep this incompetent on the field with his track record. How in the world did he become a crew chief? Must have been as a birthday present. (In 2006, a Sports Illustrated poll of players had him ranked as one of the worst of all MLB umps. So naturally, he becomes a crew chief.)
There's a big difference between Hernandez and Jim Joyce, who famously cost Armando Galarraga a perfect game in 2010. Joyce (who is generally considered one of MLB's best umps) was simply heartbroken over the missed call and immediately apologized. It was a classy move by a good ump. Hernandez is an arrogant SOB generally disliked by many players and still hasn't admitted the error from Wednesday night.
MLB has a serious problem with incompetent umpires, as we saw again in Houston on Thursday night. Crew chief Fieldin Culbreth was suspended two games for that botched pitching change, but MLB has still done NOTHING in regard to Hernandez. And it seems that becoming an umpire is like becoming a Supreme Court justice. You have the job for life, and no matter how incompetent a job you do, nothing can touch you.
It simply boggles the mind. Hernandez simply has no business being an umpire any more.
And it hurts the game of baseball.