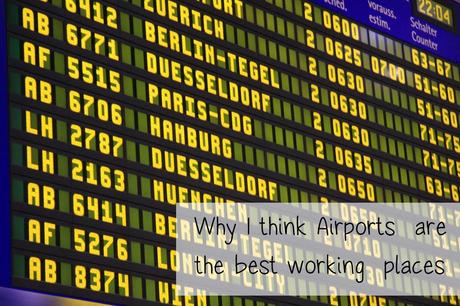 I love traveling. (that's pretty obvious, right?) And even more I love airports - from tiny ones placed in the middle of nowhere with just one runway that ends in the jungles or huge, high-tech all-packed ones like Munich or Frankfurt with lots of facilities and all sort of attractions.
Very-very rarely (unless it's low-cost), I take direct flights within Europe and never in case I'm flying to a far destination.
Why?
a) they cost way too much comparing to connecting ones.
b) I like new airports and don't mind spending time there (whether it is just 30 mins or 11 long hours).
Don't want to brag, but last year I've had 24 flights (counting from May, 2013). It just happened to be so, due to my decision to

move to France

. (and craving to travel more!). So, it happens so that I spend a lot of time in the airports. Though I always find plenty of ways to entertain myself, yet I prefer to dive into work and write new posts to share with you guys here :)
So, here are my six main reasons why I consider airports to be one of the best places for work
1. You get inspired.
As you're either embarking on a new trilling journey and have this tremendous excitement swirling your guts, so the new ides just pop into your head. I make lists, write short notes, some fun facts and tips that proven to be useful for me.
Or you're returning home, simply bursting with emotions and ready to share new amazing travel stories and adventures you've had on your road, hundreds of travel photos and so on.
I feel like I just Need. To. Write. It. Down.
2. The place's perfect for people watching and conversation overhearing.
I love people watching. It's probably my most favorite activity ever after munching

French pastry

. People come and go, say goodbye and run to catch the plain, sleep at the benches or make jokes of each other. And there's always this huge melting pot of cultures when you can sit between a colorfully dressed African woman with lots of vivid beads and accessories, and a German businessman dressed in a fine, crispy-clean suite, carefully inspecting his newspaper and making tiny sips of espresso.
And there are so many languages spoken around. I just love guessing the ones I don't speak. Gotten pretty good at it and can distinguish most European languages and name them with 85% accuracy.
And yeah, people love talking about weird stuff and I love pretending that I don't understand a certain language when I do.
Probably the most awkward conversation ever that I've overheard was in Sharjah, UAE. I was flying back from a 2 week

backpacking trip around India

and had a 4 hour connection there. The place is a very popular resort for Ukrainian and Russian upper-middle class holiday makers. And you know, they may be pretty, well, odd.
So, there are two couples both in their mid-forties, one from Ukraine and another one from Russia. And so they brag about their way so awesome 5 star all-inclusive vacation.
UA: "You know, we bought two luxury fur coats and the owner of the shop sent a Lexus for us to be taken back to the hotel"
RU: "Nice, and we bought like 3 fur coats and a Persian rug and just called the shop owner the next day and he gave us a free ride on his Mercedes, so that we didn't need to walk to the city center"
UA: "Have you bought any jewelry? The gold's fine. We've bought a few presents for my sister and our daughter. Super high-quality"
RU: "Yeah, I know! We've been to one of those gold shops and I nearly bought a golden deer statue. This high (shows around 50 cm from the floor) to put in my dacha yard." (Dacha is a vacation home that a lot of people in Ukraine and Russia have in the suburbs) "But my wife didn't allow me."
WTF?! A fucken dear statue made of gold?? To put in someone's yard. That's insane waste of money. A village in India could live for a few years for that sum! And I could be traveling around the world for it. 
I don't know if it was for real or just mere showing off, but this golden dear conversation haunts me still. I've made a promise to myself that if I ever become such a person who wants to buy a deer made of gold, someone of my friends should shoot me. No kidding.
3. Making casual friends with fellow travelers and getting to know someone's exciting stories.
Do you have a lighter? Do you happen to know where's Gate X/nearest food stall/WC/anything else. These quick chit-chats end up with talking about where are you from, where you've been or planning to go.
For me it's often a nice way to remember and sum up the best experiences I had or a few places I particularly liked and some sort of casual advice and tips. And I get pretty same things in return.
It just makes me think in the correct way of what information should I share here and how it should be conveyed. What a person traveling or been to the same place as I did is interested in or how he could relate to what's I'm writing about.
4. You've got limited time.
On stopovers, I get super-productive as I know I've got just around 2 hours to write down all the stuff that's been around in my head or scribbled at a notebook. Besides, free wi-fi is limited in most airports, so I just got around 30 mins to check out a few facts on the Internet along with my email and online notes.
When free wi-fi is done and the system can't be by-passed anyhow, I end up typing and typing for hours or editing photos. Or just both.
Just don't get way to engaged into your work and don't miss the flight!
5. The place never sleeps.
I rarely manage to sleep in the airport as most of them are flashy and noisy 24/7 and it's so hard to find a fine nap place from where you won't get busted in a couple of hours. So, I just grab another cup of coffee and go through a list of routine stuff I need to do, but never have time for.
6. Wandering around the airports make you discover
New gadgets, fun postcards, yummy and cheap fast food, hidden smoking lounges, cool travel accessories, cozy and quite places to nap and lots of other interesting stuff that may be handy either for you or for someone out there sitting in the same airport one day.
I'm a huge fan of

Sleeping in the Airports

and

Airport Smokers

who make those ultimate guides for airports all around and occasionally contributing my experience there too.
Do you like airports? What are your favorite ones? I'd name Munich for now as the top of my list :)