Some love stories are the result of a period of courting, some are born out of a whirlwind romance. Mine is the latter. I came, I saw, I was smitten - in under two days.
A year later, I still am just as much in love. I hold on to the memories and photographs of our time together as prized possessions - of walks in narrow alleyways, warm embraces, haggles over prices, conversations about dying art in craft shops, and of some testing moments. Our time together ended quickly, but my memory of it lives on. And just in case it doesn't (amnesia can strike at any time, you know), I write about us. I write, about why I fell for Udaipur.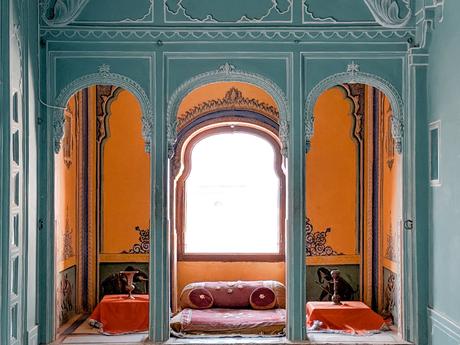 It was a cool December evening when my family and I arrived at the Maharana Pratap Airport - 19 degree Celsius, my phone screen displayed. The first leg of our ten-day Rajasthan trip is starting off on the right note, I thought.
As we drove into the city, we passed dizzying frames of green, blue, and city-scape views that made me go - 'Did I just end up in Bangalore?' I thirst to escape from urban sights - no tall buildings and billboards marring my skyline when I travel, thank you very much. Soon, darkness began to engulf the city, signaling stars and twinkling bulbs that it was their time to shine. By the time night had truly enveloped the surroundings, we had arrived at our home for the next two nights - Hotel Devraj Niwas in Lal Ghat.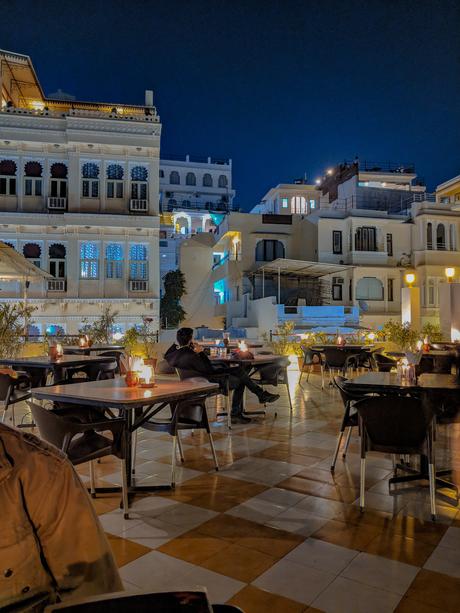 Check in, freshen up, head for dinner, head back to the room to fetch a jacket because it's too cold - a mundane saga that I was mentally prepared for. I donned my jacket to stay toasty warm and parted the thick curtains that framed our room's French windows - and I was awestruck. In front of my eyes was a sheet of glass; inky blue, reflecting glimmering dots of light from surrounding havelis. At the centre, lay a ghostly pale rectangular structure, floating on this still expanse of water.
Lake Pichola by night is a vision not talked about enough. I fail to understand why.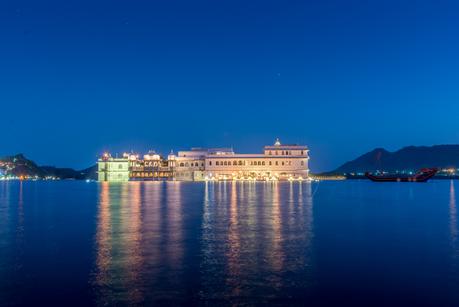 Lake Pichola at night. Image courtesy - Saurabh Chatterjee
Tip: Stay by Lake Pichola for the best morning and evening views. There are plenty of budget options here that offer traditional hospitality with modern amenities. Tourist-y? Yes. Worth it? Yes.
दिन 1
Pichola during the day is a completely different spectacle. When the sun is out, the clean waters of the night disappear. It is time for locals to take their morning baths, wash their clothes, or just jump in for a swim.
A filling breakfast with a lakeside view later, we headed out to meet our guide. He quickly introduced himself and wasted no time in telling us that we were staying in the oldest and most beautiful part of the city, on the banks of Lake Pichola.
The Old City - charming and chaotic in equal measures
We walked through the narrow alleyways of the Old City of Udaipur. Utterly charming and subtly radiating plushness of days gone by, the Old City is tightly parceled around Lake Pichola, and within what was once a well-fortified stretch of wall with multiple pols (gates).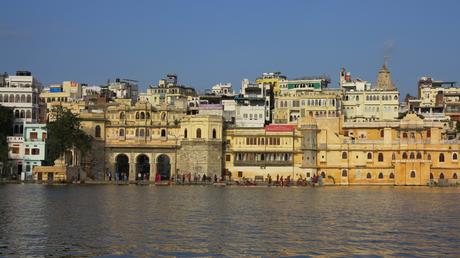 Lal Ghat by day. Image courtesy - Greg Pigalle
On either side of the streets stand traditional havelis (most of which have been converted into hotels), small silver ateliers, nondescript shrines, souvenir shops displaying hand-painted idols and marble panels, block-print fabric stores with attached tailoring units, and cozy cafes serving local and European foods.
The air chilled my skin where it touched, but the cold did not seep into my bones. Something about this place warmed me from within, and I couldn't put my finger on it - maybe it was the fading wall art and murals, the honeyed voices of vendors, the smell of freshly brewed hot chai, or the bazaar-esque atmosphere that triggered childhood nostalgia. Or maybe it was the Old City itself, a sum of all of its chipped, loud, story-laden parts.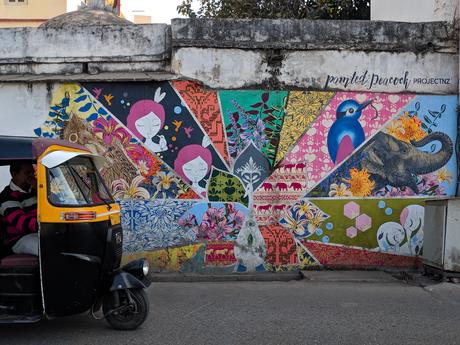 Colourful murals are a common sight in the Old City; some follow a contemporary theme, while others attempt to shine light on the past.
Tip: Choose a guided walking tour or a cycling tour to explore the Old City of Udaipur like a local.
A tale of loyalty unfolds at Moti Magri
I'm a sucker for stories - based on myth or fact, it doesn't matter. I adore ones that mix in both as ingredients for a delectable tale, a fable of sorts that is passed down through generations, touting the truth with allowable exaggerations that add in that little bit of magic or divinity that is often explained to be a result of love, bravery, friendship, or other human bonds.
But not the story of Maharana Pratap and his steed, Chetak. Atop Moti Magri (Pearl Hill) is a tale, set in bronze for posterity to come upon, that elucidates and rightly glorifies the unwavering bond between man and beast.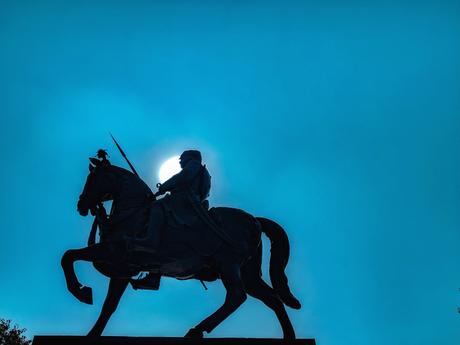 Maharana Pratap Smarak (memorial) is dedicated to Maharana Pratap Singh who spent most of his life battling Rajputs and Mughals to protect his land and people, and his favorite horse Chetak. Always by the Maharana's side, Chetak died a tragic yet spectacular death in the battle of Haldighati in 1576 AD, but not before carrying the Maharana to safety.
Historical sources do not mention Chetak, and I understand why. The feats described as performed by the horse are extraordinary, something out of a fairy tale. But here's the thing - as a proud parent to two extraordinary cats, I've seen miracles. And something tells me that the tale of Maharana and Chetak just might be true.
Tip: Avoid the traditional Rajasthani garb stall as you enter the Smarak, since it's nothing more than a photo-op and a money-making avenue. Unless you do want a photo-op, like my mum did. If pressed for time, skip the Smarak and the Hall of Heroes museum.
The lakes draw you in, and not in a creepy way
The City of Lakes, Venice of the East - the phrases of praise showered upon Udaipur are something out of love letters. When I hear such powerful words associated with lakes, I get skeptical - I live in Bangalore, a city that was once home to over two-hundred lakes. That's why the lakes at Udaipur, definitely picturesque, did not reel me in. It was their stories, peppered with imagination, that made them worthy of attention.
Lake Pichola, by day or by night, is a vision. In fact, it even made its way into the 1899 Letters of Marque by Rudyard Kipling -
If the Venetian owned the Pichola he might say with justice, 'See it and die'.
The man-made lake dates back to the 1300s, when it was built by the Picchu Banjaras (gypsies). Eventually, the lake worked its magic on Maharana Udai Singh, who chose to build the city of Udaipur on its banks. So taken he was by its lull waters and the background of the Aravallis that he later enlarged the lake such that it flooded the nearby Picholi village.
My tale of choice about Pichola, however, is sensational and clandestine, one that speaks of a curse that was placed on the royal family. In an inebriated state, Maharana Jawan Singh promised a natani (tightrope walker) half the kingdom of Mewar if she succeeded in crossing the lake on a tightrope. When the Maharana and his court saw that she was about to accomplish this feat with ease, they cut the rope, and the natani fell into the lake. As she drowned, she cast a curse upon the royal family - none would be able to have direct heirs to the kingdom. Weirdly enough, six out of the seven Ranas who reigned after Jawan Singh were adopted. Remember what I said earlier about fairytales and miracles?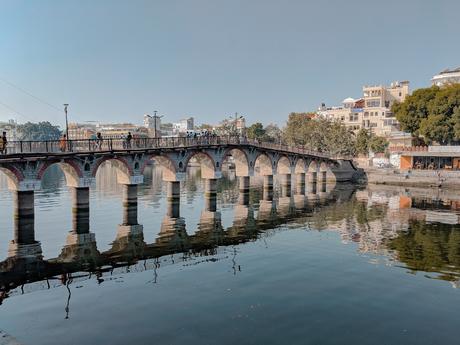 Chand Pol Puliya (moon-gate bridge)
Fateh Sagar lake is to locals what Pichola is to tourists. It holds a special place in the hearts of the locals, and in mine. Here, I took a stroll around the lake, kesar kulfi in one hand, without a care in the world. For some unexplained reason, the place lifted a weird weight off my shoulders; maybe it does the same for everyone, maybe that is its spell.
Tip: Sunset boat rides on Lake Pichola are popular, but not a must-do if you want a more off-beat experience. Head to a roof-top café along the lake's banks and get yourself a hot cup of tea and a plate of steaming pakodas - enjoy thesunset minus the crowds. Better yet, catch the sunset at Fateh Sagar lake.
Storytelling that is simple, pure, and tasteful
When we hear of Rajasthan, two things immediately spring to mind - desert and puppets. Udaipur has no desert; the Aravalli range made sure of it. But it does have the Bhartiya Lok Kala Museum.
Katputlis (puppets) have always fascinated me. Storytelling has many forms across the world, and in Rajasthan, it takes the form of music-backed shows where the primary stage performers are handmade puppets. I took a seat in one of the middle rows (which was a mistake. Our teachers were right - the closer you are to the front, the better), and lost myself in the performance. The theme of the show was as basic as it could get - a scene in a royal court, where a dancer and a snake-charmer put up performances to entertain the gathered. To be honest, the show did get a bit monotonous past its first fifteen minutes. But what was fascinating was the art form itself, and the skill behind it. Watching a local form of storytelling that was born hundreds of years ago, patronized by kings, and which managed to retain every ounce of its essence and remain in existence centuries since its conception - it really doesn't get better than this.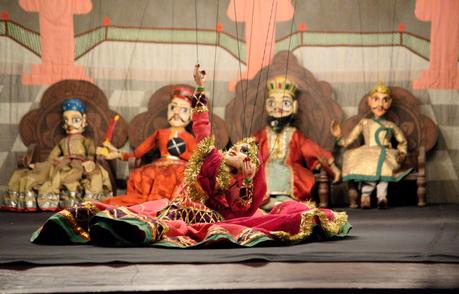 Definitely not the most engaging plot, but if you can look beyond that, the ingenuity is what is worth your while.
Tip: Bhartiya Lok Kala Museum isn't for everyone. If you aren't one for museums, let alone a folk-art one, skip it. If not, take your time and explore the displays. The Museum is an institution set up to promote folk-art, and an internationally recognized one too.
Sometimes, a walk in the royal gardens is all you need
The premise behind the Saheliyon ki Bari (garden of maidens), commissioned by Sangram Singh II in 1710, was to look after the entertainment of the nearly fifty-member strong contingent of sahelis that accompanied the princess (one of his wives) as part of her dowry.
It's a large, beautiful garden that's superbly maintained - I don't agree with all the blogs out there that say that it is breathtaking. It really isn't (or maybe gardens just aren't my thing). It is lovely though, with marbled kiosks, English fountains, lotus pools, and array of plants and trees. What I enjoyed here was letting my imagination run wild - of the princess and her maidens arriving in palanquins and resting their feet in the cool waters of the pond, the maidens splashing water from the fountains on each other, plucking low-hanging berries for a post-siesta snack, and braiding each others' hair into floral crowns while sharing court gossip and zenana secrets.
The setting sun over India's oldest mountain range is a view worth driving to
A lake-side sunset was swapped for one over ancient mountains - a foolish choice? Not really.
A whitewashed castle, forgotten and neglected, stands on top of a hill. Supposedly haunted, it is dilapidated, but not so much that visitors are barred. This looming sight was once an astronomical centre, which then became a monsoon palace and royal hunting lodge. The Sajjan Garh fort is mysterious and melancholic in equal parts.
The drawing factor isn't this piece of royal architecture - no one takes a second glance at it unless they are posing for a picture in front of the doorway of the upper tower. From the large terrace, the vast expanse of the Aravalli range comes into view. This panoramic sight is what people flock to drink in.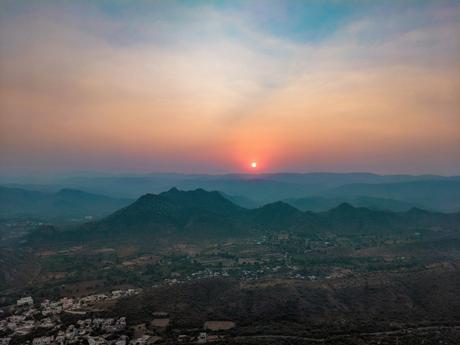 Chasing a sunset like this ought to be in everyone's travel to-do lists.
What is it about sunsets that makes it seem as though Time has stood still? It marks the close of a day, the end to another chapter and yet, sunsets make us strangely happy. At Sajjan Garh, I didn't feel the need to be with a loved one, because I felt like a loved one.
दिन 2
I woke up with the same feeling one gets after confessing their feelings to someone - jittery and nervous with excitement because, well, there was no rejection! Also, I knew that I was stepping into my second and final day in this city.
A walk back in time, and into a palace
A fascinating piece of architectural legacy and history spanning over four-hundred years, the City Palace! Every room, sculpture, and mural has a story of its own - these tales transport you back to a time before the Mewaris gave up their sovereign rule over the region to become one with unified India, and also of contemporary Udaipur.
Is it just me, or do you experience a strange aura when you're in a palace of legacy, as though you can almost hear the erstwhile residents whisper secrets to you? Maybe they want to take us into the deeper into the folds of what they had built, so that we may bring forgotten stories to light that no guidebook or blog ever could.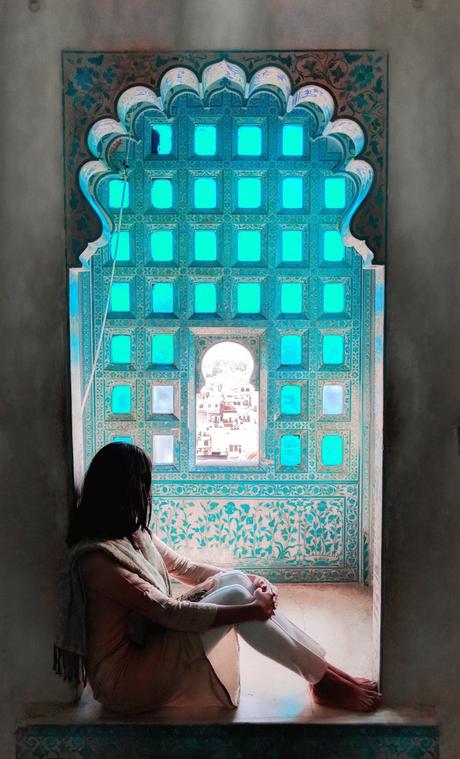 Tip: Hire a guide! You will really need one once you're inside the palace. Take your time here - there's so much to see. Wear comfortable shoes and carry water along. For a panoramic view of the palace, take a cable car ride up to the Karni Mata Temple.
Taking home local treasures
This girl's best friend? A bit of local shopping.
Taking home a piece of my travels is something I never forget to do. I've always collected letters carrying forbidden conversations born in classrooms, trinkets gifted by close friends whether in sobriety or after five wines, Polaroids that have preserved otherwise fleeting moments, and little local somethings from every new place I visit. I don't keep a diary, so these little treasures help me map out my journey through the years.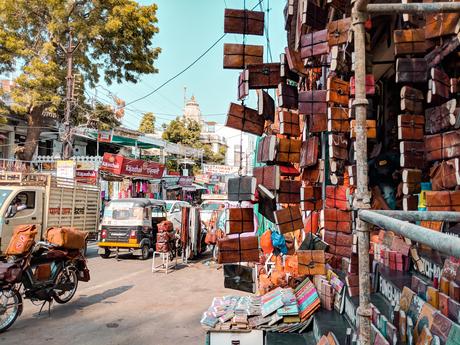 Colourful wares at Hathi Pol bazaars
I got to talking with local craftsmen who took me through some traditional art - my eyes immediately darted to their marble-work. Thin marble pieces or chips are set as a canvas upon which intricate drawings are traced and then hand-painted with metallic paint - some even containing rubies. As a souvenir of my time here I picked up a small rectangular marble panel with paintings of an animal trio - horse for power, elephant for good luck, and camel for love. I also picked up a pair of mojris, but let's stick to focusing on my artsy purchase so that I can feel pretentious.
A candlelight dinner by the lake to seal the deal
My final night in Udaipur featured an intimate (family included) dinner by Lake Pichola. Ambrai is a popular water-front restaurant and is almost always recommended by travellers and guidebooks as a must-do experience.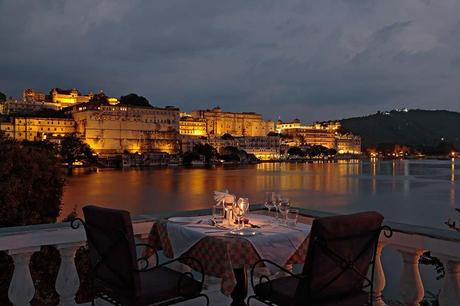 Image courtesy - Hotel Amet Haveli
Honestly, it's a nice-to-do experience, if you're looking to splurge on a delicious lakeside dinner under the stars, surrounded by glittering palaces and equally glittering patrons. For me, while the dinner was quite enjoyable, it was the walk to and from the restaurant that kept the flame burning. The Old City is invariably your companion when you walk to Ambrai from Lal Ghat, and along the way, one finds the massive pols that once prevented enemy elephants from breaching into the city, small thelas serving anything from dal bhatti to gosht kabab, little hideout-like cafes that proudly display 'Screening Now: Octopussy' chalkboards on pavements, countless darzis embroidering and needling mirrors, glass beads and faux pearls onto block-printed fabric, and people of different faiths huddled together to brave the evening cold, glasses of hot chai warming their palms, the steam warming their faces, their conversations warming their hearts.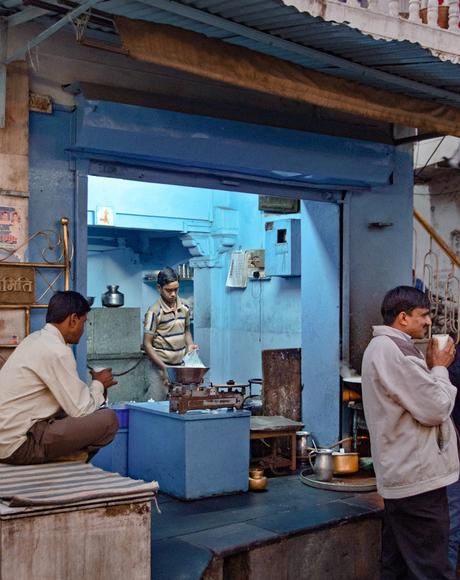 Tip: Reserve your lake-facing table at Ambrai in advance.
Day 3 - We bid adieu to the city that was once the seat of Mewari power as we made our way to Jodhpur. Truth be told, my day began with terrible indigestion brought on by stuffing way too much food inside my person in way too little time. Well, I did say there were some testing moments, didn't I?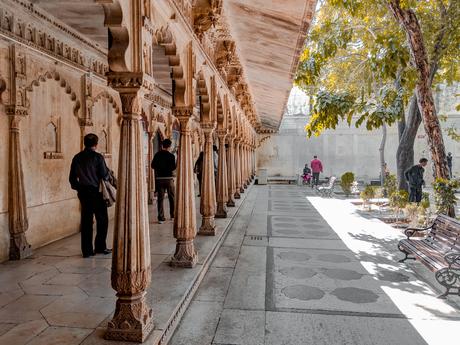 A city marked by gypsies, royals, colonizers and travellers definitely has much to say and show. Udaipur captures a fleeting heart with its diverse history, opulent palaces and havelis, celebrated hotels, shimmering lakes, winding streets, flamboyant bazaars and painted walls, while its calm early mornings, the smiling faces of its residents and its athithi devo bhava quality keep you hooked. Perhaps this is why Udaipur is peddled as the most romantic city in the country - a phrase bestowed upon it by British administrator James Tod.
That's not why I fell in love. While Tod may be right, Udaipur isn't paradise. In fact, it's far from it. At its core, it's just a city - lakes littered with plastic (although there are regular clean-ups that take place), rough edges smoothed to appeal to the world, a facade moulded to cater to travellers from all parts of the globe with Mediterranean cafe spreads and massage parlours offering unheard-of treatments, a status as the backdrop for Octopussy, and luxury hoteliers trying to capture every piece of space that has even a sliver of attraction to it.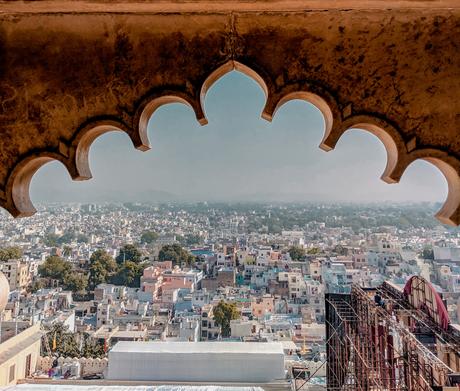 But Udaipur is so much more than just lakes and havelis, or Rajasthan's poster-child for tourism. It was, is and hopefully will remain as Indian as a princely-legacy city can be - with clogged streets, loud hawkers and dizzying lights thrown in for good measure. It has evolved and yet remains rooted, and that's why I fell in love - not at Udaipur, but with Udaipur.